Newsletter
Newsletter Archives
November 2020 - Paris Panorama
Welcome to the November 2020 edition of our newsletter Paris Panorama!
Each month we feature an inspiring haiku poem by Anna Eklund-Cheong. You will also find a photograph of Paris by Tom Reeves, our restaurants of the month with a link to the reviews, and an angel of the month by Rosemary Flannery.
Bonne lecture!
Haiku of the Month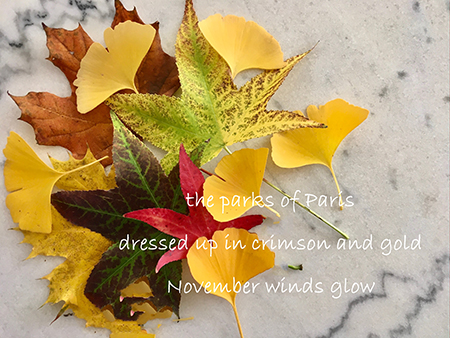 November Haiku
Photograph by Eric Hian-Cheong
Haiku by Anna Eklund-Cheong
Photo of the Month

Louvre at Dawn
Photograph by Tom Reeves
This photograph of the Louvre courtyard was taken at dawn on August 2, 2020.
Tom Reeves publishes photographs of Paris on his Paris Insights Facebook page.
Our Restaurants of the Month
Our restaurant of the month is selected from the restaurants at which we dined during the prior month. For this month's award, we were unable to determine which restaurant we liked the best. They all served great food and offered great service! Therefore, we have decided to publish the photographs of all four of the restaurants that we visited in October. We invite our readers to read our reviews at the following link: https://www.parisinsights.com/restaurants.php (sign in to read the reviews).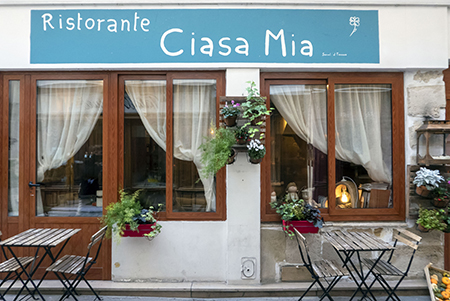 Ciasa Mia
Photograph by Entrée to Black Paris
Ciasa Mia serves exquisite Northern Italian fare near Montagne Saint-Genviève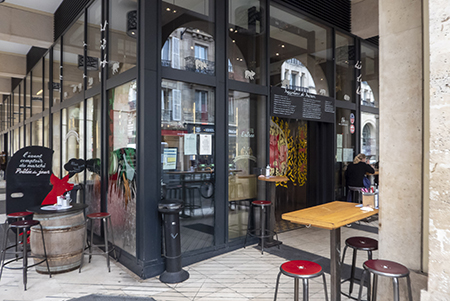 L'Avant Comptoir du Marché
Photograph by Entrée to Black Paris
L'Avant Comptoir du Marché is a tapas bar serving savory French fare at the Marché du Saint-Germain.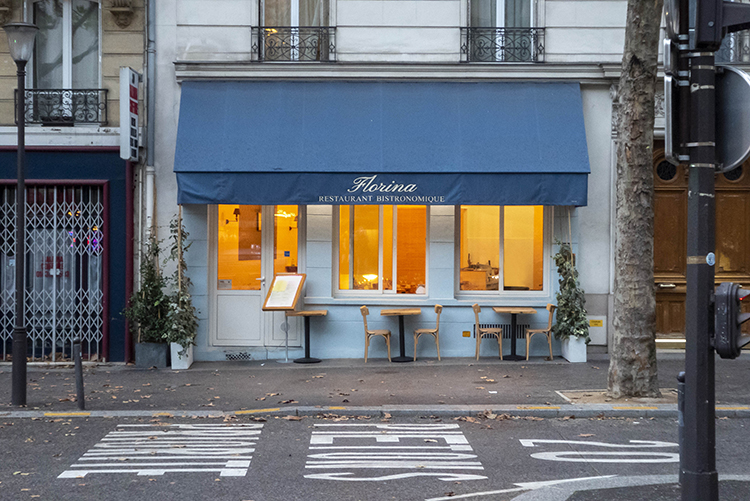 Florina
Photograph by Entrée to Black Paris
Florina is a restaurant bistronomique on boulevard de Port Royal serving delectable French fare.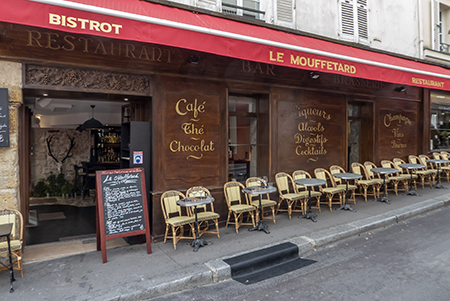 Le Mouffetard
Photograph by Entrée to Black Paris
Le Mouffetard serves hearty food with a gourmet slant on the popular market street of the same name.
Angel of the Month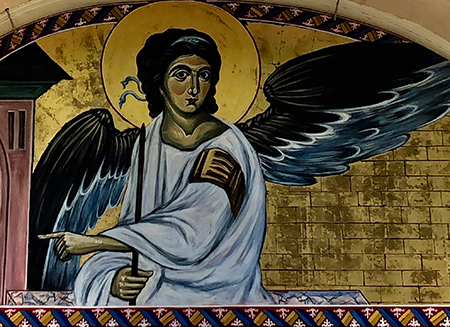 The White Angel of Serbia
Photograph by Rosemary Flannery
Author of Angels of Paris - An Architectural Tour through the History of Paris
For this month's angel, Rosemary writes:
An astonishing painting of the angel Gabriel garbed in white and showing Christ's empty grave to myrrh-bearers adorns the façade of the Cultural Center of the Republic of Serbia in Paris. Painted in 2017 by Serbian artist Jelena Gvozdenovic, it is a copy of the Beli Andeo, a renowned fresco from the 13th century Mileseva monastery.
It became an international symbol of hope and peace in 1963, when the nations of Europe decided to send its image to North America in the first satellite broadcast signal after the Cuban Missile Crisis. Later, the same signal was transmitted to space multiple times to represent humanity in an attempt to establish communication with extra-terrestrials. No response has yet been recorded.
Centre Culturel de la Republique de Serbie
123 rue Saint Martin, 4th arrondissement, (Metro: Rambuteau)
To learn about other angels, follow this link: Angels of Paris – An Architectural Tour Through the History of Paris.
Paris Panorama Newsletters for 2020