Gourmet Activities
Testimonials
Gourmet Paris Walks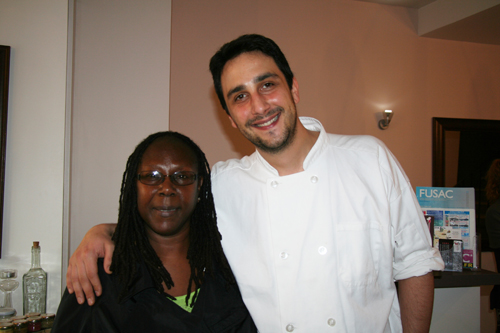 Katie Couvson and Chef Eric

© Entrée to Black Paris
I am still bubbling with excitement about the Croissant Cooking Class I took in Paris. My children will tell you that I have not stopped talking about the class and the instructor Eric. I can't wait to get started at home.
This class provided me with the information I required to make successful croissants. Although I had made them before, there was always a problem with the proper way to make the laminated dough. The class provided culinary skills in preparing the dough, the proper ingredients, as well as rolling and shaping the dough.
Prior to this class my croissants always went flat once they cooled, but now I know what I was doing wrong and will not make that mistake in the future. My children will appreciate that too.
Although Paris is a wonderful place to visit with all of the things it has to offer a tourist, the most important part of my trip was the cooking class.
Thank you Monique, for setting up this event for me; it means more to me than you can imagine! I look forward to taking a different class the next time I am in Paris.
Katie Couvson
*****
Dr. Irma McClaurin at Ladurée
© Entrée to Black Paris


Want to savor Paris? Take the pastry and chocolate tour. It is a wonderful way to learn the history of this delicious food, and the walking takes the edge off any guilt you might feel for sampling at every stop.
Irma McClaurin, PhD, Anthropologist
Raleigh, North Carolina
*****
One of our gourmet walks is featured in food aficionado Lové Anthony's Love2Eat video series! Click below to view.

*****


Food aficionados from Black Paris Divas take their first gourmet walk with Entrée to Black Paris
Black Paris Divas Gourmet Walk
© Entrée to Black Paris
Monique and her husband put together a great group of shops for the tour. I wanted info about cheese, chocolate, wine and pastries and breads! Got that and more...
Deborah Washington
I enjoyed the Gourmet Walk, no doubt...I found the tour to be very informative since I consider myself to be a "Gourmet Foodie" of MOST (not all) sorts-LOL!!
Winfrey Woody
Read more...

*****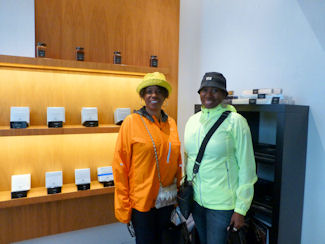 Deborah and Michelle Crockett
© Entrée to Black Paris
We visited some great chocolate and pastry shops that we would have never found on our own. The history behind a couple of the shops was awesome and the chocolate was beyond delicious.
Deborah Crockett