Other Publications
Food for the Soul
A coffee table cookbook inspired by African Americans living in Paris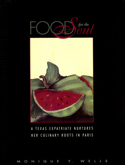 Food for the Soul is a tribute to African Americans, their history, their culture, and their cuisine. Author Monique Y. Wells, was initially inspired to write a book for African Americans in Paris who wanted a taste of home while living abroad. It was to be a simple collection of recipes and a list of indoor and outdoor markets, American grocers and other places where hard-to-find ingredients could be obtained. However, the project evolved and became a labor of love – for family, for cooking, and for history. Wells honors her family and its origins in virtually every page of this book, recounting the memories associated with many of the recipes that she presents.
Food for the Soul is a coffee table-style book printed on heavy glossy paper. It contains over 90 recipes featuring Texas and southern Louisiana cooking, as well as 65 color illustrations and photographs. It also includes historical information on various ingredients commonly used in soul food dishes, the differences between Creole and Cajun cuisine, the significance of Juneteenth and other topics. Prefaced by Michelin-star chef Alain Ducasse, it was featured on the Food Network show Recipe for Success.
Only a few copies remain!
Price: $49.95 + shipping and handling
To order, contact paris[at]entreetoblackparis[dot]com.