Newsletter
Newsletter Archives
May 2020 - Paris Panorama
Welcome to the May 2020 edition of our newsletter Paris Panorama!
Each month we feature an inspiring haiku poem by Anna Eklund-Cheong. You will also find a photograph of Paris by Tom Reeves, and an angel of the month by Rosemary Flannery. Until restaurants reopen, we will present a photograph of French pastry instead of a photo of our favorite restaurant of the month.
Bonne lecture!
Haiku of the Month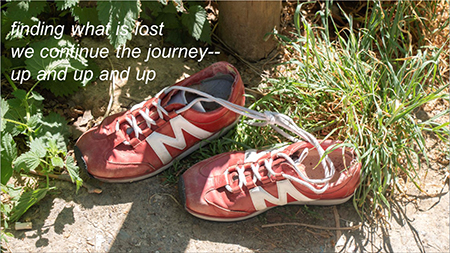 May Haiku
Photograph by Tom Reeves
Haiku by Anna Eklund-Cheong
Photo of the Month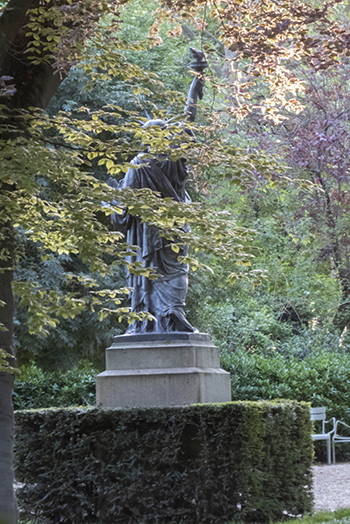 The Statue of Liberty in the Luxembourg Garden
Viewed from Rue Guynemer
Photograph by Tom Reeves
Tom Reeves publishes photographs of Paris on his Paris Insights Facebook page.
Our Pastry of the Month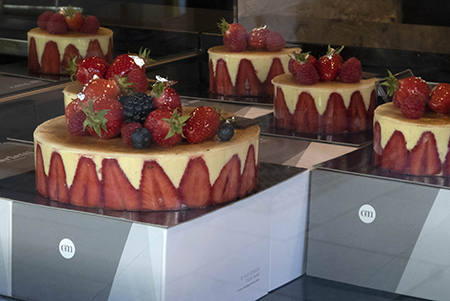 Fraisier (Strawberry Cake) by Carl Marletti
Photograph by Entrée to Black Paris
Click here to learn about our gourmet walks: https://www.entreetoblackparis.com/gourmet-activities-our-walking-tours
Angel of the Month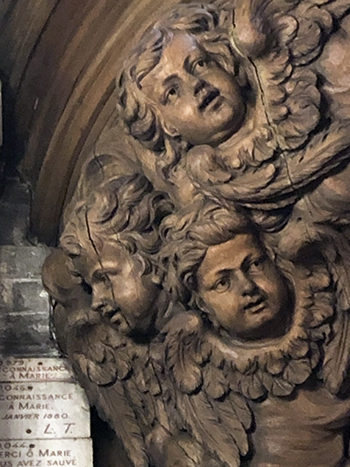 The Angels of the Basilique Notre-Dame des Victoires
(Detail of Organ Loft)
Photograph by Rosemary Flannery
Author of Angels of Paris - An Architectural Tour through the History of Paris
For this month's angel, Rosemary writes:
The lock down continues in Paris, where churches are closed for services but open during the week for prayer, lighting candles, or just reflecting and being enveloped in the calm. Notre-Dame des Victoires has a very particular and unusual atmosphere. Begun under Louis XIII to celebrate a maritime victory, construction was delayed by wars and the death of the king until its completion a hundred years later. The church is famous for the miracles, conversions, and religious apparitions that occur here. Its walls and columns are covered with ex-votos, marble plaques noting expressions of gratitude, some of which are visible in this photo. A bevy of angels' heads, encircled by their wings in 18th century style, are carved in oak. Their expressions – serious, awestruck, joyful – reflect the mastery of sculptor Charles Rebillé.
Basilique Notre-Dame des Victoires
7, place des Petits-Pères, 2nd arrondissement (Métro: Bourse)
To learn about other angels, follow this link: Angels of Paris – An Architectural Tour Through the History of Paris.
Paris Panorama Newsletters for 2020