Newsletter
Newsletter Archives
June 2020 - Paris Panorama
Welcome to the June 2020 edition of our newsletter Paris Panorama!
Each month we feature an inspiring haiku poem by Anna Eklund-Cheong. You will also find a photograph of Paris by Tom Reeves, and an angel of the month by Rosemary Flannery. Until restaurants reopen, we will present a photograph of French pastry instead of a photo of our favorite restaurant of the month.
Bonne lecture!
Haiku of the Month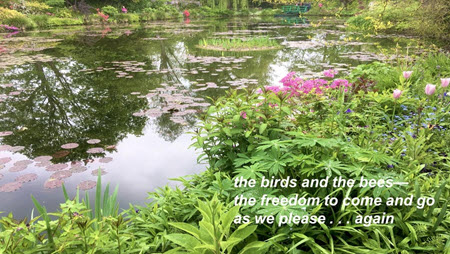 June Haiku
Photograph by Eric Hian-Cheong
Haiku by Anna Eklund-Cheong
Photo of the Month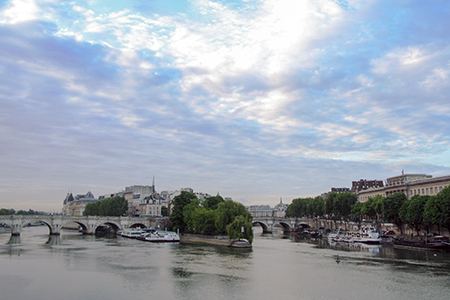 Sunrise over the Seine
Photograph by Tom Reeves
Tom Reeves publishes photographs of Paris on his Paris Insights Facebook page.
Our Pastry of the Month
Red Fruit Tart by Eric Keyser
Photograph by Entrée to Black Paris
Click here to learn about our gourmet walks: https://www.entreetoblackparis.com/gourmet-activities-our-walking-tours
Angel of the Month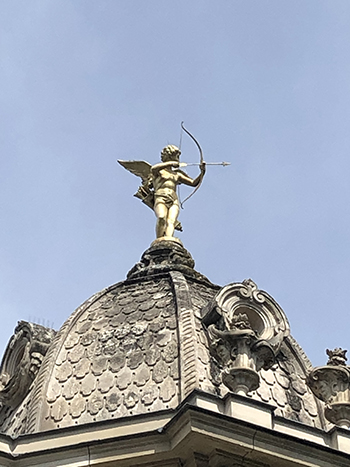 Cupid Angel of the Champs-Elysées
Photograph by Rosemary Flannery
Author of Angels of Paris - An Architectural Tour through the History of Paris
For this month's angel, Rosemary writes:
Gleaming atop the Pavillon Elysées dome, an exquisite winged cupid armed with a bow and a quiver points his arrow to arouse desire in his unsuspecting victims. Known as "Eros" in Greek mythology, and called "un amour" or love, in French, he strikes at the hearts of gods and mortals as he plays with their emotions.
The pavilion was constructed in Louis XV style for the 1900 Universal Exposition. Sculptor Jules Blanchard was commissioned to create a Cupid in gilded cast iron to crown the turret. Today the pavilion is an elegant restaurant and events venue. The nearby Jardin des Ambassadeurs is the perfect place for a lovers' rendezvous.
Pavillon Elysée
10, avenue des Champs-Elysées, 8th arrondissement (Métro: Champs-Elysées Clemenceau)
To learn about other angels, follow this link: Angels of Paris – An Architectural Tour Through the History of Paris.
Paris Panorama Newsletters for 2020