Newsletter
Newsletter Archives
August 2020 - Paris Panorama
Welcome to the August 2020 edition of our newsletter Paris Panorama!
Each month we feature an inspiring haiku poem by Anna Eklund-Cheong. You will also find a photograph of Paris by Tom Reeves, our restaurant of the month with a link to the review, and an angel of the month by Rosemary Flannery.
Bonne lecture!
Haiku of the Month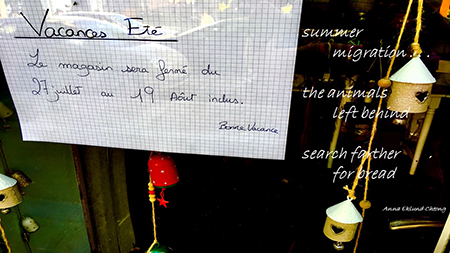 August Haiku
Photograph by Anna Eklund-Cheong
Haiku by Anna Eklund-Cheong
Photo of the Month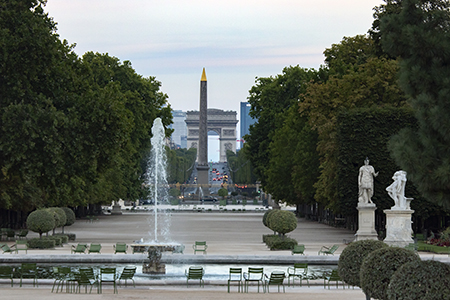 Jardin des Tuileries at Dawn
Photograph by Tom Reeves
Tom Reeves publishes photographs of Paris on his Paris Insights Facebook page.
Our Restaurant of the Month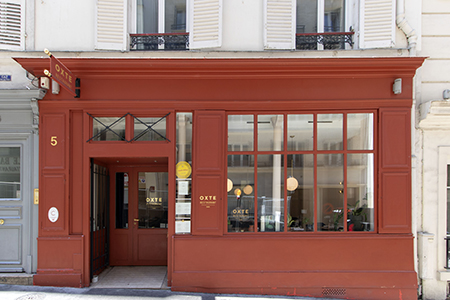 Oxte
Photograph by Entrée to Black Paris
Oxte, located only five minutes from the Arc de Triomphe, serves inspired dishes prepared by a Mexican chef.
Click here and sign in to read our review: https://www.parisinsights.com/restaurants.php.
Angel of the Month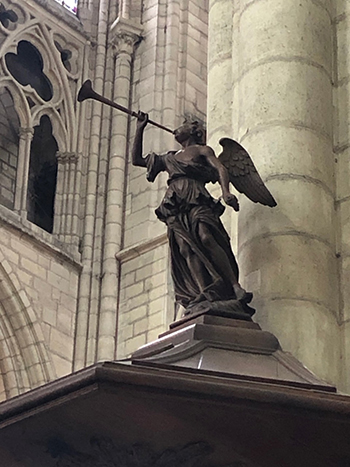 The Triumphant Angel of the Meaux Cathedral
Photograph by Rosemary Flannery
Author of Angels of Paris - An Architectural Tour through the History of Paris
For this month's angel, Rosemary writes:
Going further afield this month, I visited the lovely town of Meaux, less than an hour by train from Paris. There is much to see – a lovely and unique episcopal garden, a fine arts museum, and the outstanding Saint Pierre Cathedral. Begun in the 12th century, Saint Pierre features art and sculpture of many periods. This magnificent male angel, sculpted in oak and posed triumphantly blowing a trumpet aloft the pulpit, is typical of the 18th century French rococo style. Theatrical, with graceful lines and asymmetrical elegance, the angel, attired in a draped and open flowing robe, is highly stylized. More sensual than sacred in feeling, it is evocative of the era.
Cathedral of Saint Pierre de Meaux
4, place Henri IV
77100 Meaux
Meaux lies in the Ile de France and is accessible from the Gare de l'Est.
To learn about other angels, follow this link: Angels of Paris – An Architectural Tour Through the History of Paris.
Paris Panorama Newsletters for 2020