Newsletter
Newsletter Archives
August 2017 - Paris Panorama
Welcome to the August 2017 edition of our newsletter Paris Panorama!
Each month we feature an inspiring haiku poem by Anna Eklund-Cheong. You will also find information about what's up in Paris, our restaurant of the month with a link to the review, and an angel of the month by Rosemary Flannery.
Bonne lecture!
Haiku of the Month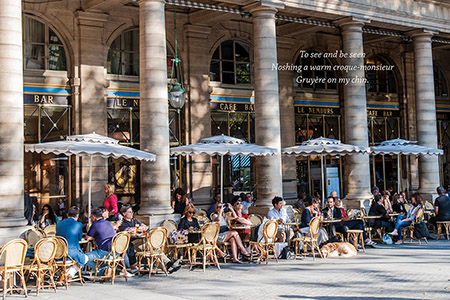 Photograph by Eric Hian-Cheong
Haiku by Anna Eklund-Cheong
What's Up in Paris
The highlight of the month of August is the Fête des Tuileries, where children and adults, Parisians and visitors all enjoy the sixty or so attractions: bumper cars, ghost trains, shooting gallery, hall of mirrors, and wooden carousel horses.
Our Restaurant of the Month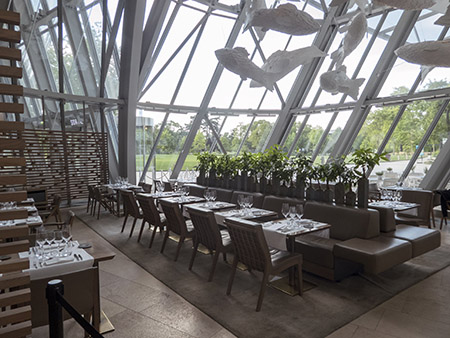 Le Frank
Photograph by Entrée to Black Paris
Le Frank sits in the Louis Vuitton Foundation building under a vast canopy of steel and glass with a view of the Bois de Boulogne.
Follow this link and sign in to read our review: http://www.parisinsights.com/restaurants.php.
Angel of the Month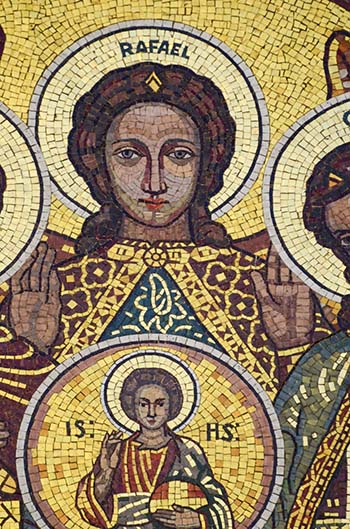 Angel of the Church of the Holy Archangels
Photograph by Rosemary Flannery
Author of Angels of Paris - An Architectural Tour through the History of Paris
Raphael the archangel gazes steadily ahead above the door of marvelous Romanian Orthodox chapel placed under the protection of the archangels. It was believed that in rendering visible that which was not, the image would serve as witness to the existence of the divine cosmos. Portrayed in dazzling gold and colored mosaic, his hands open in prayer, Rafael is limned according to the canon of 6th-century Byzantine icons: elongated nose, small mouth, and large almond-shaped eyes. Because they know God, sacred figures were presented as impassive and calm.
Church of the Holy Archangels, 9, rue Jean de Beauvais, 5th arrondissement (Metro: Maubert-Mutualité)
To learn about other angels of Paris, follow this link: Angels of Paris – An Architectural Tour Through the History of Paris.
Paris Panorama Newsletters for 2017