Newsletter
Newsletter Archives
October 2014 - Paris Panorama
Welcome to our newsletter Paris Panorama!
Each month we feature an inspiring haiku poem by Anna Eklund-Cheong. You will also find information about what's up in Paris, a photograph with a link to a review of our restaurant of the month (sign in to read the review), and an angel of the month by Rosemary Flannery.
Bonne lecture!
Haiku of the Month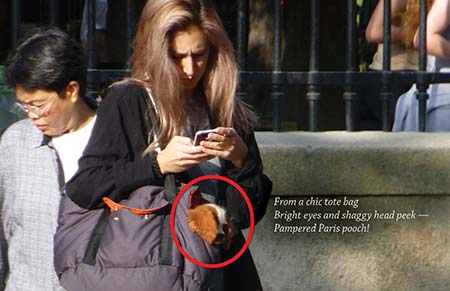 Photograph by www.DiscoverParis.net
Haiku by Anna Eklund-Cheong
What's On in Paris
On October 4, from 7 p.m. to the early hours of the morning, explore Paris' annual nocturnal art scene. Nuit Blanche is the opportunity to view museums, private and public art galleries, and other cultural institutions that will be open and free of charge...all night long! More information can be found here.
Our Restaurant of the Month
Our choice for the restaurant of the month doesn't lie in Paris. Located just outside the city limits in the town of Saint-Ouen, its fine food and friendly service make La Puce worth the extra effort it takes to get there. Follow this link and then sign in at the landing page to read our review: www.parisinsights.com/restaurants.php.
Angel of the Month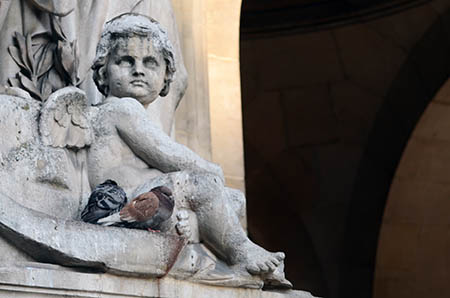 The Opera Angel
Photograph by Rosemary Flannery
Author of Angels of Paris - An Architectural Tour through the History of Paris
A quartet of monumental stone sculptures, allegories for the performing arts, hold forth on the facade of the Opera Garnier. Instrumental Music, on the far left, is a staid grouping of figures, save for a pensive angel, seated cross-legged with unfurled wings, awaiting the crowds. Undeterred by his metallic bird-guard crown, pigeons huddle about him.
To learn more about these and other angels of Paris, follow this link: Angels of Paris – An Architectural Tour Through the History of Paris.
Paris Panorama Newsletters for 2014