Newsletter
Newsletter Archives
April 2013 - The Colonial Palace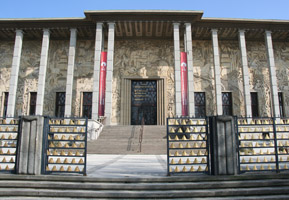 In 1931, at the height of its influence as a colonial power, France hosted an event called the International Colonial Exposition in the Bois de Vincennes in Paris. In this month's Paris Insights, we take a look at the Colonial Palace, a monument that was built for the exposition and to celebrate the glory of French imperialism.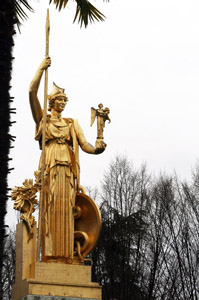 A large guilded bronze statue once stood on the steps of the entrance to the Colonial Palace. Read about its symbolism in this months Paris, Past and Present.
We had the occasion to dine at Le Dogon, a restaurant that specializes in cuisine from Mali and Senegal. Read our review in Le Bon Goût to learn about the delicious food that we enjoyed there and to meet the restaurant's owner, Bécaye Tounkara.
Bonne lecture!
* * * * * *
One of Entrée to Black Paris' most popular walking tours is called Black History in and around the Luxembourg Garden.
Explore the Luxembourg Garden and the surrounding area to learn about the histories of such luminaries as Richard Wright, Chester Himes, Alexandre Dumas, and Victor Séjour. View the landscape captured by painter Loïs Mailou Jones and see the contemporary sculpture that commemorates the abolition of slavery in the French colonies.
The tour, led by a knowledgeable and experienced local guide, involves about 90 minutes of walking. Black History in and around the Luxembourg Garden is a regularly-scheduled walking tour.
Click here to view the schedule: https://www.entreetoblackparis.com/scheduled-walking-tours.
We look forward to helping make your trip to Paris memorable!
Paris Panorama Newsletters for 2013