Newsletter
Newsletter Archives
June 2013 - A Visit to Petit Mali – An African Neighborhood in Paris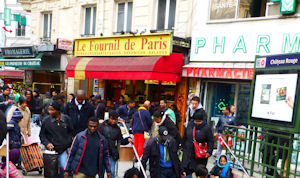 On a Saturday afternoon in mid-April, we took a guided walking tour of the neighborhood called Goutte d'Or that lies to the east of the Château Rouge metro station in the 18th arrondissement of Paris. The walk was organized by Baština, an association that promotes tourisme équitable, a type of tourism where small numbers of travelers meet the locals and interact with them. Read about our visit to this fascinating neighborhood in this month's Paris Insights newsletter.
Oleg Kononov and Irina Kononova came to Paris from Moscow five years ago. Read about Les Trois Carafes, a restaurant that they opened near the Jardin des Plantes, and the delicious food that is served there in this month's Le Bon Goût.
The city of Paris has prepared the groundwork for the construction of two buildings in the Goutte d'Or neighborhood that will comprise the new locations of the Institute of Islamic Cultures. Learn more in this month's Paris, Past and Present.
* * * * * *
One of Entrée to Black Paris' most popular walking tours is called Black History in and around the Luxembourg Garden.
Explore the Luxembourg Garden and the surrounding area to learn about the histories of such luminaries as Richard Wright, Chester Himes, Alexandre Dumas, and Victor Séjour. View the landscape captured by painter Loïs Mailou Jones and see the contemporary sculpture that commemorates the abolition of slavery in the French colonies.
The tour, led by a knowledgeable and experienced local guide, involves about 90 minutes of walking. Black History in and around the Luxembourg Garden is a regularly-scheduled walking tour.
Click here to view the schedule: https://www.entreetoblackparis.com/scheduled-walking-tours.
We look forward to helping make your trip to Paris memorable!
Paris Panorama Newsletters for 2013