Newsletter
Newsletter Archives
April 2022 - Paris Panorama
Welcome to the April 2022 edition of our newsletter Paris Panorama!
Each month we feature an inspiring haiku poem by Anna Eklund-Cheong. You will also find a photograph of Paris by Tom Reeves, our restaurant of the month with a link to the review, and an angel of the month by Rosemary Flannery.
Bonne lecture!
Haiku of the Month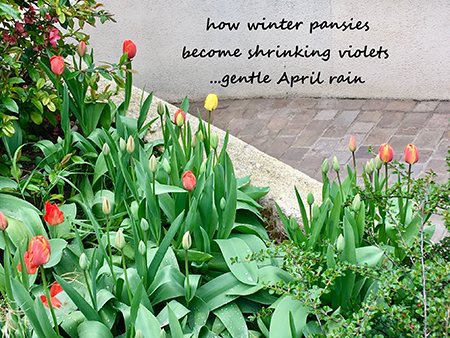 April Haiku
Photograph by Eric Hian-Cheong
Haiku by Anna Eklund-Cheong
Photo of the Month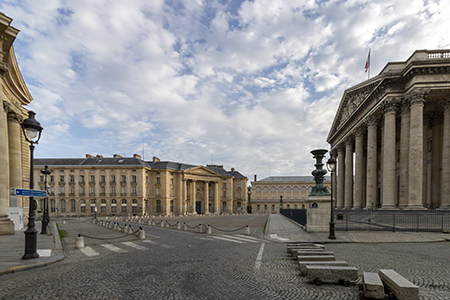 Place du Panthéon
From left to right: Town hall of the 5th arrondissement, University of Paris I Panthéon-Sorbonne,
Sainte-Geneviève Library, Panthéon
Photograph by Tom Reeves
Tom Reeves contributes photographs of Paris to the Paris Insights Facebook page.
Our Restaurant of the Month
Our restaurant of the month is selected from the restaurants at which we dined during the prior month. We invite our readers to read our reviews at the following link: https://www.parisinsights.com/restaurants.php (sign in to gain access to the reviews).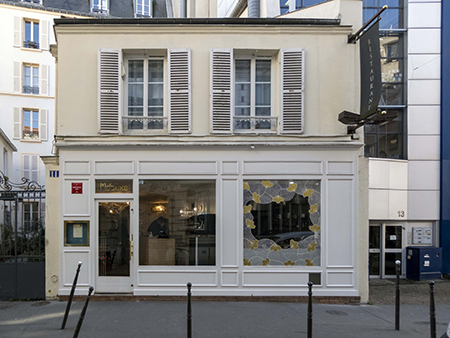 MoSuke
Photograph by Entrée to Black Paris

A one-star Michelin restaurant serving French, African, and Japanese fusion cuisine
Angel of the Month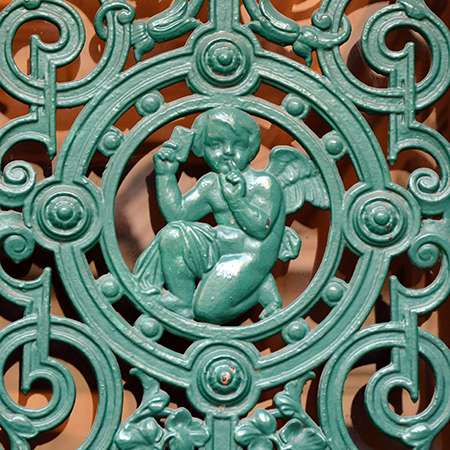 Latin Quarter Angel
Photograph by Rosemary Flannery
Author of Angels of Paris - An Architectural Tour through the History of Paris
For this month's angel, Rosemary writes:
Strolling through the Latin Quarter on the picturesque rue Saint Andre-des-Arts, notice the large green door at number 40. Adorning a cast-iron medallion on a decorative door grill, an angel is found in the center of the ornate panel. Designed to protect the glass behind it, while allowing light to enter the hallway, these sturdy grills were a practical but artistic style trending in the 1830's. This was the rise of the industrial age, coinciding with the period of reconstruction under Louis-Philippe, king of the French. These door grills were sold by catalogue; many seem to convey a charming narrative. Here, the childish girl angel holds a small envelope with one hand while making a gesture for silence with the other, as a draped sash flows around her.
40, rue St. André-des-Arts
75006 Paris
Métro : St. Michel, Odéon
To learn about other angels, follow this link: Angels of Paris – An Architectural Tour Through the History of Paris.
Rosemary Flannery is an experienced artist currently creating portrait drawings from photos. Click here to learn more: www.portraitsbyrosemary.com
Paris Panorama Newsletters for 2022