Newsletter
Newsletter Archives
July 2012 - Musicians in the Metro - Part II
In last month's Paris Insights we looked at the selection procedure that musicians must go through if they want a permit to perform in the corridors of the Paris metro. This month we take a look at two of the musicians, one French, the other American, who went through this process.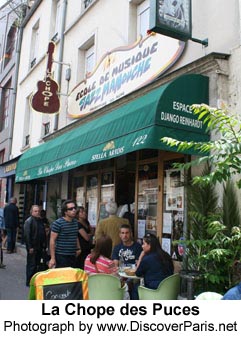 Gypsy jazz is alive and well in Paris! Read about the café that is considered to be the temple of this form of jazz in this month's Paris, Past and Present.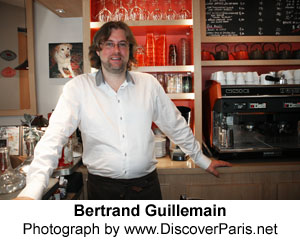 Last month we dined at Le Vin Sobre, a neighborhood restaurant that has been open since 2003. We talked with chef and owner Bertrand Guillemain, who got started in cuisine at a very young age. Read our review in this month's Le Bon Goût.
Bonne lecture!
Image credits:
La Chope des Puces by www.DiscoverParis.net
Bertrand Guillemain by www.DiscoverParis.net
Paris Panorama Newsletters for 2012