Newsletter
Newsletter Archives
January 2006 - Copying the Masters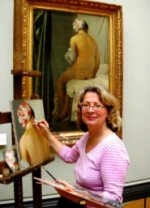 When we first met Jane, she told us that she was a copyist.
We had never heard of the profession before. We said, "What does a copyist do?"
Jane said, "A copyist makes reproductions of the paintings of the masters. The idea is there, the composition is there, the colors are there. The only thing left for the copyist to do is to paint!"
We said, "Why would anybody want a copy of a masterpiece?"
Jane said, "Because they can't afford the masterpiece."
All this sounded logical and we were delighted when, a few weeks later, we received an invitation to the opening night of the 2e Salon des Copistes du Louvre, which was being held at the town hall of the 6th arrondissement in Paris.
In this month's newsletter we report on the works that were displayed there.
Paris Panorama Newsletters for 2006