Newsletter
Newsletter Archives
October 2018 - Paris Panorama
Welcome to the October 2018 edition of our newsletter Paris Panorama!
Each month we feature an inspiring haiku poem by Anna Eklund-Cheong. You will also find a photograph of Paris by Sophia Pagan, our restaurant of the month with a link to the review, and an angel of the month by Rosemary Flannery.
Bonne lecture!
Haiku of the Month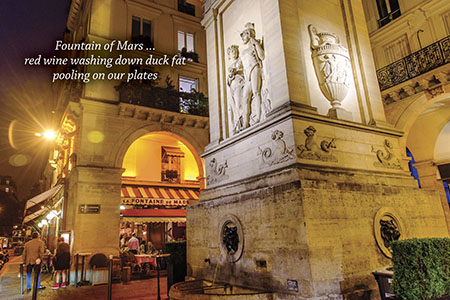 Photograph by Eric Hian-Cheong
Haiku by Anna Eklund-Cheong
Photo of the Month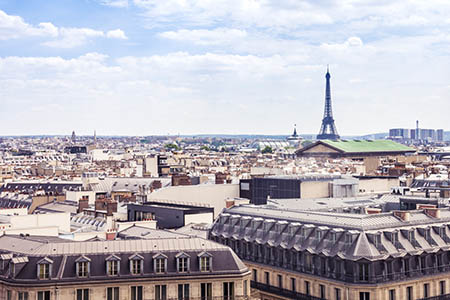 Rooftops Viewed from Terrace of Printemps Department Store
Photograph by Sophia Pagan
Fine art photographer Sophia Pagan has developed a Paris portrait session in collaboration with Entrée to Black Paris To learn more, follow this link: Black Paris Portraits.
Our Restaurant of the Month
Les Papilles
Photograph by Entrée to Black Paris
Hearty French fare in a traditional, old-time bistrot just steps away from the Luxembourg Garden.
Follow this link and sign in to read our review: http://www.parisinsights.com/restaurants.php.
Angel of the Month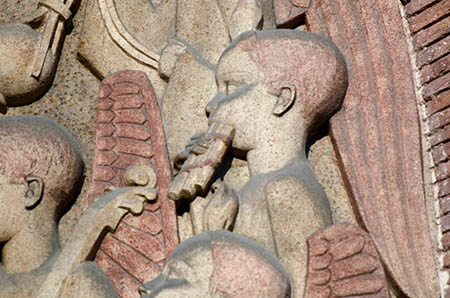 Angel flutist at Sainte-Odile Church
Photograph by Rosemary Flannery
Author of Angels of Paris - An Architectural Tour through the History of Paris
Angels are often depicted playing harps, trumpets and lutes, but Anne-Marie Roux-Colas's orchestra features instruments from accordions to guitars. This young angel plays a miniature pan flute; he's one of eighteen whose silent symphony honors Sainte Odile, patron saint of the Alsace-Lorraine. Odile, born blind to an aristocratic family in 635 in Obernai, Alsace, was rejected by her father, Duke Adalric. Sent to be raised in Burgundy, she miraculously recovered her sight upon being baptized at age twelve. When Adalric tried to force her to marry a prince, she fled to a cave and consecrated her life to God. Later, Odile founded a monastery and the Hohenburg abbey. This low-relief sculpture is made of Alsatian sandstone.
Church of Sainte Odile, 2, avenue Stéphane Mallarmé, 17th arrondissement (Metro: Porte de Champerret)
To learn about other angels of Paris, follow this link: Angels of Paris – An Architectural Tour Through the History of Paris.
Paris Panorama Newsletters for 2018