Newsletter
Newsletter Archives
May 2018 - Paris Panorama
Welcome to the May 2018 edition of our newsletter Paris Panorama!
Each month we feature an inspiring haiku poem by Anna Eklund-Cheong. You will also find a photograph of Paris by Sophia Pagan, our restaurant of the month with a link to the review, and an angel of the month by Rosemary Flannery.
Bonne lecture!
Haiku of the Month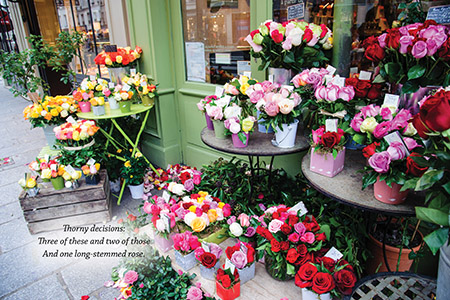 Photograph by Eric Hian-Cheong
Haiku by Anna Eklund-Cheong
Photo of the Month

Coeur d'Honneur
Photograph by Sophia Pagan
One of my favorite things to photograph is the architecture of Paris. This image was taken at the Palais Royal, which features a large-scale sculpture, Les Deux Plateaux, commonly known as the Colonnes de Buren, after the French artist Daniel Buren. An interesting artist who has a quote about art that I love: "Art doesn't have to mean anything, art can just be art."
Fine art photographer Sophia Pagan has developed a Paris portrait session in collaboration with Entrée to Black Paris To learn more, follow this link: Black Paris Portraits.
Our Restaurant of the Month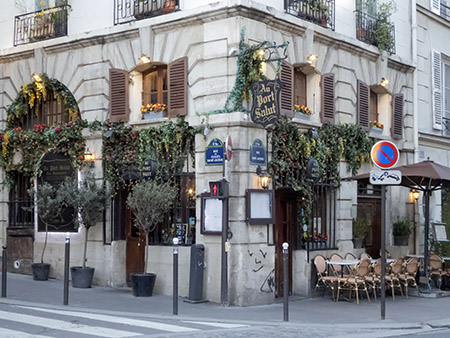 Le Port du Salut
Photograph by Entrée to Black Paris
Le Port du Salut is located in the Latin Quarter at the corner of rue des Fossés Saint-Jacques and rue Saint-Jacques. In the mid-twentieth century it was a popular cabaret where many French singers began their careers.
Follow this link and sign in to read our review: http://www.parisinsights.com/restaurants.php.
Angel of the Month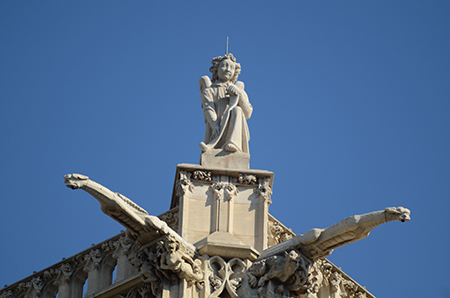 Angel of the Saint-Jacques Tower
Photograph by Rosemary Flannery
Author of Angels of Paris - An Architectural Tour through the History of Paris
A kneeling stone angel with unfurled scroll perches on the southwest corner of the Tour Saint Jacques. Symbol of the evangelist Matthew, it is in fact a winged man. Mathew's gospel recounts the genealogy of Jesus, from father to son, from Abraham to his incarnation as Christ and for this reason he is the only evangelist depicted in human and angelic form, rather than as a winged animal. Icons of evangelists John, as eagle; Mark, as winged lion; and Luke, as winged ox survey the other corners of the tower. Dating to 1523, the Saint Jacques tower is a bell tower without bells, bereft of its church, Saint-Jacques-de-la Boucherie, once a starting point for pilgrimages to Saint-Jacques de Compostelle in Spain. Its luxuriant, intricate facade carvings in flamboyant Gothic style reflect the wealth of its former patrons, wholesale butchers of Les Halles market. The 52-meter tower can be visited on Fridays, Saturdays, and Sundays from June through September.
Square de la Tour Saint-Jacques, 4th arrondissement, (Metro: Châtelet)
To learn about other angels of Paris, follow this link: Angels of Paris – An Architectural Tour Through the History of Paris.
Paris Panorama Newsletters for 2018