Newsletter
Newsletter Archives
March 2021 - Paris Panorama
Welcome to the March 2021 edition of our newsletter Paris Panorama!
Each month we feature an inspiring haiku poem by Anna Eklund-Cheong. You will also find a photograph of Paris by Tom Reeves, our restaurants of the month with a link to the reviews, and an angel of the month by Rosemary Flannery.
Bonne lecture!
Haiku of the Month
March Haiku
Photograph by Eric Hian-Cheong
Haiku by Anna Eklund-Cheong
Photo of the Month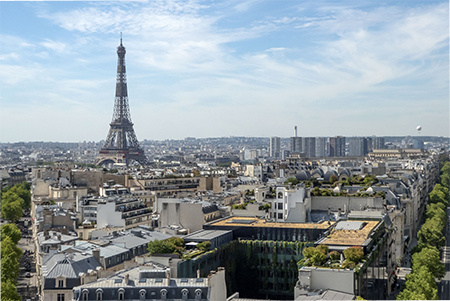 Eiffel Tower Viewed from the Arc de Triomphe
Photograph by Tom Reeves
Tom Reeves publishes photographs of Paris on his Paris Insights Facebook page.
Our Restaurants of the Month
Our restaurant of the month is selected from the restaurants at which we dined during the prior month. For this month's award, we were unable to determine which restaurant we liked the best. They all served great food and offered great service! Therefore, we have decided to publish the photographs of the restaurants that we visited in February. We invite our readers to read our reviews at the following link: https://www.parisinsights.com/restaurants.php (sign in to read the reviews).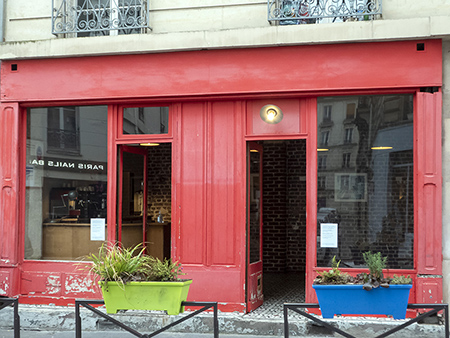 Invitez-vous Chez Nous
Photograph by Entrée to Black Paris
Hearty French food served near the popular Mouffetard market street.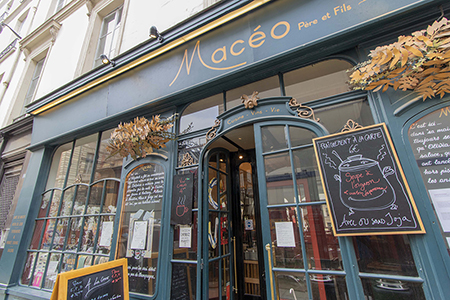 Macéo
Photograph by Entrée to Black Paris
Fine dining at mid-range prices in central Paris.
Angel of the Month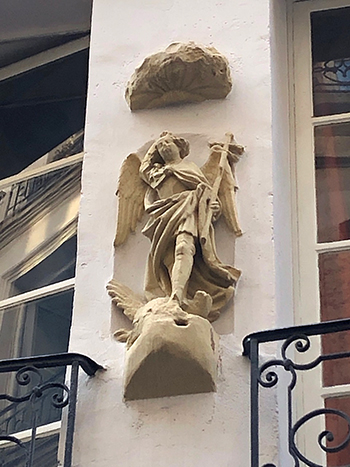 Saint Michel - The Archangel
Photograph by Rosemary Flannery
Author of Angels of Paris - An Architectural Tour through the History of Paris
For this month's angel, Rosemary writes:
Although badly damaged, this stone statue of Michael the Archangel crushing a dragon embellishes the wall of an apartment building on a small quiet street of the Left Bank. Formerly the site of a school constructed in 1338 which prevailed until the 16th century, the College de Chanac de Pompadour, also known as the College Saint-Michel, once formed part of the University of Paris. Many places of learning such as this were located not far from Notre Dame Cathedral, where the first school of Paris originated.
The exact dating of the statue is unknown, but Michael's dashing asymmetrical pose, finely sculpted wings and voluminous cape attached with a broach, allude to the late Medieval style. Michael holds a crucifix-shaped sword in his left hand, and was probably pointing to the heavens with his right, typical imagery of his iconography.
Saint Michael the Archangel
12 rue de Bièvre, 4th arrondissement, (Metro: Maubert Mutualité)

To learn about other angels, follow this link: Angels of Paris – An Architectural Tour Through the History of Paris.
Rosemary Flannery is an experienced artist currently creating portrait drawings from photos. Click here to learn more: www.portraitsbyrosemary.com
Paris Panorama Newsletters for 2021