Newsletter
Newsletter Archives
July 2021 - Paris Panorama
Welcome to the July 2021 edition of our newsletter Paris Panorama!
Each month we feature an inspiring haiku poem by Anna Eklund-Cheong. You will also find a photograph of Paris by Tom Reeves, our restaurant of the month with a link to the review, and an angel of the month by Rosemary Flannery.
Bonne lecture!
Haiku of the Month
July Haiku
Photograph by Eric Hian-Cheong
Haiku by Anna Eklund-Cheong
Photo of the Month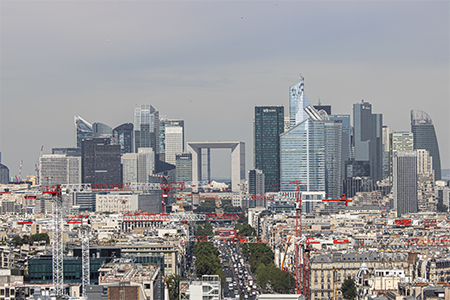 La Défense Viewed from the Arc de Triomphe
Photograph by Tom Reeves
Tom Reeves publishes photographs of Paris on his Paris Insights Facebook page.
Our Restaurant of the Month
Our restaurant of the month is selected from the restaurants at which we dined during the prior month. We invite our readers to read our reviews at the following link: https://www.parisinsights.com/restaurants.php (sign in to gain access to the reviews).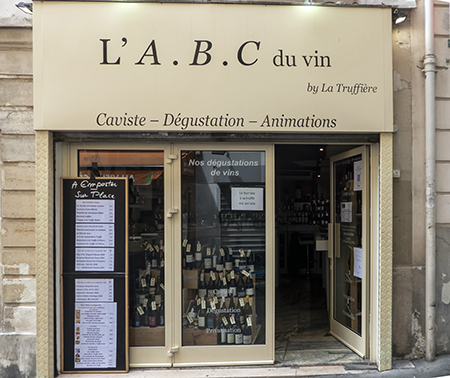 L'ABC du Vin
Photograph by Entrée to Black Paris
A well-stocked wine shop that also serves gourmet fare, located near Place de La Contrescarpe.
Angel of the Month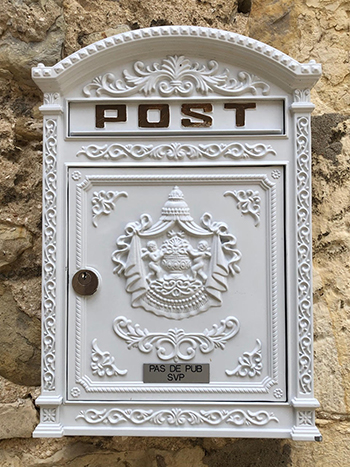 Mailbox Angels
Photograph by Rosemary Flannery
Author of Angels of Paris - An Architectural Tour through the History of Paris
For this month's angel, Rosemary writes:
During a recent visit to the Drome Provençale region, I was thrilled to come across a duo of angels decorating a white enameled mailbox on the Grande Rue of Mirmande. Mirmande is a lovely hilltop village, considered one of the most beautiful in France. In spite of its size – current population 550 – over the centuries Mirmande has produced some extraordinary personalities. This house was once home to Jules Goux, automobile racer and winner of the Indianapolis 500 in 1913. Today the 16th century stone building is a "gite de France," a rural holiday rental. The lively angels add a festive touch to the charming old-fashioned mailbox.
To learn about other angels, follow this link: Angels of Paris – An Architectural Tour Through the History of Paris.
Rosemary Flannery is an experienced artist currently creating portrait drawings from photos. Click here to learn more: www.portraitsbyrosemary.com
Paris Panorama Newsletters for 2021