Newsletter
Newsletter Archives
October 2005 - Josephine's Paris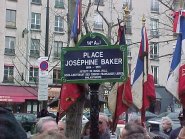 Eighty years ago this month, Josephine Baker made her legendary debut in Paris in a show called La Revue Négre (The Black Revue). The show opened during an era of newfound awareness of black culture in Paris, when African art, music and dance were promoted by Frenchman Paul Guillaume and African artifacts were a source of inspiration to artists such as Picasso and Modigliani. The success of La Revue Négre not only drove that awareness to greater heights, but also made Baker an overnight sensation - a superstar.
In this month's newsletter we look at the life of Josephine Baker in Paris.
* * * * * *
One of Entrée to Black Paris' most popular walking tours is called Black History in and around the Luxembourg Garden.
Explore the Luxembourg Garden and the surrounding area to learn about the histories of such luminaries as Richard Wright, Chester Himes, Alexandre Dumas, and Victor Séjour. View the landscape captured by painter Loïs Mailou Jones and see the contemporary sculpture that commemorates the abolition of slavery in the French colonies.
The tour, led by a knowledgeable and experienced local guide, involves about 90 minutes of walking. Black History in and around the Luxembourg Garden is a regularly-scheduled walking tour.
Click here to view the schedule: https://www.entreetoblackparis.com/scheduled-walking-tours.
We look forward to helping make your trip to Paris memorable!
Paris Panorama Newsletters for 2005