Newsletter
Newsletter Archives
July 2005 - French Lingerie: A Day of Decadence
Especially for Real-Sized Women
by Robin Mitchell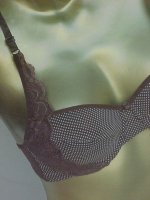 It could be your first or your fifth trip to Paris. You know where you want to go and what you want to see. You have rehearsed how to say "please" and "thank you" in your best high school French. When you get there, the flurry of dashing from one museum to the next, and the effort of buying little Eiffel Towers for everyone you know back home begins to make you wonder if this is really a dream vacation. It may seem more like some kind of sick reality show designed to prove how much activity you can cram into the shortest time possible.
Take heart and slow down! The Paris scene can also be a leisurely, even decadently so. You can engage in mindless people-watching in a sidewalk café while enjoying a grande crème. Or you can window-shop, a favorite pastime of almost everyone. Who hasn't wanted to step inside a chic boutique and purchase a garment about which you can casually claim: "Oh this? I bought it in Paris."
Paris is still a fashion Mecca after all these years. But shopping there can be an intimidating process all around, especially for average-sized (that's a size 14-16, in case you're interested) and larger-sized American woman. Particularly since it is hard to imagine that any woman in Paris is bigger than a size two!
French women seem to exude style and confidence effortlessly, casually sporting an intricately tied scarf around their necks, or pairing jeans with fishnet stockings and high heels. It is enough to make even the most self-assured, style-conscious American hunker down in her Métro seat. I am convinced that the secret to their extraordinary fashion sense is not just based on what you see , it's founded on what they wear underneath. After all, putting on a killer set of undies can change your life. Let's face it, how many of you haven't worn a wicked smile because you were wearing something lacy beneath your clothes?
Have you, the larger-sized woman, fantasized about finding delicate, sexy French lingerie, but believed that your "maybe-no-longer-perky" breasts would never find their heart's desire in the City of Light? Americans are used to grabbing a bra at Target while throwing a box of cereal and a CD into the shopping cart. Or, if they're busty, spending a fortune for bras that resemble plain white coats of armor. Perhaps this is why between 70% and 80% of all women are wearing the wrong bra size - not enough attention is being paid to buying a brassiere!
So where do you go in the French capital to shop for your lacy dreams? What are the magical phrases that you pronounce to get the sales personnel to respond with a smile? How does your American size convert to the French undergarment standard? Suppose that the shopkeepers are snooty and look down on your voluptuous curves? What if the saleswomen don't understand your less-than-adequate high school French? Will you hear, yet again, the discouraging words "We don't carry your size" (a phrase that is hard enough to bear in English)?
In short, will your ample bosom ever get to know the caress of French lace?
The answer is yes, yes and a resounding yes! Larger sizes do exist in Paris, and one of a woman's most important "dream" items - lingerie - is within your reach!
The Eiffel Tower can wait - it's not going anywhere. Entrée to Black Paris is pleased to offer you, the large-sized woman, a day of decadence and luxury. This day is all about you.
It will be a day of shopping in several wonderful Parisian lingerie boutiques, personally researched, where you will find a bounty of beautiful items in your size. I, who am also a woman of size, will meet you at your hotel and we will embark on our excursion by Metro and on foot (the best way to become familiar with the city). After a delightful half-day of visiting a range of boutiques, I will take you to one of Paris's premier teashops for a glorious afternoon tea. There, you can sit back and relax, sheltered from the bustle of the city and surrounded by delectable aromas. A lovely finish to your day of decadence!
So, next time that you take the Metro, you'll be wearing a wicked grin, secure in the knowledge that you have on the most glorious underwear in Paris. And you can arrive home with much more than a Paris snow globe in your luggage. When friends ask you what you bought, you can flash your most innocent smile and reply: "All kinds of delightful goodies." Now, isn't that what vacations are supposed to be all about?
Paris Panorama Newsletters for 2005