What's New
February 2021 - Black History Month 2021

The 2021 Black History Month Virtual Festival
Our own Monique Y. Wells participated in the 2021 Black History Month in France Virtual Festival, organized by the Association for the Study of African American Life and History (ASALH) on February 4. She spoke on "'Family is what you make it' - The African-American Presence in Paris from 1990 to Present."
Monique Y. Wells Featured in Boston's Bay State Banner
Florence Ladd, social critic, psychologist, and author of The Spirit of Josephine, has written an article about Monique for the Bay State Banner. Ladd's story captures the essence of Monique's passion for Paris. Click here to read the article: https://www.baystatebanner.com/2021/02/11/monique-y-wells-an-african-american-in-paris/

Proud to Be Featured in Black Enterprise ...
Journalist Dana Givens recently interviewed Monique for a feature article about our new Virtual Black Paris Experience. It was published on February 12, 2021 in Black Enterprise! Read it here: https://www.blackenterprise.com/how-to-get-the-black-paris-tour-experience-at-home/
... and in the Washington Post!
A former Paris resident, journalist Priscilla Lalisse-Jespersen, has written a Black History Month article for By the Way — the Washington Post's travel newsletter. Entrée to Black Paris and Les Amis de Beauford Delaney are featured there. Find the article at the following link https://www.washingtonpost.com/travel/2021/02/23/black-history-paris/
15 Minutes Interview
Osiris Munir of Ankh Entertainment recently interviewed Monique for her show, 15 Minutes. In this special episode, Munir reminisced about the time she spent in Paris and asked Monique about our Virtual Black Paris Experience, our partnership with the Wells International Foundation (WIF), and the virtual art exhibition that WIF is organizing. Click here to watch! https://www.youtube.com/watch?v=QdsGrdes5O4
Pratt University
On February 22, Monique gave her "Black Paris and the Myth of a Colorblind France" presentation to Professor Layla Zami's French class at Pratt University in celebration of Black History Month. The professor and her students expressed their appreciation for the lecture, with Zami stating that she learned things about her hometown of Paris that she never knew before.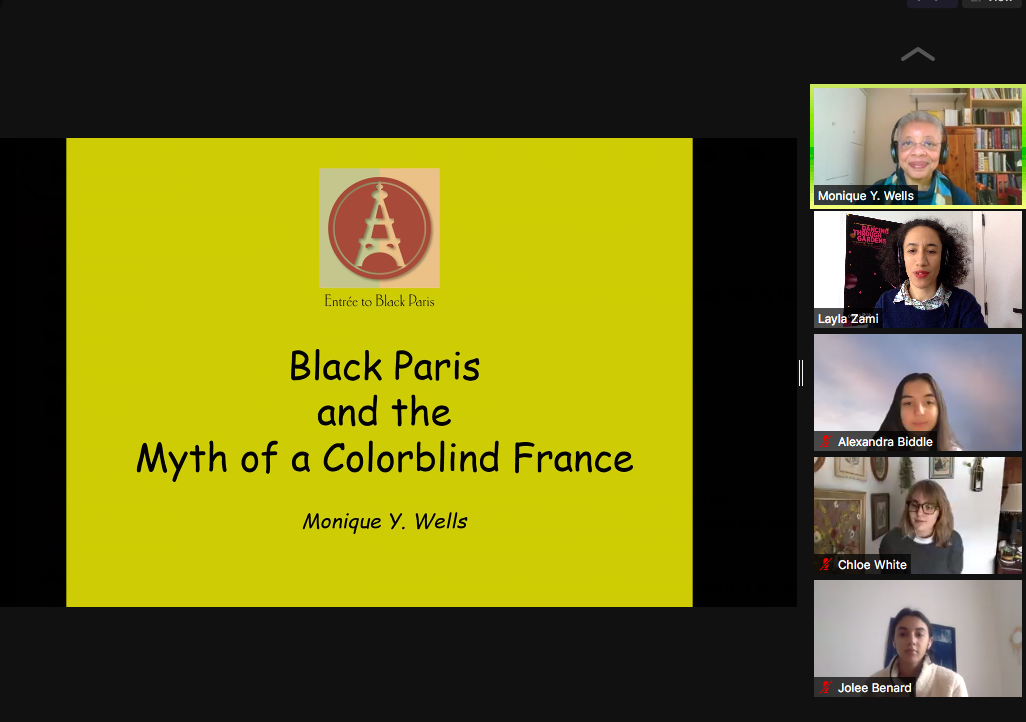 Articles for 2021