Newsletter
Newsletter Archives
February 2004 - From the Antilles to the Eiffel Tower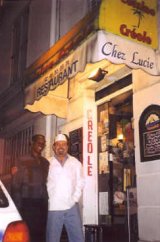 by Kiratiana Freelon

I never would have thought that I could get accras, boudin, crabe farcie, and poisson à la créole after taking a stroll around the Eiffel Tower. If you are familiar with these special dishes, then you might like to know that there is a 44-year old Antillean restaurant named Chez Lucie in the posh 7th arrondissement. I'm not saying Caribbean restaurants don't belong in such a location. However, this tiny, colorful restaurant stands out among the manicured parks, expensive cars, and gourmet shops in a way that a location in the 18th arrondissement wouldn't allow. Its Antillean food and Eiffel tower location offer tourists and longtime residents the opportunity to visit Paris' landmark attraction and to experience a taste of its multiculturalism.

After a failed attempt to eat there without a reservation on Friday evening, I visited Chez Lucie on a Monday evening with a friend. Paris has its fair share of storefront restaurants but Chez Lucie takes it to another level. Remember when you tried to fit 25 friends in your 300 square foot Paris studio? Space was precious and it was impossible to avoid speaking to the person next to you. That is exactly what will happen to you when you dine at Chez Lucie. You'll feel as if you had been invited to a friend's dinner party. Chef Didier will be your host, popping in and out of the kitchen, adding his comedic commentary to the conversation. His wife Ghislaine serves the food and caters to your every need, a feat not too difficult in such a small space. But she does it so gracefully! Incidentally, it was her grandmother that started the restaurant in 1960.

And now the best part — the food! A limited choice of entree, plat, and dessert came with my 15 euro menu. To begin, Ghislaine sat a plateful of accras de morue in front of me. They were so light and crunchy that my health-conscious self had to ignore that they had been deep fried in oil. I subsequently ate the whole plate! Additional entrées include boudin (tasty, but frightful blood sausage), crabe farci (stuffed crab), gombos (cooked okra served with vinaigrette). For the plat, I had colombo d'agneau, which is lamb sautéed in a brown sauce of olives and carrots and served with rice. I hate to use the cliché "it melted in my mouth"— but dang it, it did! Their plats also include curry pork and chicken, and different meat dishes served with spices, onions and tomatoes. Typically, they will offer the choice of four plats each day.

To conclude my dinner, I ordered the papaya sorbet, but regretted this choice when I saw the gateau de coco that looked so good with its coconut and cream sauce on the plate of my neighbor at the adjacent table. Chef Didier and his wife topped off the wonderful meal with a rum digestif steeped with oranges and spices called Schrubb. If you want to have a greater range of choice, they also offer a 30 euro menu that allows you to order any entrée, plat, dessert, and digestif.

Luckily, my dinner experience did not end when I paid the bill. As I exited the restaurant, I could see something glittering in the window of a nearby building. I immediately realized that the Eiffel Tower was sparkling in the dark. I grabbed my friend and ran in the direction of the sparkle so I could get that coveted picture in front of the glow-in-the-dark Eiffel Tower. One minute later, we were snapping picture after picture, anticipating the twinkle to end. When it did, we knew that we had experienced a memorable night in Paris that began in the Antilles and ended in front of the Eiffel Tower.

Chez Lucie
15, rue Augereau
75007 Paris
Telephone: 01 45 55 08 74
Metro: Ecole Militaire
Mon-Sat 7:30pm-11pm
Closed Saturday at midday and all day Sunday


Kiratiana Freelon graduated cum laude with a degree in Economics from Harvard University in 2002. While at Harvard, she was the co-executive editor of the Black Guide to Life at Harvard. At the end of her senior year, she was awarded the John H. Finley fellowship for travel around the world. In the past year she has traveled to West Africa (Senegal, Gambia, Mali, Guinea-Conakry, Burkina Faso, and Ghana), Brazil, and Paris. During her year-long trip she compiled information that will constitute a travel guide to West Africa, Afro-Brazil and Black Paris.

* * * * * *
One of Entrée to Black Paris' most popular walking tours is called Black History in and around the Luxembourg Garden.
Explore the Luxembourg Garden and the surrounding area to learn about the histories of such luminaries as Richard Wright, Chester Himes, Alexandre Dumas, and Victor Séjour. View the landscape captured by painter Loïs Mailou Jones and see the contemporary sculpture that commemorates the abolition of slavery in the French colonies.
The tour, led by a knowledgeable and experienced local guide, involves about 90 minutes of walking. Black History in and around the Luxembourg Garden is a regularly-scheduled walking tour.
Click here to view the schedule: https://www.entreetoblackparis.com/scheduled-walking-tours.
We look forward to helping make your trip to Paris memorable!
Paris Panorama Newsletters for 2004