Newsletter
Newsletter Archives
November 2004 - A Chat with Jake Lamar
by Terrance Gelenter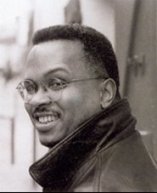 (Summer 2003) I hadn't been to Montmartre in 24 years and then only from the windows of a tour bus as I sacrificed a half day of a mercilessly short 4-day stay at the end of month-long honeymoon to give my bride a bird's eye view of the city that she had never visited and that I grew to love.
This second visit was occasioned by the opportunity to interview Jake Lamar, the Bronx-born, Fieldston Academy- and Harvard-educated author of 4 books including the soon-to-be published mystery set in Montmartre: "Rendezvous Eighteenth".
Accustomed to a daily 3 1/2 mile morning walk on Mill Valley's Mount Tamalpais, I was undaunted by the climb to Paris' highest point. However, Paris was in the midst of an unusual June heat wave with matching temperatures and humidity in the 90s and I stopped frequently for chilled bottles of Badoit mineral water as I ascended the rue Pigalle in search of our meeting place just off the Place des Abbesses:
Le Vrai Paris
.
As if to set the tone for my day in one of Paris' most colorful and multicultural
arrondissements
, I passed a beautiful light-skinned African woman whose striking blue eyes nearly matched her turquoise turban and dress. Our eyes locked and we broke into broad smiles in one of those flirtation dances so common to quotidian Parisian life. Ah, I knew it was destined to be a great day!
After a quick expresso, Jake took me on a tour of the
quartier
during which he pointed out several locales that figure in
Rendezvous Eighteenth
. We ultimately wound up at the Vietnamese restaurant Chao Ba Café (Hanoi Hideaway in the book) for a lunch of
magret de canard
, washed down by a bottle of
Brouilly frais
and capped by a
coulis des fraises aux fromage blanc
.
TG:
When did you first come to Paris?
JL:
September of 1993. I came here after my first book
Bourgeois Blues
, a memoir about my relationship with my father, was published in 1991 and the following year I won a grant called the Lyndhurst Prize. Very obscure but a lot of famous writers have won it: Cormac McCarthy, Richard Ford, Toni Morrison, Alice Walker. But no one knows about it. It predates the MacArthur but like the MacArthur you can't apply for it. Someone calls you out of the blue and tells you that you've won all of this money.
TG:
How much money?
JL:
Forty thousand dollars a year for three years. And I got it through Robert Coles, a professor of mine at Harvard who had nominated me. He wrote a series of books called
Children of Crisis
. I took a class with him and thought he was terrific. I went to his office hours and he became my thesis advisor. I wrote my thesis on James Agee ("The Religious Consciousness",
Let Us Now Praise Famous Men
,
A Death in The Family
and scripts for
The African Queen
and
The Night of the Hunter
). Bob and I have remained friends.
TG:
So you came to Paris in 1993?
JL:
Yes. I won the grant in '92 and came to Paris in '93 intending to stay for one year and just fell in love with the city and extended my stay another year and then a third year – ten years later I'm still here.
TG:
When did you decide to stay?
JL:
I think after three years I knew I wasn't going back to the States. Most of my friends in the States knew I wasn't coming back. I was the last to realize that I had found my real home.
TG:
What made you stay?
JL:
First of all what I used to say was that I love cities. I'm a New Yorker. I'm a real city boy. And for me Paris is just the perfect city. It's small. It's beautiful. It's relatively safe and clean; relatively multicultural. Great transportation system, revival houses (cinema) all over the place. It just has all of the best aspects of a city. Now at this point I've been to Rome, London and Amsterdam and I still find that Paris is the best.
And then there is this sense of possibility that you have here. A lot of what makes you fall in love with a place are the people you meet. I've met wonderful characters here. One of my first friends here was the "beat" poet Ted Joans who recently died. I had read Ted in an anthology of black poets when I was a kid. Met him here and he became a great friend and Paris mentor. People like James Emmanuel, C.K. Williams, Diane Johnson, Ed(mund)White – these wonderful writers who had made a life for themselves here.
TG:
And they were generous to you?
JL:
Completely. They took me under their wing.
TG:
Do you think that in some respects they are more generous here than in the States?
JL:
I think so because it's a smaller community here. But I think that's true of all Americans here. I have friendships with people I might not have been able to develop in the States because there are all sorts of unwritten social barriers in the States. We're all Americans, black, white or whatever. We've all chosen to live in this town. I find a great feeling of warmth and camaraderie in the American community here.
TG:
Why did you elect to live in Montmartre?
JL:
Sort of an accident. When I arrived here I knew one person – the guy I was sharing an apartment with in Vincennes just to the east of Paris. It was only one or two metro stops outside of Paris. Again I thought I was only staying for a year but at the end of that first year I'd made so many friends, was having such a great time that I decided to stay for a second year and had to find another apartment because the Vincennes sublet was ending. So I went to the American Church and found a share in Montmartre on the rue des Martyrs. And that was when I got to know Montmartre and loved it.
So I had that sublet for a year and by then I had fallen in love with Montmartre and decided to get an apartment of my own.
TG:
What was it about Montmartre that was so appealing?
JL:
This is really the Greenwich Village of Paris. Historically it's an artistic, bohemian community. Tons of painters lived up here from Picasso and Renoir to Van Gogh and Toulouse-Lautrec who painted in the cabarets up and down these streets. I like the feel of the place. It's very much like a village up here compared to down on the Left Bank where you have more of a sense of being in a city. Here you have these wonderful cobblestone alleys, nooks and crannies. And like the movie
Amélie
, although a little cartoonish, there is this eccentricity, this crusty but friendly aspect among the people. And I felt very much at home here from the start.
But beyond Montmartre there is the rest of the 18th arrondissement. And my book
Rendezvous Eighteenth
is set in the 18th – Montmartre is just one part. As
arrondissements
go, the 18th is enormous and it really is like a city within a city. You've got Montmartre; you've got Barbès with the biggest African/Arab community in Paris; you have this stretch of Pigalle that is your neon sleaze area, what Times Square used to be before it was Disneyfied. Pigalle still has that dangerous edge to it.
TG:
What is your favorite café?
JL:
The Cépage Montmartrois. It's on the other side of the Butte Montmartre on the rue Caulaincourt. I'll take you there the next time you're in Paris. It's a big café and I go there at least once a week. Sometimes I take my manuscript pages and read over what I've been writing that week. Have a beer or a glass of wine.
TG:
Morning or afternoon?
JL:
Always afternoon. I'm definitely not a morning person. I'll go for a late lunch at about four or five o'clock. A great place to read or think.
TG:
Do you have a favorite bistrot
coin
?
JL:
Bistro d'Edouard – a nice neighborhood place - not too expensive. Maybe thirty covers and in summer you can sit outside. They serve classic French food like
confit de canard
. It's right near my studio on the rue de Mont Cenis. I write at the studio and my wife and I live down near the Mairie of the 18th.
TG:
When you and your wife celebrate where do you go?
JL:
There's a place we used to love down in the 6th – La Tourelle on rue Hautefeuille (street of high leaves).
TG:
You seem to only find comfortable, affordable bistrots. There's no Arpège in your life.
JL:
That's what I like. I like that relaxed, comfy French bistrot feel.
TG:
Do you have a favorite market?
JL:
Oh yeah. The market in our neighborhood that is two streets: rue Poteau and rue Duhesme. Sort of tee-shaped. A six-day market. Tuesday through Sunday. My wife does most of the market shopping but I'll go down and buy a roast chicken when my wife doesn't feel like cooking.
TG:
You don't cook?
JL:
I don't even bother. My wife is such a great cook! I know how but I take no pleasure in it and I'm fairly incompetent.
TG:
When Madame is cooking for 4-6 people what does she cook?
JL:
I love her
lapin à la moutarde
- fantastic! She does a great
saltimbocca
. And she does a perch with a cider sauce. She cooks everything.
TG:
What is your house
vin ordinaire
?
JL:
Bordeaux. Dorli prefers Bordeaux - I'll drink anything. We'll buy an inexpensive Bordeaux at the market.
TG:
And when you celebrate?
JL:
We buy a really good St. Emilion.
TG:
Do you have a garden or park that you love?
JL:
There's a beautiful little park behind Sacre-Coeur. We like to go for a walk after dinner and here in Montmartre I love that spot, that
carrefour
near the Lapin Agile with the vineyard and the Square Roland Dorgelès. For going to big park I like the Jardin de Luxembourg.
TG:
You seem to be very much a provincial, rarely venturing out of the 18th.
JL:
It depends. When I'm in the thick of a book I don't leave the 18th much. I'm in my studio writing from 1-8 or 9 and then we'll have dinner and go for a walk. When I'm not in the thick of a book we travel more. My wife and I don't have regular schedules. She's an actress and a singer; I'm a writer so even if it's a Wednesday night…You know what'll happen...we go to the theatre a lot. My wife has been in the French theatre world for more than twenty years and we go to see their shows. And we'll often go to a restaurant downtown.
TG:
Do you get away in the summer?
JL:
Yes, and we try to go to someplace different every year. This year in August we're renting a
gîte
in the Perigord. We tend to rent a little cottage. We've been to Brittany, Provence and the Cote d'Azur. My big fantasy, if I ever get a big movie deal, would be to buy a house in the country, but we don't know where so we keep checking out different regions.
TG:
Do you have a favorite time of year in Paris?
JL:
Like the song.
"I love Paris in the springtime,
I love Paris in the fall,
I llve Paris in the winter when it drizzles,
I love Paris in summer when it sizzles..."
I like it all year. There are certain May days that are magnificent but Paris in October when the leaves start to turn…but really I love it every day of the year.
TG:
How has Paris affected your work?
JL:
I was already a writer when I came here. I've always had good work habits so in my early years here the books I was writing were still set in the United States. I would say that at that time Paris didn't have a big effect on my work. But the great thing about living in Paris then was that I'd step outside my door and I was in Paris. Only once I started to write about the city did I see an effect. I was here for a long time before I began to write about it. People were telling me in my first months in Paris that I had to write about Paris. But it was a long time before I felt ready to. I'd been here seven years before I sat down to write
Rendezvous Eighteenth
. I'm now in the middle of my next book also set in Paris.
One thing that's striking to me about
Rendezvous Eighteenth
is that in my earlier novels, the ones set in America there's always a satiric edge. There's a wry, sardonic look at America and American politics, especially racial politics and I found that
Rendezvous Eighteenth
is as good or better that the other books I've written but there's an affectionate quality to that book that wasn't in the others.
TG:
And finally, how has Paris affected your life?
JL:
It's changed my life in so many ways. I think when you're living here you begin to appreciate "quality of life" things: sitting at a café on a sunny afternoon instead of forcing yourself to work. Inevitably it makes you more contemplative, appreciative of little moments, nice encounters with people.
When I was in New York I was very much in the rat race. I was working at Time Magazine. I was caught up in the American cult of success. And here that pressure isn't on me. I've written several books now and I'm not rich and famous and in America if you're a writer like me people are suspicious of you. "Why hasn't Oprah picked your book, why isn't it on the best seller list?" People don't understand why you do it. Here I find that writers are appreciated just for being writers. Writing in and of itself is respected. And I think that in America it's only rich and successful writers that are respected. In France everybody from the baker to the literary critic respects people who write books and care about literature. That's a very nice thing for someone who is dedicated to the craft but not famous.
TG:
Yet!
Terrance Gelenter is the founder/director of Paris through Expatriate Eyes, a website and cultural travel company for Anglophonic Francophiles
(www.paris-expat.com)
.
Paris Panorama Newsletters for 2004