Newsletter
Newsletter Archives
May 2007 - Promenade in a Private Parisian Garden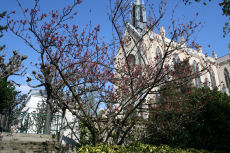 In this month's Paris Insights, we have the rare opportunity to visit a private garden. Located in the 14th arrondissement, the garden of the Saint-Joseph de Cluny convent displays Japanese cherry trees, a large ginko, magnolias, and apple, peach, fig and pear trees, as well as tulip beds and pansies.
Our quest for smoke-free dining leads us to Thierry Faucher's restaurant, Cave de l'Os à Moelle. Located in a truly off-the-beaten-path neighborhood, the eatery serves up hearty, country-style food.
And finally, we spotted a fire-breathing dragon during our peregrinations. Read about where to find this beast in this month's Paris, Past and Present feature.
If you are a subscriber, please click here and enter your e‑mail address and password.
Paris Panorama Newsletters for 2007