Thursday, September 24th, 2020
What's On in Paris - BREAKING NEWS
Cover Image: Ursuline Kairson
Photo by Christian

BREAKING NEWS (September 24, 2020 at 3:45 PM Paris time) - On the evening of September 23, 2020, France's Prime Minister announced new restrictions on public gatherings because of the increase in circulation of COVID-19 in Paris, other areas of metropolitan France, and France's territories. Many of these go into effect on Saturday, September 26 and therefore, concern the events described in the article below. At this hour, I can definitively report that the Festival des Accras has been canceled.
Given the number of events that are taking place in Paris this month, one could almost forget that we're still in the midst of a pandemic!
Here are six Afrocentric cultural excursions that people in town can enjoy:
1) Food Temple Africa
The fourth edition of this event takes place this weekend - September 25, 26, and 27 - in the Halle & Espace -1 at the Carreau du Temple in the Marais. Here's what's on the agenda:
Friday, Saturday, and Sunday - An African market will offer food ingredients to take home and food stands for sampling dishes on site. Entry to the market is free.
Saturday and Sunday - During free African Cuisine Masterclasses, chefs will prepare their best dishes and share tips and secrets with the audience. Hours: 3 PM to 6 PM
Saturday and Sunday - Hands-on instruction to learn simple techniques and gain better understanding of the world of African cuisine. Hours: 11 AM to 6 PM Fee: 10€
Sunday - A traditional brunch will be prepared by Chefs Alexandre Bella Ola and Fatoumata Meite. Hours: 11:30 AM to 2 PM. Fee: 15€ - 25€
A round table discussion, photo exhibition, and pop-up book store have also been organized to enhance your experience.


Carreau du Temple
2 rue Perrée
75003 Paris
Metro: Temple (Line 3), Filles du Calvaire (Line 8)
Hours:
Friday, September 25: 7:30 PM - 11 PM
Saturday, September 26: 1 AM - 8 PM
Sunday, September 27: 10 AM - 6 PM
2) Croyances: faire et défaire l'invisible (Beliefs: Unraveling the Invisible)

This extraordinary exhibition, mounted by the Institut des Cultures d'Islam (Institute of Islamic Cultures) and Afrique in Visu was scheduled to close on July 26. It has been extended through December 27.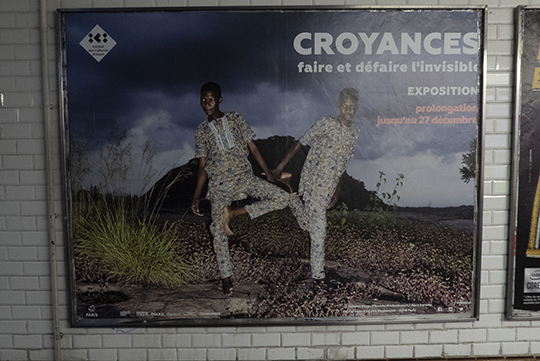 Metro ad for Croyances: faire et défaire l'invisible
© Entrée to Black Paris
Sixteen artists explore "the religions, superstitions, and myths of the African continent" in this show, which is presented at the Institute's sites at rue Léon and rue Stephenson in the 18th arrondissement.
Those in Paris can visit the exhibition at no charge, but reservations must be made in advance. Visit the following link to learn more (Web page is in French and English): https://www.institut-cultures-islam.org/coordonnees/
For those who cannot or prefer not to visit in person, a wonderful virtual tour of the exhibition is available at the following link: https://www.institut-cultures-islam.org/croyances-faire-et-defaire-linvisible/
Institut des Cultures d'Islam
ICI Stephenson
56, rue Stephenson
75018 Paris
ICI Léon
19, rue Léon
75018 Paris
Metro: Château Rouge, Marcadet-Poissonniers (Line 4), Marx Dormoy, Marcadet-Poissonniers (Line 12), La Chapelle, Barbès-Rochechouart (Line 2)
Hours:
Tuesday - Thursday; Saturday and Sunday: 11 AM - 7 PM
Friday: 4 PM - 8 PM
Closed on Mondays
3) École Paris - BXL
In case you missed last week's article on this exhibition, École Paris-BXL presents works by seven formally trained, young diasporic artists who live and work in Paris and Brussels. It is the inaugural exhibition for the Galerie Transplantation, which found a lovely space at the Villa Vassilieff, Chemin du Montparnasse in which to make its Paris debut. Award-winning curator Amandine Nana has invited me to speak about Beauford Delaney at the finissage (closing reception) on Saturday, September 26 at 5 PM.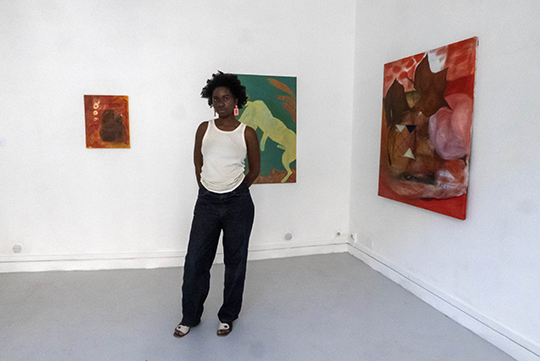 Amandine Nana at Galerie Transplantation
© Entrée to Black Paris
Galerie Transplantation
21, avenue du Maine
Espace Immanence, Ground Floor right
75015 Paris
Metro: Montparnasse-Bienvenüe (Lines 4, 6, 12, 13); Falguère (Line 12)
Hours:
Wednesday - Friday: 2 PM - 7 PM
Saturday: 11 AM - 7 PM
4) Festival des Accras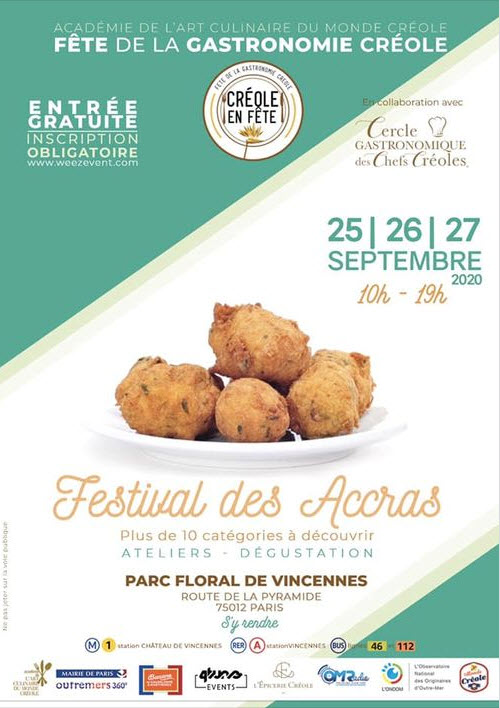 If you love accras, those fritters that are traditionally made from salt cod and can be created from numerous other ingredients, then you'll want to make your way to the Parc Floral de Vincennes this weekend for the Festival des Accras, organized by the Académie de l'Art Culinaire du Monde Créole. The fun begins on Friday, September 25 and lasts until early evening on Sunday, September 27.
You can read a wonderful English-language article about the history of accras here: https://www.196flavors.com/french-west-indies-accras-de-morue-salt-cod-fritters/
As for the Croyances exhibition described above, admission is free but registration in advance is required. I highly recommend that you plan to take a bus from the metro or RER A to get to the park (unless you are prepared to walk a considerable distance). Sign up here: https://www.weezevent.com/festival-d-accras-kreyol-en-fete-edition-2020-06
Route de la Pyramide - Pavillon 18
75012 Paris
Metro: Château de Vincennes (Line 1)
RER: Vincennes (RER A)
Bus: 46, 112


Hours: 10 AM to 7 PM


5) La Défense Jazz Festival
This festival has been in full swing at the Parvis de la Défense since Monday, September 21 and will run through Sunday, September 27. It features not only jazz, but also hip-hop, funk, soul, afrobeat…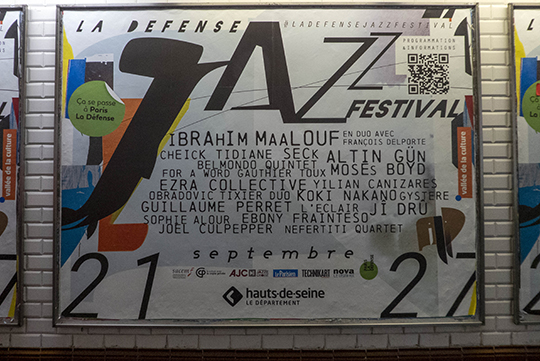 Metro ad for La Défense Jazz Festival
© Entrée to Black Paris
The festival is associated with an annual national competition called the Concours national de jazz de la Défense and both are celebrating their 43rd year of existence in 2020. Normally, two prizes are given - one for the best group (5000€) and one for the best instrumentalist (1500€). Exceptionally, the six groups that have been selected from this year's competition will each be given 3000€ in recognition of the difficulties artists are facing during the pandemic.
Access to concerts is completely free and all performances will take place outdoors. Social distancing and hygiene measures will be in force.
Parvis de la Défense
Metro: La Défense – Grande Arche (Line 1)
RER: La Défense – Grande Arche (RER A)
Tram: La Défense – Grande Arche (Line T2)
Click HERE for a list of concerts and hours.
6) Ursuline Kairson in Concert
Les Dimanches Musicaux have organized a concert of spirituals and gospel music sung by long time Paris expat Ursuline Kairson at the American Cathedral in Paris.
Ursuline starred in Maya, Une Voix at the Essaion Theater last summer and as usual, she gave a stellar performance. Whether singing before a paying audience or a private group of friends and colleagues, she never fails to "wow" attendees.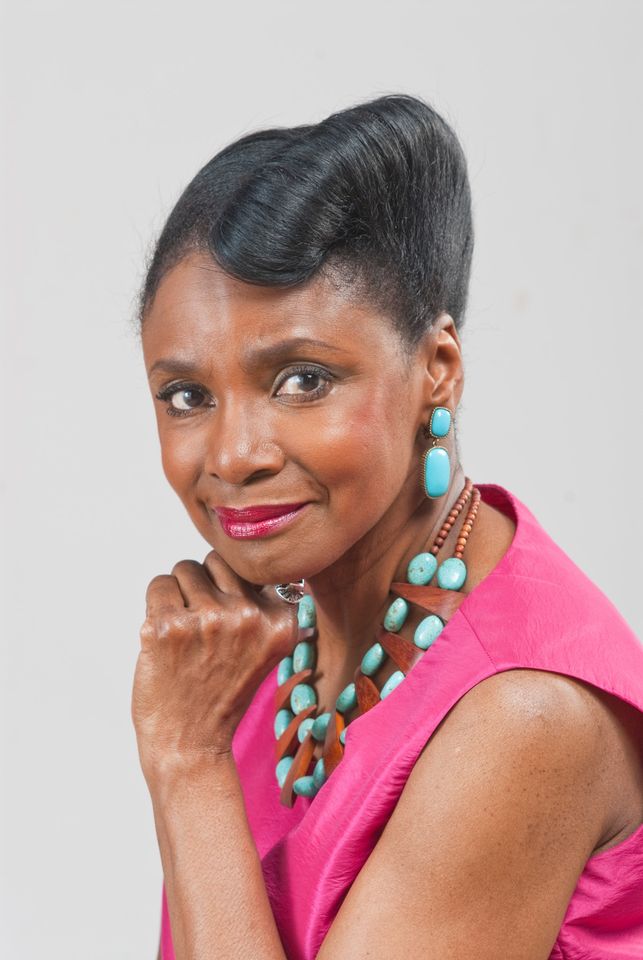 Ursuline Kairson
Photo by Christian


The upcoming concert will be held on Sunday, September 27 at at 3 PM. Advance tickets are not required and donations will be accepted in lieu of an entry fee.
The American Cathedral in Paris
23, avenue George V
75008 Paris
Metro: George V (Line 1), Alma-Marceau (Line 9)