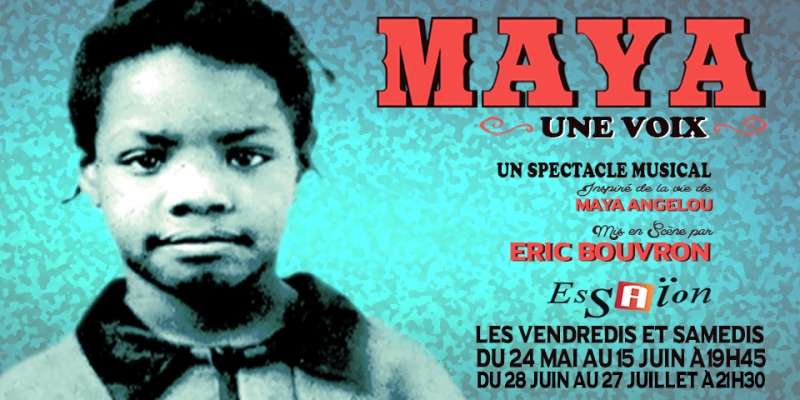 Thursday, July 11th, 2019
Maya and The Black Model
In my humble opinion, there are two shows currently on view in Paris that you must see if you are interested in black history and culture.

If you haven't already seen them, you still have a few weeks left to do so.

Maya, Une Voix (Maya, A Voice)

This ~70-minute musical tells the story of a young Maya Angelou, who, as a child, decided not to speak after she identified the man who raped her and he was later murdered. She remained silent for 5 years, during which time she became an avid reader.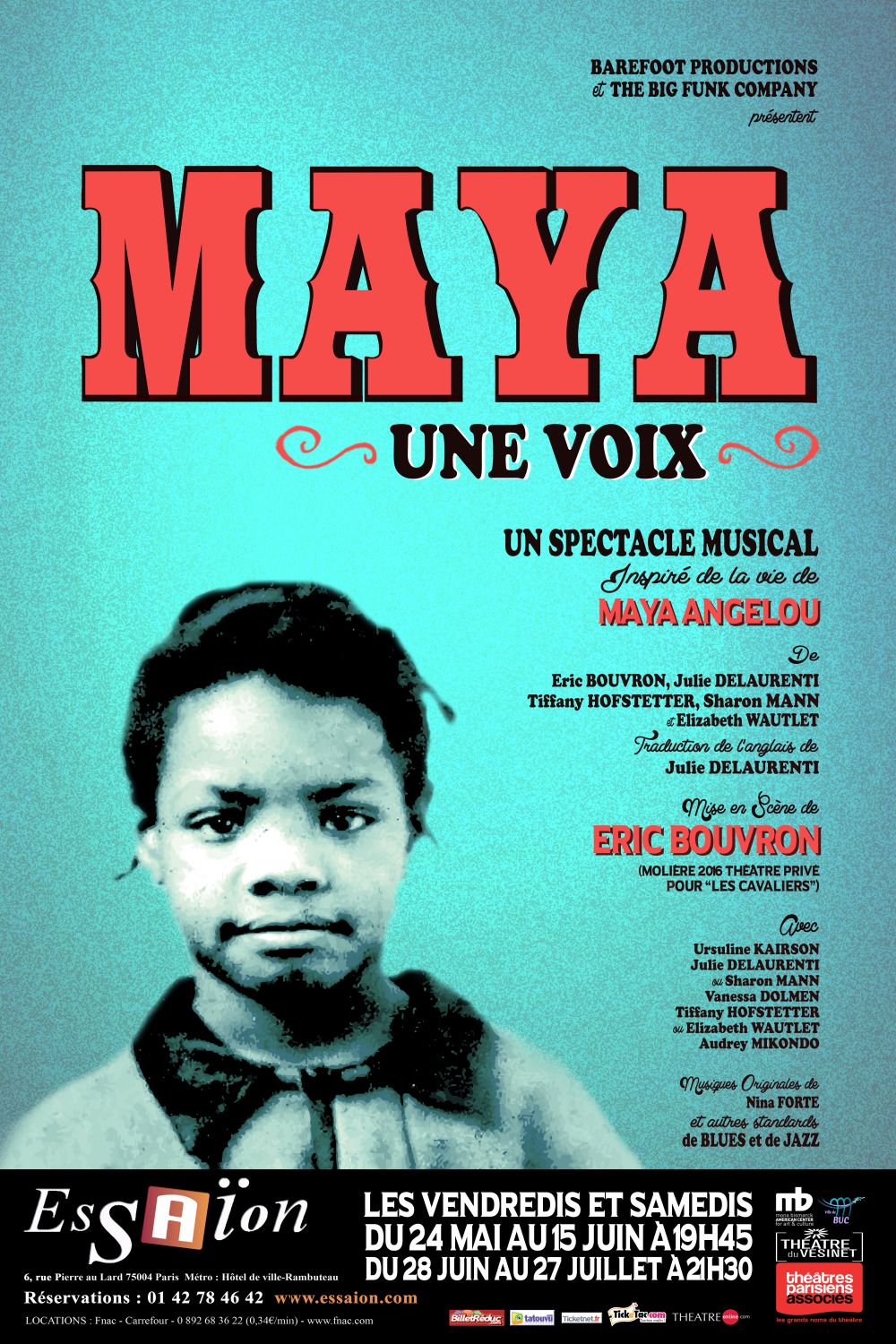 Flier for Maya, Une Voix
The theater is in a cave - a stone-walled cellar. There is no curtain; scenes change and actresses don different costumes before your eyes. Yet you barely notice this, so riveting are the performances given by these ladies.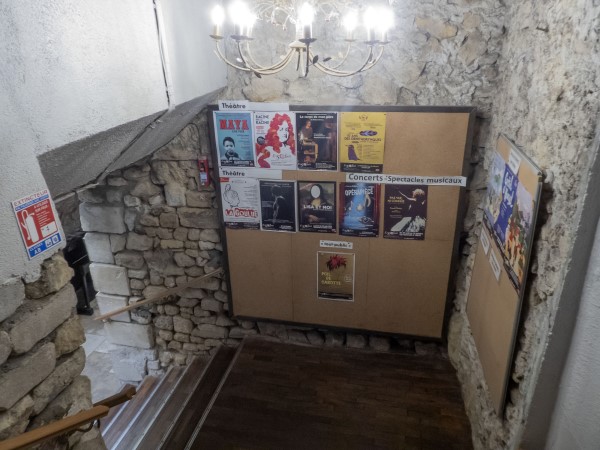 Going down stairs to the reception area
© Entrée to Black Paris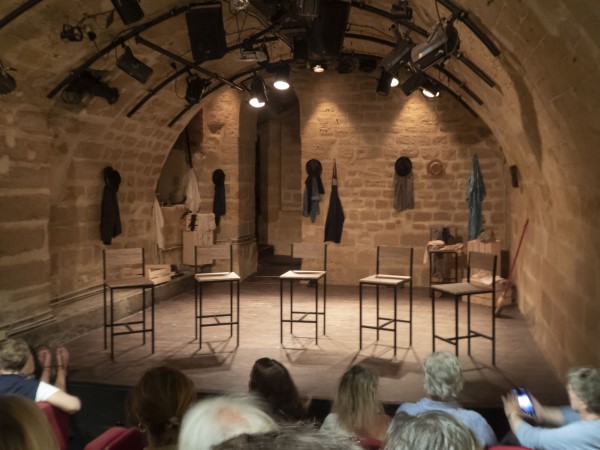 The stage
© Entrée to Black Paris
Be forewarned: the seats are narrow.
Ursuline Kairson, a consummate performer, plays Maya, and a cast of six additional actresses play the remainder of the parts - male and female - in this production. Vanessa Dolmen and Audrey Mikondo perform with Kairson each night. The other four actresses take turns performing their roles, with only two of them being present on any given night.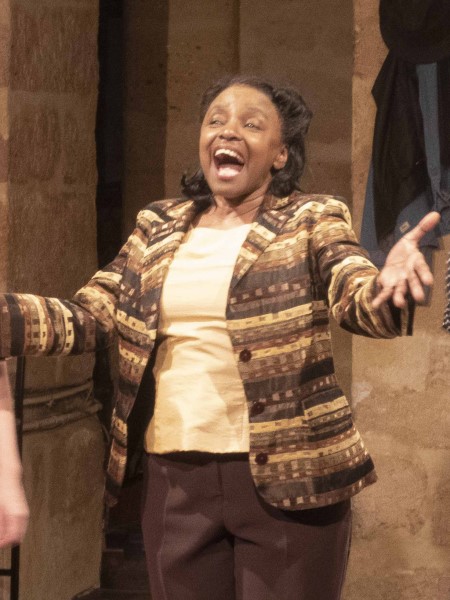 Ursuline Kairson
© Entrée to Black Paris
Maya, Une Voix is performed in French. It is only staged on Fridays and Saturdays and its run ends on July 27. For information and to purchase tickets, click HERE.

Maya, Une Voix
Théâtre Essaïon
6, rue Pierre au lard
(à l'angle du 24 rue du Renard)
75004 Paris
9:45 PM Fridays and Saturdays only
Tickets: 25€ full price / 15€ reduced price
Le Modèle Noir: de Géricault à Matisse (The Black Model: From Géricault to Matisse)
Dr. Denise Murrell's doctoral dissertation is the springboard for this epic exhibition. It first yielded Posing Modernity: The Black Model from Manet and Matisse to Today, the exhibition that was shown at Columbia University's Wallach Art Gallery from October 24, 2018 to February 10, 2019. Murrell studied a woman named Laure, the black model whose likeness Edouard Manet painted in his groundbreaking work, Olympia.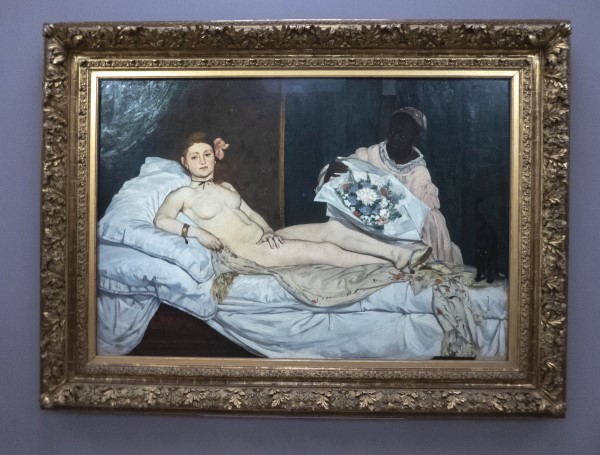 Olympia
Edouard Manet
1863 Oil on canvas
Photo © Entrée to Black Paris

Over twice the number of works in Posing Modernity are on display in Le Modèle Noir, which is being shown at the Musée d'Orsay. The Paris exhibition represents a longer time frame and expands the scope of the New York show to include male models. Additionally, a monumental installation by artist Glenn Ligon, entitled Some Black French People/Des Parisiens Noirs (2019), sits at the far end of the main hall of the museum as a testimony to what is being shown at Le Modèle Noir.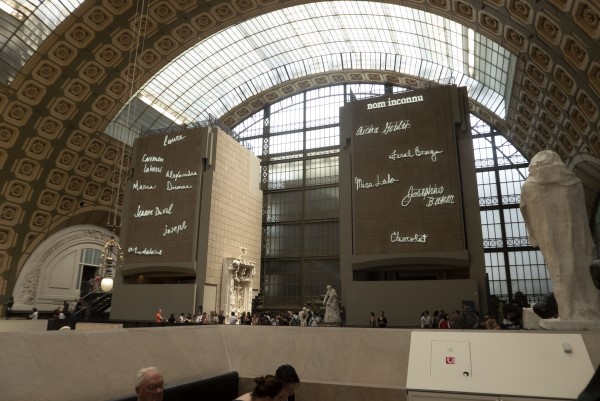 Some Black French People/Des Parisiens Noirs
2019 Neon and aluminum
© Entrée to Black Paris
The museum is keen to have visitors note that the proper names of some of the models depicted in paintings and photos in the show were discovered through research performed to construct this exhibition. These works have been renamed and the original name(s), many of which are considered pejorative today, has/have been listed as well. The most famous of these is Portrait of Madeleine, formerly known as Portrait of a Black Woman and Portrait of a Negress. It is on loan from the Louvre.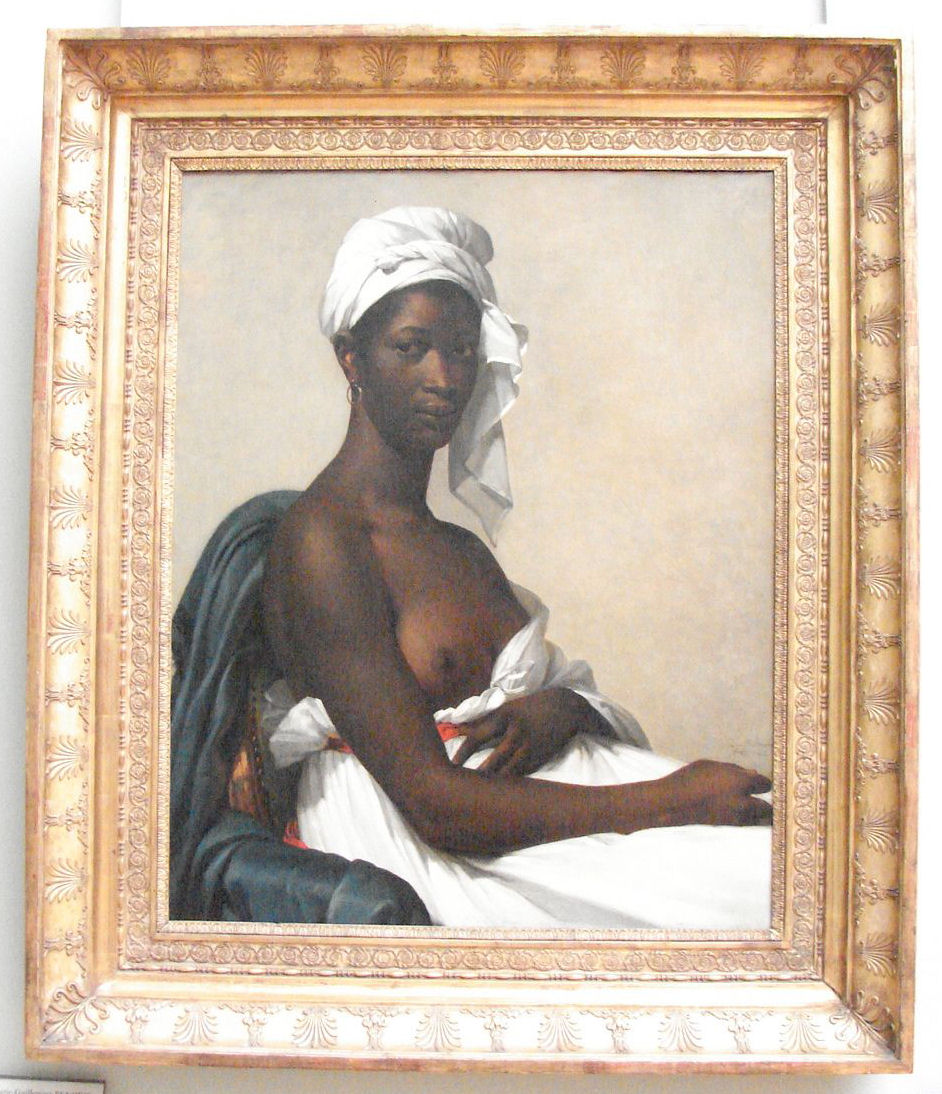 Portrait of Madeleine
1800 Oil on canvas
© Entrée to Black Paris

Many additional works, for which the name of the model is not known but the title of the work is considered pejorative, have also been renamed. If you listen to the audio guide recordings, you will note that comments on a few such works address this change.
Several parts of the exhibition seem a bit "off topic" to me - examples include a small area devoted to black prostitutes and black nannies, a larger section that displays fliers promoting black stage performers, and an area focused on African and African-American soldiers who fought in France during the First and Second World Wars. The information and images presented in these areas are fascinating, nonetheless.
Le Modèle Noir runs through July 21, 2019. To purchase tickets online, click HERE.
Musée d'Orsay
1, rue de la Légion d'Honneur
75007 Paris
9:30 AM to 6 PM Tuesdays, Wednesdays, Fridays through Sundays
9:30 AM to 9:45 PM Thursdays
Closed Mondays
Tickets: 14€ full price / 11€ reduced price