Thursday, September 21st, 2023
Big Black Cook - Part 2
Cover image: Wily Denz - Chef at Big Black Cook
© Entrée to Black Paris
It was beastly hot when we went to Big Black Cook (BBC). We were greeted by Chef Wily Denz, who was cooling himself with a beautiful hand-held fan.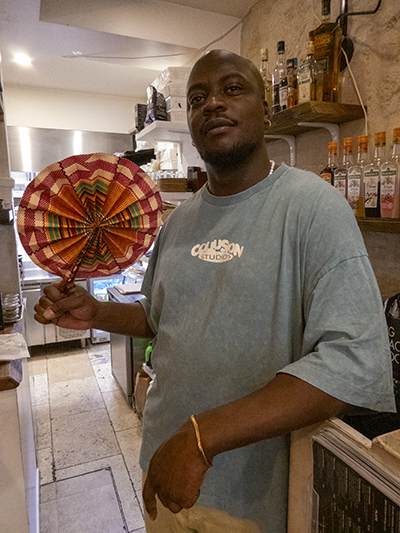 Chef Wily Denz with a hand-held fan
© Entrée to Black Paris
Because of the heat, we did not have an appetite for the standard three-course meal we normally order when we review restaurants. So we forwent the starters and ordered a main course for each of us.
Tom selected the jerk fried chicken as a main dish and a Trinidadian cola called Solo as his beverage.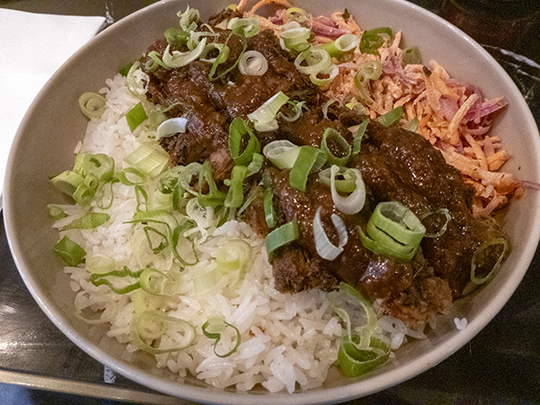 Jerk Fried Chicken
© Entrée to Black Paris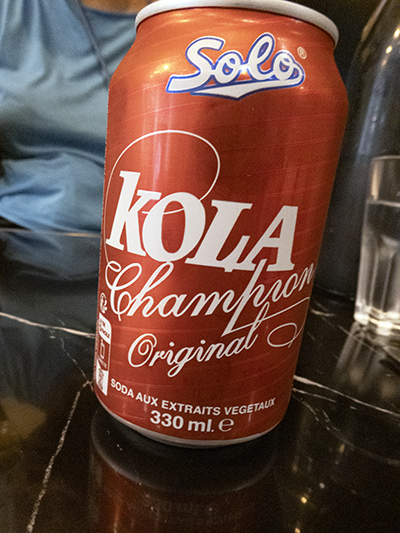 Solo Kola Champion
© Entrée to Black Paris
BBC served this fried chicken, which had previously been marinated with jerk spices, in a deep bowl atop a bed of long grain Thai rice and coleslaw made of carrots and red cabbage. The chicken was liberally coated with a spicy sauce, almost like barbecue sauce. The entire dish was decorated with freshly chopped green onions.
Tom quite enjoyed this, and he appreciated the cola as well.
I selected Sweet Chicken as my main dish and ordered a side of sweet potato fries that Tom and I shared.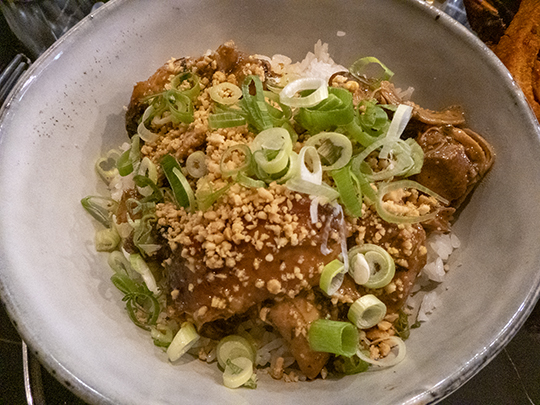 Sweet Chicken
© Entrée to Black Paris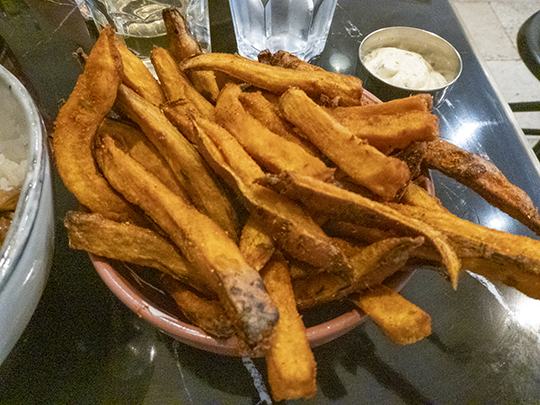 Sweet Potato Fries
© Entrée to Black Paris
Both were delectable!
The sweet chicken was made with deboned chicken thighs that were seasoned with a sweet chili sauce, laid atop a bed of long grain Thai rice, dusted with crumbled peanuts, and decorated with freshly chopped green onions. The sweet potato fries were served directly from the fryer with a small cup of homemade mayonnaise as a condiment. They were the best I've ever eaten.
From the six flavors rhum arrangé that were available for tasting, I selected the apricot ginger variety. I received a glass of the beverage served at room temperature, and I quite enjoyed it. I drank tap water with my meal.
Still being prudent, Tom and I opted to split our selection for dessert. We chose the dessert of the day, which consisted of a sablé breton (a shortbread butter cookie) soaked in coconut milk and layered with mascarpone cream flavored with lime, vanilla, and almond. The cream was covered with a thin layer of pureed mango and dusted with sablé crumbs.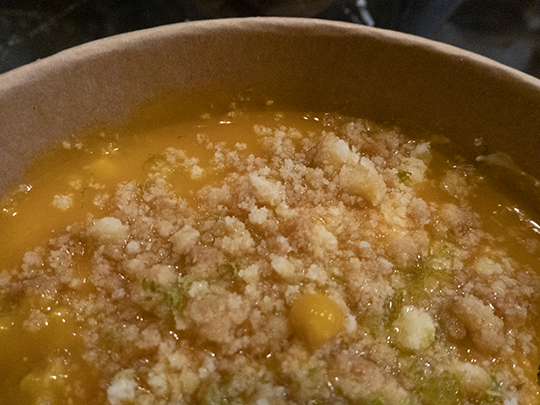 Dessert of the day
© Entrée to Black Paris
For us, this dessert was a cross between a cheesecake and a tiramisù. It was large enough to split and still get a satisfying portion. And it was delicious!
Customers receive a warm welcome at BBC, and services is friendly and helpful. On the day we visited the restaurant, Chef Wily was happily mingling with clients and commenting on his menu.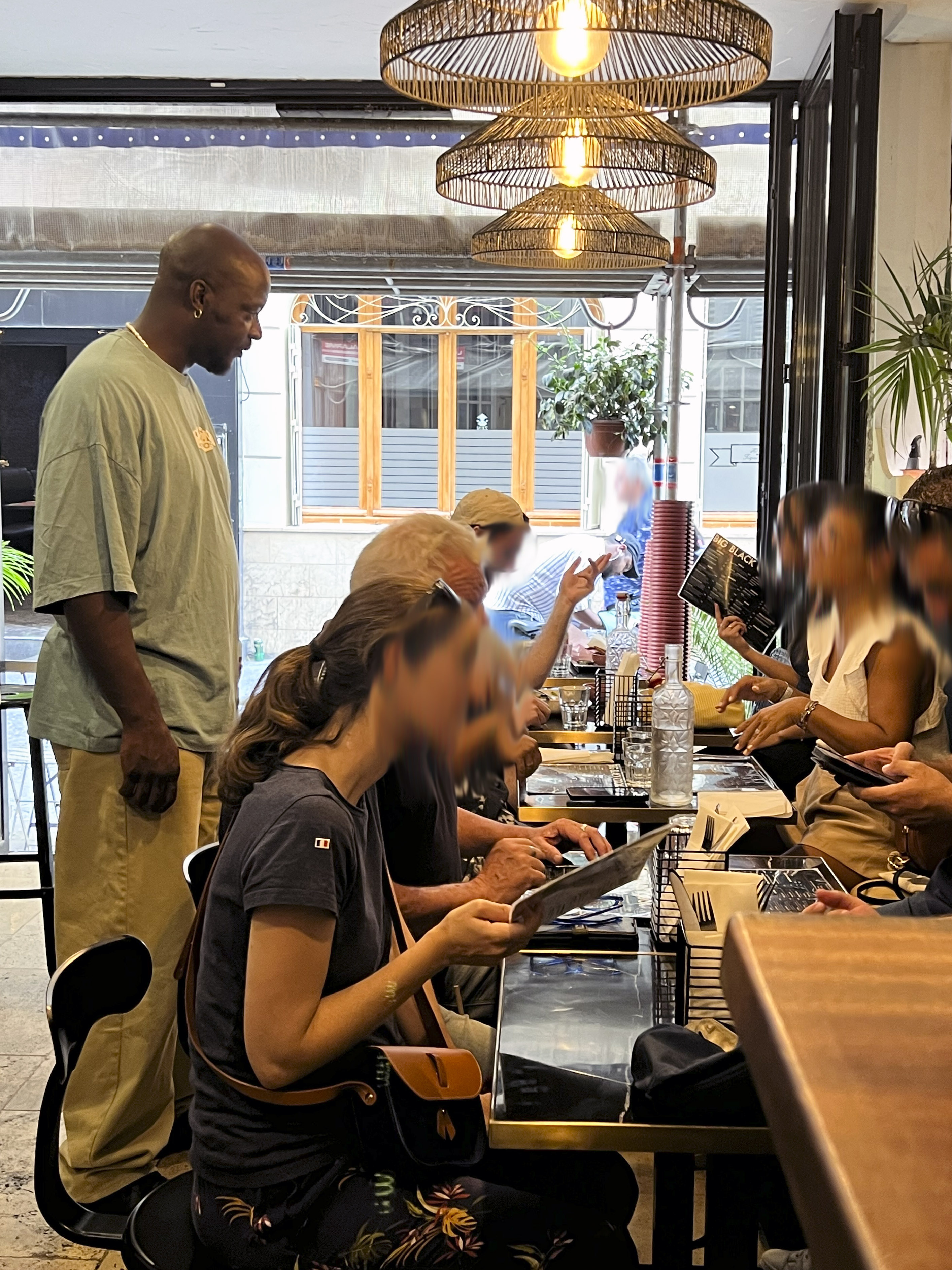 Chef Wily Denz talks with customers
© Entrée to Black Paris
We would happily return to Big Black Cook to sample more of his wares!
For a review of Part 1 of this post, where we describe the atmosphere and the menu at Big Black Cook, click HERE.