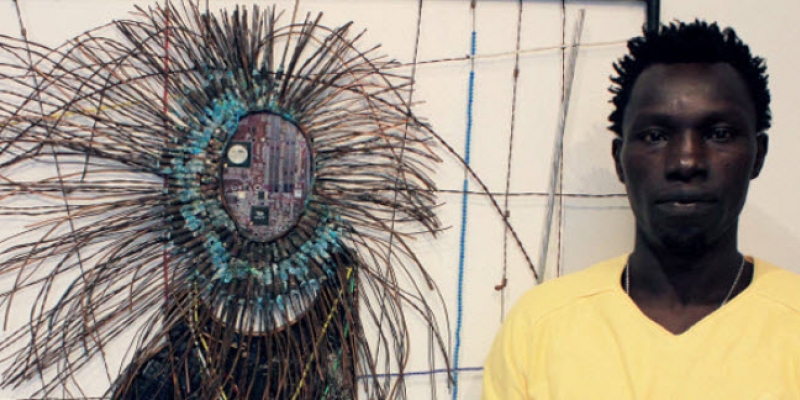 Thursday, November 4th, 2021
Three Art Exhibitions
Cover image: DOFF (aka Appolinaire Guidimbaye) with one of his works
Image (cropped) from Galerie Art-Z press release
Contemporary art by African and African diaspora artists are / will be available for viewing at three shows this month: Would do Again at the Fondation des Etats-Unis, AKAA Art and Design Fair at the Carreau du Temple, and Habiter la Terre at Galerie Art-Z.
Would do Again
ETBP featured artist Arthur Haywood in July 2021 when we wrote about the murals he created with French high school students as the winner of a Harriet Hale Woolley Scholarship. This month, Haywood is one of six international and French artists in residence who are showing their work in a contemporary exhibition featuring multidisciplinary techniques, such as film, animation, photography, illustration, painting, and writing.
The theme "Would do Again" refers to each artist continuing on a chosen artistic path. All six artists in the show seek to embody the experience of reality and fantasy, as well as the duality of life abroad.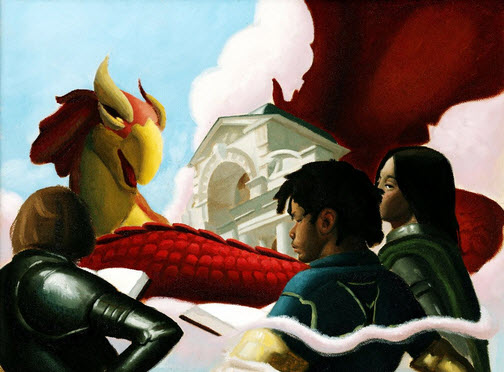 Dragon in the Sky
2021 Arthur Haywood
Dragon in the Sky depicts readers watching a fantasy story coming to life. A dragon appears in the sky surrounding the Château of Fontainebleau. Haywood created this piece as part of the 2021 centennial celebration of The Fontainebleau Schools of Music and Fine Arts. It will be part of the permanent collection of Harriet Hale Woolley at Fondation des Etats-Unis.
Would do Again opened on November 3rd. Viewings are scheduled for November 14, November 28, and a few additional dates that have yet to be announced.
Register for free at fondationdesetatsunis.org/would-do-again/

Haywood has works for sale. Contact him at ahaywoodstudio@gmail.com to inquire.
Fondation des Etats-Unis
15, boulevard Jourdain
75014 Paris
Public transportation: RER B - Cité Universitaire; Tram T3a - Cité Universitaire
AKAA Art and Design Fair
The sixth edition of the Also Known as Africa (AKAA) Art and Design Fair will open at the Carreau du Temple in the 3rd arrondissement on November 12.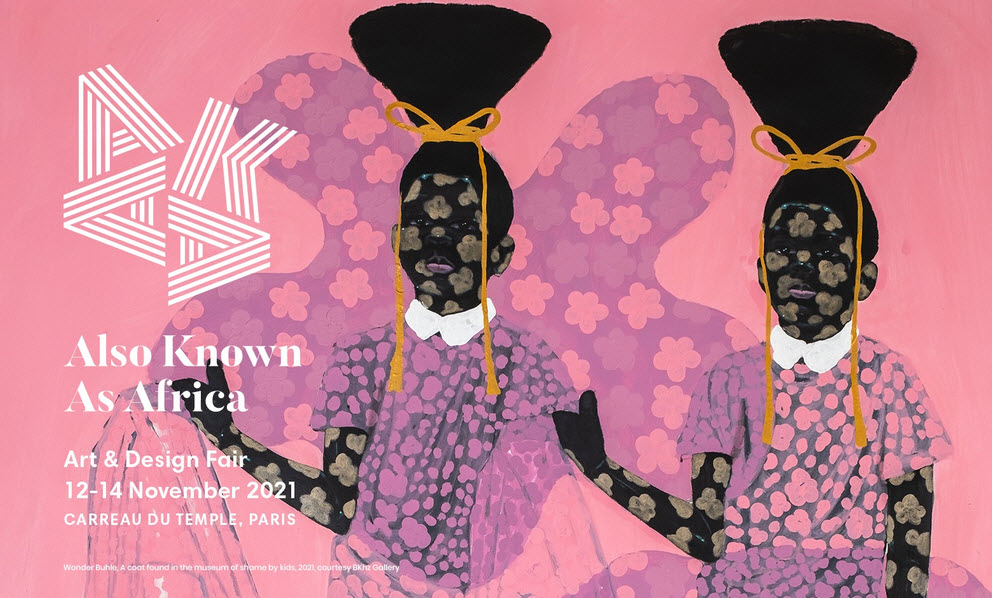 Promotional flier for AKAA
One hundred thirty-two contemporary artists will show works at the three-day exhibition. A cultural program entitled Against the flow of time, consisting of multiple conferences and book signings, will enhance the event.
A VIP preview of the artworks will take place on November 11 from 2 PM - 6 PM and the public preview will begin at 6 PM that day.
Regular viewing days are November 12-13 from noon - 8 PM and November 14 from noon - 6 PM.
Purchase tickets here: AKAA 2021
Habiter la Terre (Inhabit Earth)

The two-man exhibition called Habitez la Terre opened at Galerie Art-Z on October 28.
The featured artists are DOFF (aka Appolinaire Guidimbaye) from Chad and Christophe from France.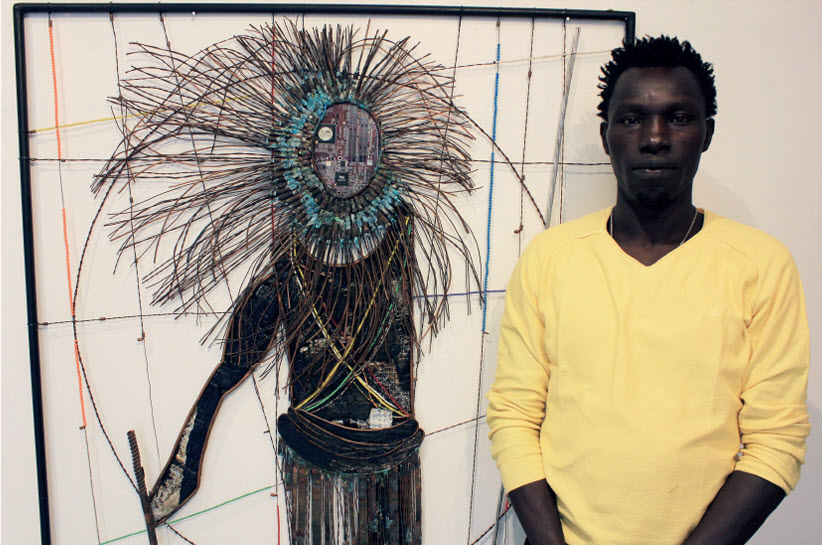 DOFF (aka Appolinaire Guidimbaye) with one of his works
Image from Galerie Art-Z press release
Both artists create their works from discarded materials ranging from insulation materials and bullets (DOFF) to old tools (Christophe). Both seek to turn our attention to the environment through their sculptures.
Habiter la Terre will be on display through November 20.
Galerie Art-Z
27, rue Keller
75011 Paris
Metro: Bastille (Lines 1, 5, and 8)
Hours: Wednesday-Saturday 2 PM - 6:30 PM