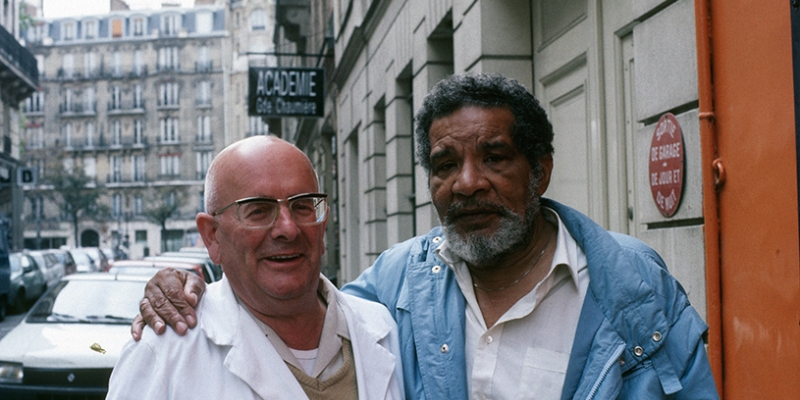 Thursday, January 28th, 2021
Herb Gentry and Chez Honey
Cover image: Herb Gentry (right) and friend on rue de la Grande Chaumière
Image courtesy of Mary Anne Rose
I reconnected with Mary Anne Rose, widow of painter Herbert Gentry, a couple of weeks ago when Rose reached out to inform me about an exhibition of Gentry's work in NYC. She shared an image of Gentry's painting entitled Chez Honey, which was named after the art gallery / night club that Gentry and his first wife, Honey Johnson, owned in Montparnasse.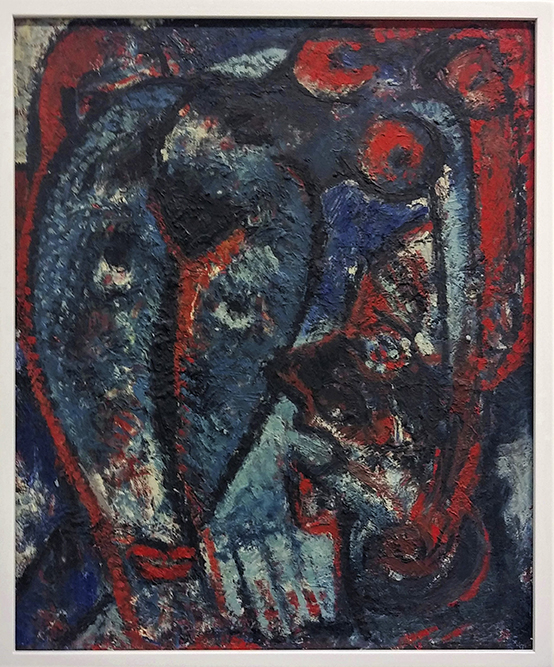 Chez Honey
1949 Oil on masonite
Image courtesy of Mary Anne Rose
I have been fascinated by the story of Chez Honey since I began researching the African-American presence in Montparnasse to create our "Montparnasse, the Artist's World" walking tour in the late 1990s. The references I've found about the establishment contain scant, inconsistent information.
Therefore, I was thrilled when Rose was able to provide me with the most important piece of information that was lacking in all the references I've been able to find to date - the address! She generously shared images of the location and the surrounding neighborhood and invited me to publish them in this blog post.
Herb Gentry and Honey Johnson opened Chez Honey at 17, rue Jules Chaplain in the 6th arrondissement.
17, rue Jules Chaplain in 1984 - Address of Chez Honey
Image courtesy of Mary Anne Rose
Described by Michel Fabre as "one of the first places American jazz musicians performed after the long break caused by the war," it operated as a café during the day and a club at night. It was also known as the Club Galérie.
Honey Johnson was a white American painter and singer. Also known as Tadea Werfelman and Tadea Gentry, she was Gentry's first wife.
In the Oral History Interview that he gave for the Smithsonian Institution Archives of American Art in May 1991, Gentry says Tadea's given name was "Evelyn." He describes her as "a singer and dancer, a singer and a painter," and explains how they married in London and settled in Paris.
He describes the club-gallery as follows:
It was a place in Montparnasse where people met in the cafes during the day and evenings we had music, a lot of so-called musicians, mostly Americans but also we had French musicians and a lot of them were studying Classical music at Ecole de Musique and a lot of them were playing jazz. But all of them came to play jazz, even the Classical students. "We love Classical music and it is great and everything but it's not free as jazz!" So they would come in and jam -- the word "jam" as that was used, playing together.

And then we had paintings that were hung in the club-galerie because a lot of the young artists were in Montparnasse -- not only Americans, foreign artists. Honey was a painter, she studied with Orozco in Mexico but she also sang, so she sang in the club. It was like the place in Paris for Americans, she was loved. And it was a very special club because we felt -- it was not a place where you drank and only briefly met. It was in Montparnasse and as I said before our clientele was mostly American students or maybe those who maybe just had finished their schooling. A lot of the painters and even the top musicians.*
Most references that I've found indicate that Gentry and Johnson opened Chez Honey in 1947. Once source says that the club closed after a year and a half of existence and another says it operated until 1949.
Gentry's own reflection in the oral history interview could be interpreted to mean that the club was open much longer:
"We opened our first show in 1949, [reflecting] '48, '49, '50, '51."
He says that the owner of the building invited the couple to purchase the building but that they declined for several reasons, one of which was that he intended to return to the U.S.
Gentry and Rose explored Gentry's Montparnasse haunts during a visit to Paris during the summer of 1984. (The two artists met at the Cité Internationale des Arts in Paris in 1978 and spent the next 25 years together in Paris, Malmo, Sweden, and New York City.) Rose told me that Gentry and Johnson lived at 4, rue Jules Chaplain, only a few steps away from Chez Honey.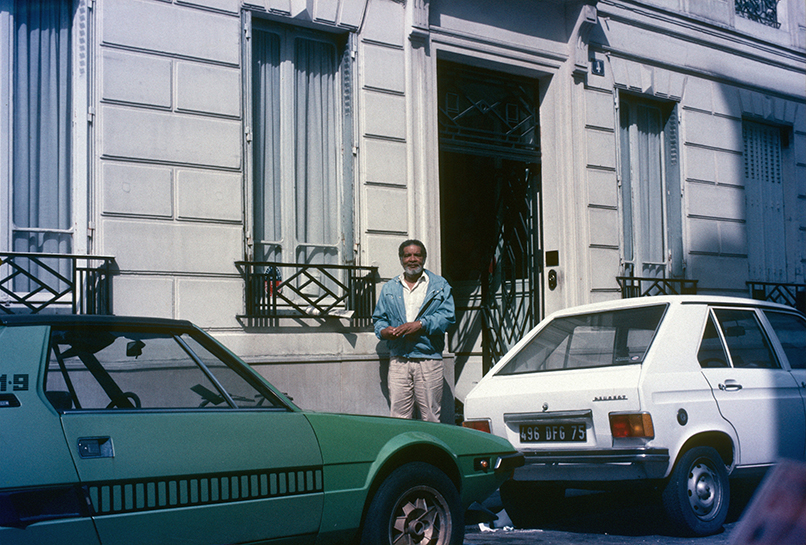 Herb Gentry at 4, rue Jules Chaplain in 1984
Image courtesy of Mary Anne Rose
Gentry attended classes and taught at the Académie de la Grande Chaumière on rue de la Grande Chaumière, one street away from rue Jules Chaplain. He frequently took meals at the Restaurant Wadja, a few doors down from the school. He and Rose visited this street during their Montparnasse visit as well.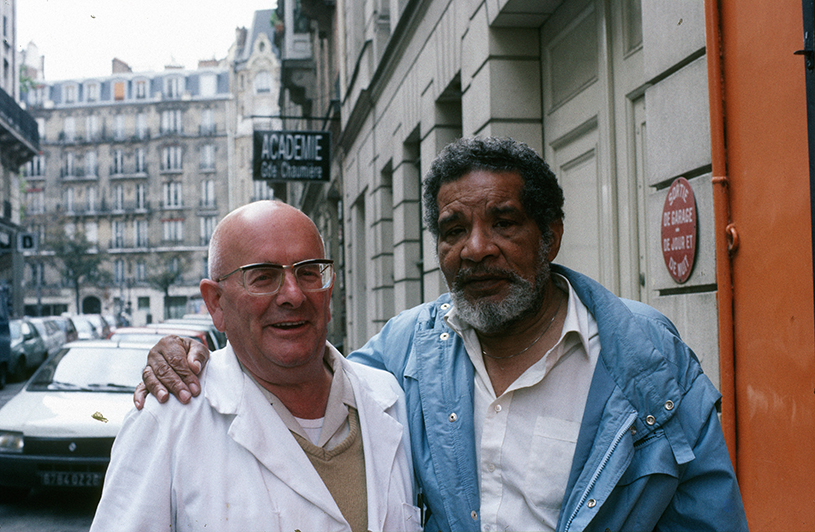 Herb Gentry with friend, Lucien, in 1984
Académie de la Grande Chaumière in the background
Image courtesy of Mary Anne Rose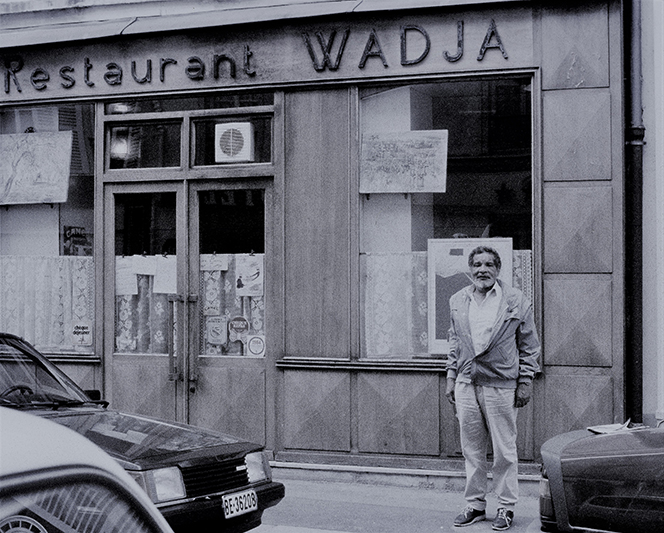 Herb Gentry in front of Restaurant Wadja in 1984
Image courtesy of Mary Anne Rose
Sadly, Rose does not know if any period photos of the façade or interior of Chez Honey exist. She says that Gentry did not have any when they met.
*Oral history interview with Herbert Gentry, 1991 May 23, Archives of American Art, Smithsonian Institution