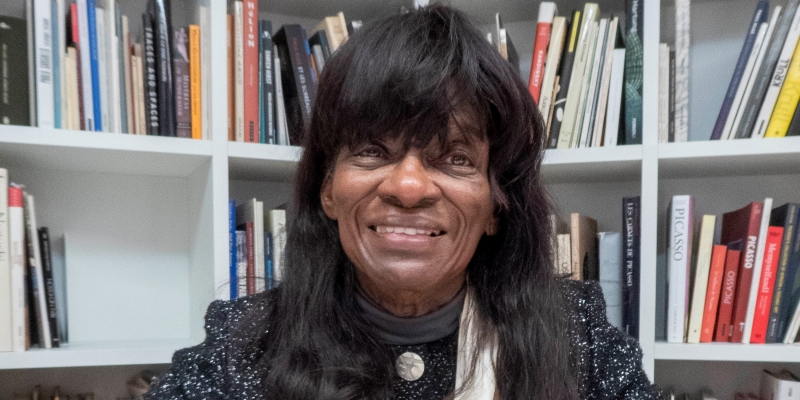 Thursday, April 28th, 2022
Entrée to Black Paris Celebrates Barbara Chase-Riboud
Cover image: Barbara Chase-Riboud at the Institut Giacometti
© Entrée to Black Paris
On Saturday, April 23, two black women artists made history at the Venise Biennale. Simone Leigh (U.S.) won the Golden Lion award for her monumental sculpture, Brick House, and Sonia Boyce (U.K.) won for the U.K. pavilion. Celebrating their well-deserved accolades inspired me to turn the spotlight on another award-winning woman artist of African descent - Barbara Chase-Riboud.
You may recall that ETBP featured Chase-Riboud last October in an article about her outstanding exhibition of sculptures, works on paper, and poetry at the Institut Giacometti. In the twelve months prior to the opening of that show, the artist received three prestigious awards.
In May 2021, the Simone et Cino Del Duca Foundation (Institut de France) approved the Académie des Beaux-Arts' nomination of Chase-Riboud for its Grand Prix Artistique. The prize, which consists of a 100,000€ endowment, was bestowed in recognition of the entire body of her sculpted work.
Watch her talk about her work in this YouTube interview (2:34 minutes).
In March 2021, the French nonprofit organization Archives of Women Artists Research and Exhibitions (AWARE) named Chase-Riboud Laureate of the AWARE Outstanding Merit Prize for lifetime achievement. The award comes with a grant of 10,000€ and a monographic publication by Mariella Editions that will be dedicated to the artist.
Eva Barois De Caevel, independent curator, art critic, and publisher, nominated Chase-Riboud for the award. This is how she describes Chase-Riboud's work in the announcement posted on AWARE's Website:
... over seventy years of prolific, intense and concentrated creation, sometimes monumental, sometimes rising to the challenge of permanence in the public space. A sculpture with its own unique lexicon, which circumvents the plinth, colours the bronze, knots the silk, engages in dialogue with the poems, summons the past and pays homage, over and over again ...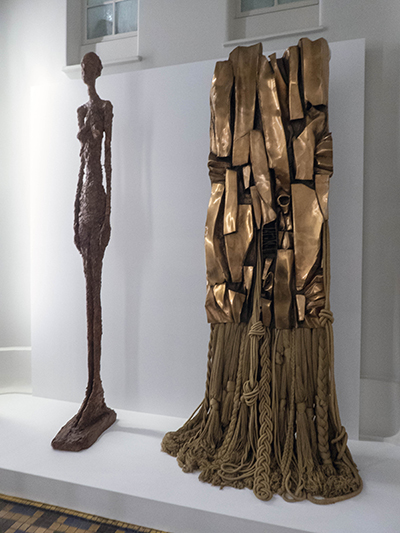 Left: Tall Woman II, 1960
Alberto Giacometti
Plaster
Fondation Giacometti

Right: Zanzibar, 1970
Barbara Chase-Riboud
Bronze and silk cords
Centre national des arts plastiques, France

Image © Entrée to Black Paris
In November 2020, Chase-Riboud was one of ten recipients of the Anonymous Was a Woman (AWAW) award. The prizes are granted annually to mid-career women-identifying artists over the age of 40. Each winner receives an unrestricted grant of $25,000. The award was established in 1996 by artist Susan Unterberg, who remained anonymous as the sole funder for the prize until 2018.
Barbara Chase-Riboud will celebrate her 83rd birthday on June 26. To read about her extraordinary career and take a close-up look at her work, as shown in the 2020 Avatars exhibition hosted by the Fondation d'Entreprise Hermès in Brussels in 2020, click HERE.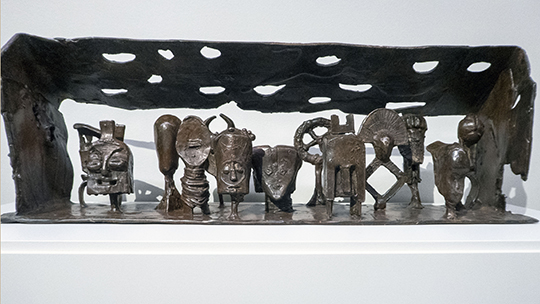 The Last Supper, 1957
Barbara Chase-Riboud
Bronze
Collection of the artist
Image © Entrée to Black Paris