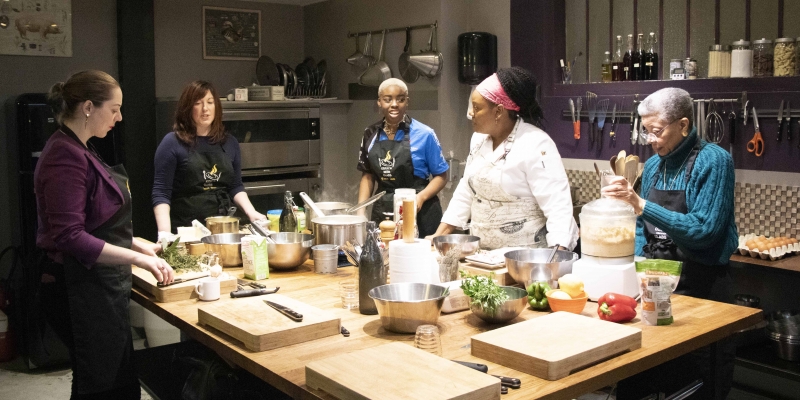 Thursday, March 21st, 2019
Cooking with Chef Jennifer Booker in Paris
As reported in ETBP last week, Maison Noire Américaine* launched its Soul Food Atelier™ | Paris over the weekend of March 15-17, 2019.
On Saturday, March 16 I spent several hours with Chef Jennifer Booker and soul food atelier attendees at Cook'n with Class in Paris' 18th arrondissement. What a fantastic experience!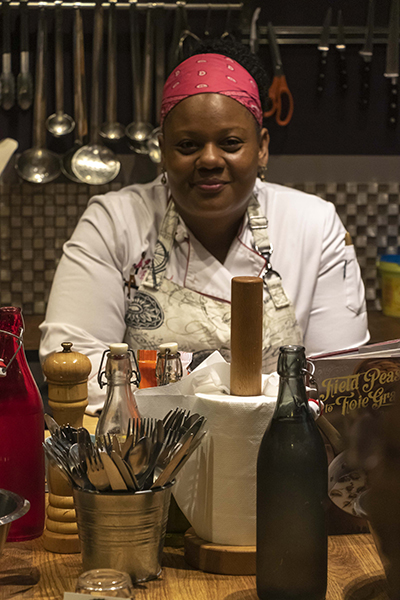 Chef Jennifer Booker
© Entrée to Black Paris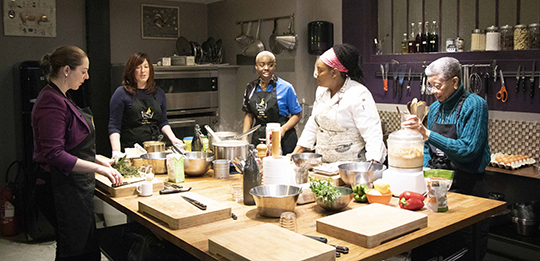 Chef Jennifer Booker and Soul Food Atelier™ attendees
© Entrée to Black Paris
Our menu was simple, yet elegant. Chef Booker had us make a black-eyed pea salad, chicken croquettes, and macaroni and cheese. (Recipes can be found in her cookbook - From Field Peas to Foie Gras.)
Chef Patrick Hebert of Cook'n with Class served as sous-chef.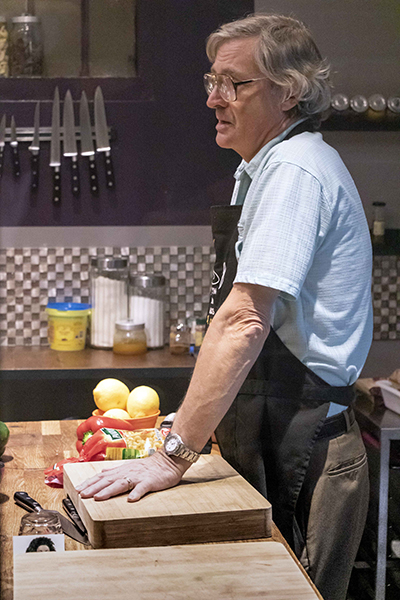 Chef Patrick Hebert
© Entrée to Black Paris
The atelier took place in the large kitchen at Cook'n with Class. Chef Booker introduced herself and had the participants introduce each other. Then she began teaching by explaining some basics about the ingredients that we would use to prepare our meal. She also taught us the basics about how to identify a quality knife and how to use this utensil to its best advantage.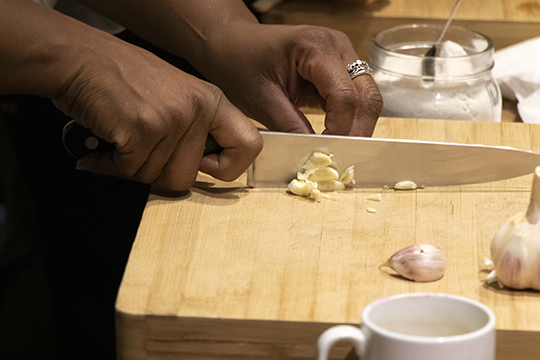 Chef Booker demonstrates how to chop garlic
© Entrée to Black Paris
The black-eyed pea salad was served at room temperature. We soaked the peas, removing discolored ones, and cooked them. Chef Booker taught us how to remove the watery portion of the flesh of the red bell peppers that would go into the salad and still maximize the yield from each pepper (she is an advocate for "no waste" in the kitchen). Finely chopped peppers and onion went into this beautiful dish.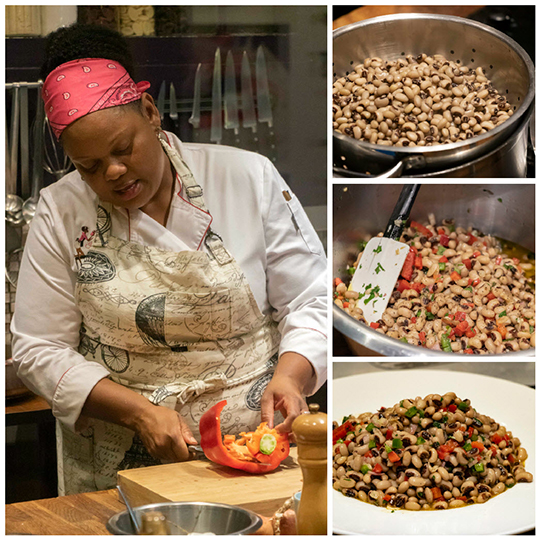 Preparing black-eyed pea salad
© Entrée to Black Paris
Our main course was chicken croquettes, made with the breasts of free-range, corn-fed chicken and smoked bacon. Chef Booker had us use a mixture of fresh bread, heavy cream, and egg as the principal binder for this dish. All the ingredients, including fresh thyme and lemon zest, went into a food processor. We then made patties and coated them with bread crumbs. Chef sauteed them instead of deep frying them and showed us how to make a tarragon mustard sauce to accompany them. Delicious!!!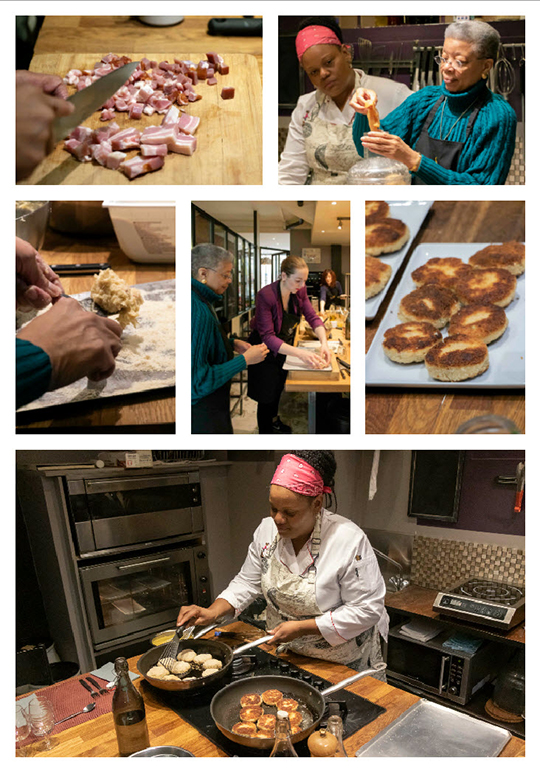 Making chicken croquettes
Top left: Dicing smoked bacon
Top right: Placing strips of chicken breast in food processor
Middle left: Spooning chicken-bacon mixture onto bread crumbs
Middle middle: Shaping croquettes
Middle right: Finished croquettes
Bottom: Chef Booker cooking croquettes
© Entrée to Black Paris

Our side dish was mac and cheese, made with mozzarella cheese and a bechamel sauce containing two types of cheddar cheese. The participants who worked on this dish got to make a roux, that famous mixture of fat and flour that is used to thicken dishes such as gumbo. They had a false start when the butter in the pan burned, so we got to experience what not to do as well as what to do when making this preparation. Chef advised that you should always use dried pasta when making mac and cheese because fresh pasta does not retain its shape in this dish and the idea is to have the bechamel sauce fill the insides of the elbow macaroni.
Top left: Making the roux Top right: Grated cheddar cheese
Bottom left: Preparing the macaroni for baking
Bottom right: Mac and Cheese au gratin
© Entrée to Black Paris
Once everything was prepared, Chef Booker and Chef Hebert set the table and we sat down to our two-course meal. Chef Hebert brought out a red wine and a white wine from the Pays d'Oc region to accompany the dishes.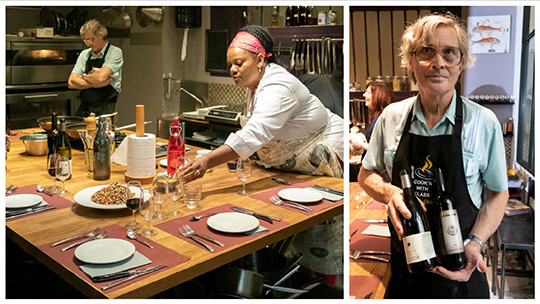 Left: Setting the table
Right: Wines to accompany the meal
© Entrée to Black Paris
Everything was sublime!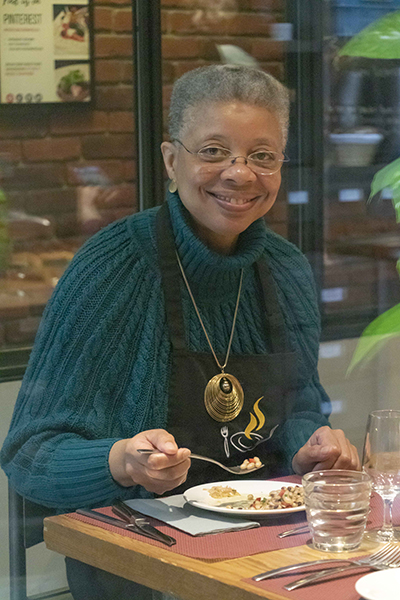 Monique eating black-eyed pea salad
© Entrée to Black Paris
*About Maison Noire Américaine: Founded in 2013, Maison Noire Américaine is a cultural arts nonprofit organization committed to fostering friendship and a deeper sense of community between diverse French, African American & Afro-Francophone cultures by reclaiming, embracing, and sharing commonalities of the African Diaspora while promoting cross-cultural understanding through premiere personalized services, and compelling cultural arts & education programs in San Francisco and Paris.
To learn more, visit www.maisonnoire.org.