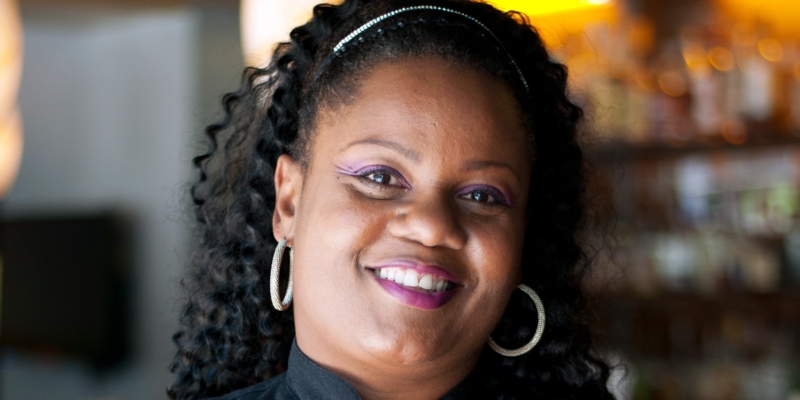 Thursday, March 14th, 2019
Celebrating Paris' Culinary Black Women
Several years ago, ETBP celebrated Women's History Month by publishing an article on Paris' Culinary Black Women.
This year, we're celebrating someone new - Chef Jennifer Hill Booker. Her Web site describes her as "an African American woman of strength and character who can creatively meet life and culinary challenges with grace."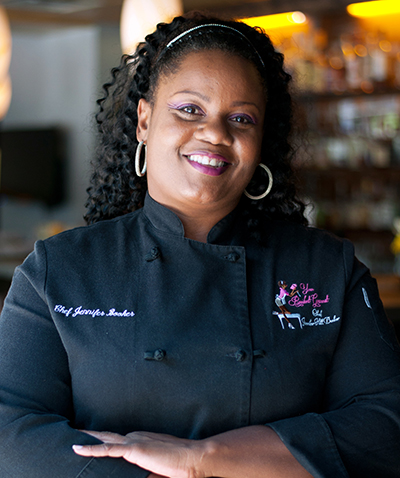 Chef Jennifer Booker
Image by Shelby Light
Chef Booker is a graduate of Paris' Cordon Bleu. Her numerous credentials in the culinary world include the following:
Owner and Executive Chef of Your Resident Gourmet, her premier catering and personal chef service company
Culinary Explorer for the Georgia Department of Tourism and Travel
Founder of Southern Divas of the New South™ Dinner Series
Member of the Atlanta chapter of Les Dames d'Escoffier International
Member of the James Beard Foundation Food Waste Advisory Council
She currently resides in Georgia.
The non-profit organization Maison Noire Américaine* has invited Chef Booker to Paris to dazzle residents and visitors with the launch of its Soul Food Atelier™ | Paris, a series of intimate curated culinary experiences that showcase African American culture, authentic Southern Cuisine, and its contemporary American innovators. Chef Booker is the first guest chef to be invited to participate in the Soul Food Atelier™.
Here is the lineup:
Friday, March 15 - In partnership with WICE Paris, Maison Noire Américaine has organized a Champagne and Amuses Bouches Networking Mixer that will feature Champagne Marie Césaire at Treize au Jardin in the 6th arrondissement. Marie Inès Romelle, CEO and founder of the new champagne brand, will team up with Chef Jennifer to pair Southern-themed appetizers with a selection from the Champagne Marie Césaire line.
Price: 60€
Click HERE to register.
13 au Jardin
© Entrée to Black Paris
Saturday, March 16 - Maison Noire Américaine is both honored and excited to partner with Cook'n With Class on a hands-on cooking class and a demonstration and tasting in the 18th arrondissement. From 10 AM to 1 PM, up to eight participants will cook alongside Chef Booker and then sit down to enjoy the delicious Southern meal that they prepare. From 5 PM to 8 PM, up to 20 participants will watch Chef Jennifer prepare (American) Southern-inspired recipes, then taste them along with selected wine.
Price for hands-on class: 100€
Price for demonstration and tasting: 40€
NOTE: Registration for the hands-on cooking class and the demonstration and tasting closes at midnight on Thursday, March 14 (tonight).
Click HERE to sign up.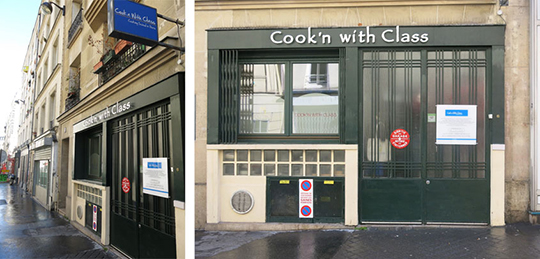 Cook'n with Class
© Entrée to Black Paris
Sunday, March 17 - The weekend culminates with a Soul Food Sunday Pop Up Dinner at Nola Restaurant, the more upscale of the two New Orleans-inspired eating establishments at Two Stories on the Canal Saint Martin in the 10th arrondissement. Diners will be able to select from a menu of two breads, three first courses, and three main dishes and will be able to pair their meal with a choice of one wine, signature cocktail, or non-alcoholic beverage.
Price: 55€ for the 3-course prix-fixe menu.
Click HERE to reserve.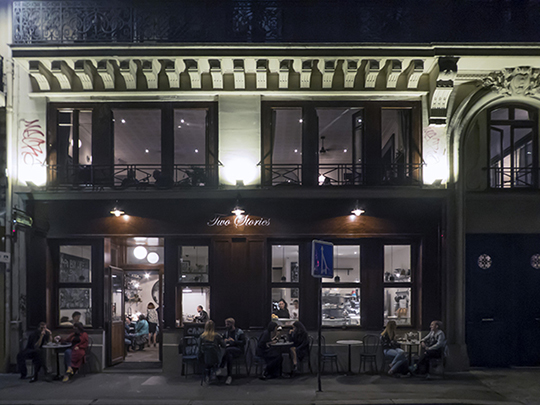 NOLA Restaurant
© Entrée to Black Paris
Next week, I'll bring you a report on the hands-on cooking class at Cook'n with Class. Stay tuned!
*About Maison Noire Américaine: Founded in 2013, Maison Noire Américaine is a cultural arts nonprofit organization committed to fostering friendship and a deeper sense of community between diverse French, African American & Afro-Francophone cultures by reclaiming, embracing, and sharing commonalities of the African Diaspora while promoting cross-cultural understanding through premiere personalized services, and compelling cultural arts & education programs in San Francisco and Paris.
To learn more, visit www.maisonnoire.org.