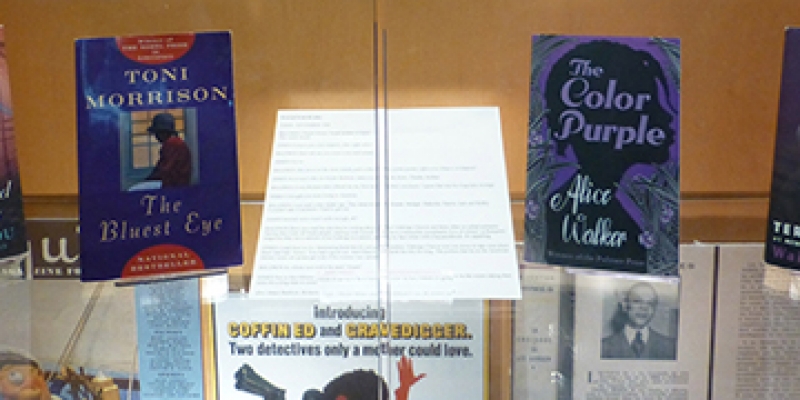 Thursday, February 11th, 2021
Black History Month at the American Library in Paris
Cover image: Display of books written by African-American women during Black History Month 2015 at the American Library in Paris
© Discover Paris!
When I spoke at the Association for the Study of African American Life and History's 2021 Black History Month in France Virtual Festival on February 4, 2021, one of the things I emphasized was the assuredness that African Americans living in Paris would see each other at certain places and events.

One of these places is the American Library in Paris.
For several years, Naida Culshaw served as the library's External Relations Manager. During her tenure, she curated several exhibits that highlighted little-explored aspects of African-American history and culture, displaying books and related objects in the large display case that was affixed to the wall in the library's main reading room. In conjunction with each exhibit, she coordinated an evening event that was always well attended.
"Images of Blacks in Western Art with Cheryl Bolden," "Swoosh! Crack! Roar! - Celebrating the Negro Leagues and the All-American Girls Baseball League," "Black and (Re)Imaging America's Wild West," "Blue, Grey and Black: African Americans in the Civil War," "Brothers in Exile: Richard Wright, James Baldwin and Chester Himes with Jake Lamar," as well as "Interactions and Connections: Following the Flavors of the African Diaspora" are all exhibition titles that invited visitors and members of the library to explore more.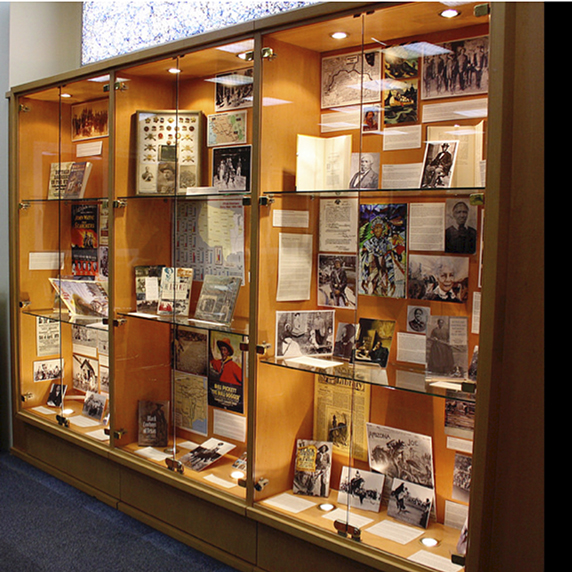 Library display case - Reimagining Blacks in the West
Image courtesy of Naida Culshaw
After she left the library in 2012, Ms. Culshaw volunteered her time for a few additional years to continue supporting Black History Month, proposing themes, curating the exhibits, and coordinating related evening events.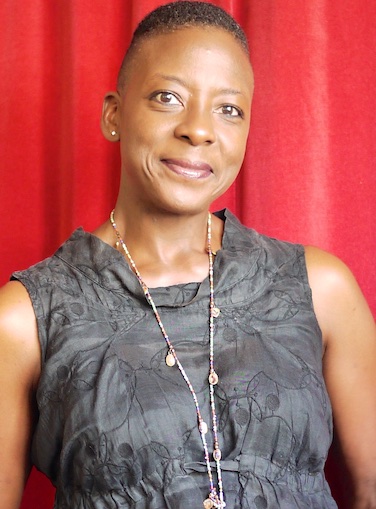 Naida Culshaw
Image courtesy of Naida Culshaw
I have written about several of these events in previous blog posts:
Black History Month at the American Library in Paris
Black History Month 2014 at the American Library in Paris: Reimagining Blacks in the American West
Brothers in Exile: Three African-American Writers in Paris
What's On in Paris for Black History Month 2016
When the library was renovated, the display case in the reading room was not reinstalled and the focal point for the Black History Month exhibits was eliminated.

Evening events have continued, though not as regularly. After a two-year gap, the library hosted a panel discussion on mixed race and identity in February 2019 and a follow-up discussion entitled "Black ou Noir(e): A Public Panel on Black Expats and Belonging in Paris" in 2020.

Due to scheduling difficulties, the adult program planned for Black History Month this year will be held in March. Author and award-winning sports broadcaster Nita Wiggins will present her book entitled Civil Rights Baby: My Story of Race, Sports, and Breaking Barriers in American Journalism.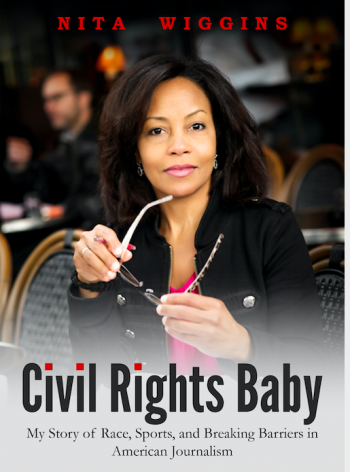 The event will be held on Zoom on March 2 at 7:30 PM Central European Time. To register, click HERE.
In February, the library is offering "Stars of Children's Literature: Black History Month" - a virtual event for children aged 6-12 years.

I look forward to seeing what they organize for 2022.