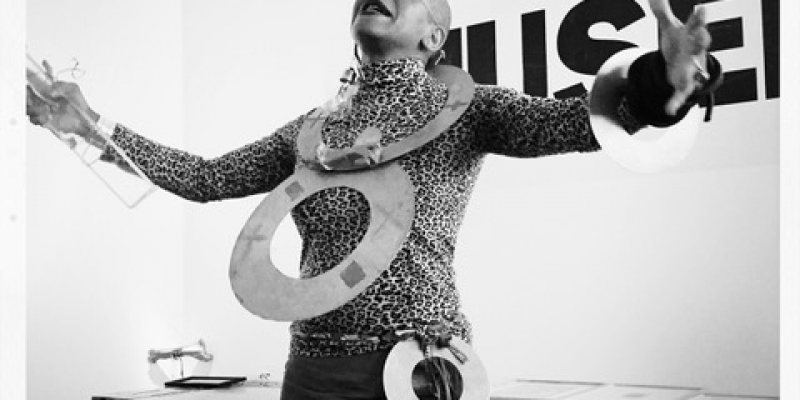 Thursday, March 29th, 2018
Black Paris Profiles™ Follow-up - Cheryl Ann Bolden
Fulbright scholar and Entrée to Black Paris intern Sonita Moss is conducting follow-up interviews with several of the women featured in our Black Paris Profiles™ interview series. Today's article features artist and curator Cheryl Ann Bolden.
Black Paris Profiles™ Follow-up - Cheryl Ann Bolden
by Sonita Moss
I spent several hours with Cheryl Ann Bolden in her atelier (a large co-working space full of artists, including an American photographer); listening to her fascinating stories (she's fearless in pursuit of her goals, so relentless that she defied a racially discriminatory education program in China), observing the incredible artifacts from her Museum Precious Cargo (such as actual documents from slave-holding families in Virginia). Like many other African-Americans in Paris, she has made a name for herself and has a proclivity for being "the first."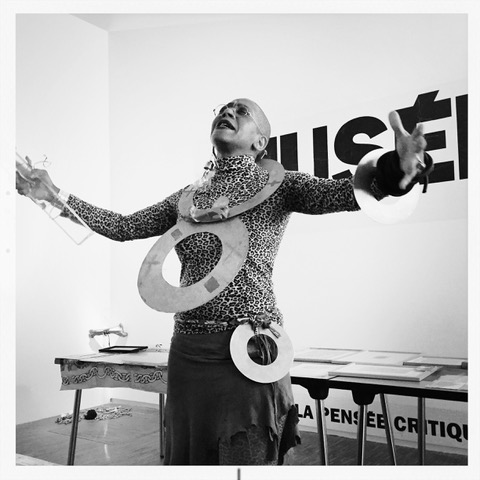 Cheryl Ann Bolden
Image courtesy of Cheryl Ann Bolden
For instance, she was the first African-American woman to open shop in the heart of downtown Charlottesville, the first iteration of the Museum Precious Cargo. But the seed of the idea was planted when Bolden began working as a tour guide at Ash Lawn, the plantation of Former President James Monroe. She felt there was something lacking in the tours; a glaring absence of chattel enslavement that spanned over two centuries in the United States.
"The tours said nothing about slavery, even though it talks about all kinds of history, it didn't talk about slavery, so I started to research about it. I see myself as a real American woman, so taking the job, I didn't think about the negative consequences. White folks would ask me, 'oh are your ancestors here?' They wanted to know but they were nervous.
Bolden's steps to change the tours was successful in some ways, but she did not stay long.
"At some point I got fired, I don't remember why. This is the 1980s, it was so different. But you know, I knew what I was doing right because the idea of dreams is important to me. And pursuing them."
Rather than being perturbed by her loss of work, Bolden took the advice of a friend and took curating history into her own hands.
"A friend of mine said, 'Oh well, open your own gallery.' So in 1984, I opened the Bolden Gallery. It was an African Art gallery and the beginning of Museum Precious Cargo. I was also designing clothes. It enabled me to create my own business and understand how to do business. That allowed me to go into the schools and that's how the museum became a "moving museum."
Bolden was invited into local schools to bring the artifacts of American history and African-American history into view. Before long, she was traveling around the world with her "moving museum," going to countries like Wales, Australia, Portugal, and the Honduras.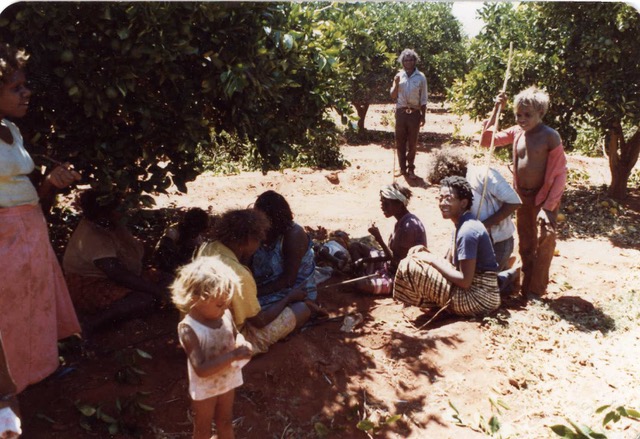 Cheryl Ann Bolden with an Aboriginal family
Image courtesy of Cheryl Ann Bolden
Bolden moved to Paris in 1997 and raised her "ultimate creation," her daughter Marlene, whose father is British, here in Paris. However, she never stopped seeking opportunities to travel with her museum as an educator, installation artist, and curator.
Today, in addition to educating through her non-profit Association Musée des Diaspores Africaines, Bolden teaches English and hosts events in her atelier, La Villa Mais D'ici.
"The villa is an art residency, we pay rent here and we vote on who is allowed to join. I've been volunteering in this community since 2007, teaching English in after-school program. I'd love for people to be able to come to see the museum, pay, and just talk to me. Because I need funding to continue this."
The latest event, "Afro-Futuristic Love," was held on Saturday, March 24. Guests were invited to the spaces to eat snacks, view some of the museum's artifacts, and have a conversation about topics such as feminism, and differences between experiences of white women and black women for a small donation of 5€.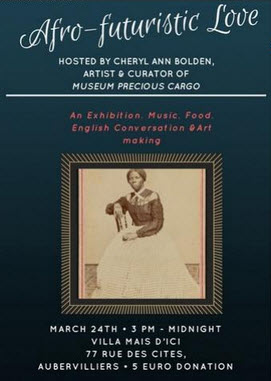 Bolden is aptly named: she is bold and unapologetic, while also being kind and inviting. After spending a short time with her, it is clear that she was determined to leave a mark. Her advice for other women who want to make their mark in Paris, or anywhere else in the world:
"You just keep going – that's how I realized the dream. You work on something, someone says no, you keep going. That's what I try to do, teach youth here to have confiance en soi – that's what I'm doing in all of my work, and I hope it sticks."
Self-confidence is key to unlocking one's potential and Mme Bolden's legacy is evidence of that.
Cheryl Ann Bolden's contact information:
https://www.facebook.com/MuseumPreciousCargo/
www.museumpreciouscargo.org