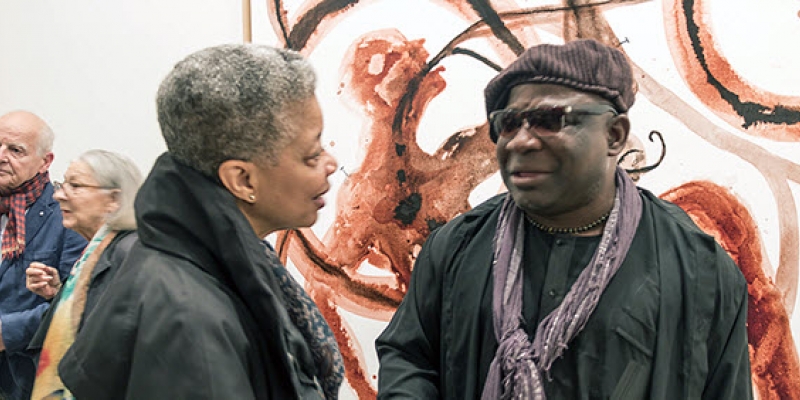 Thursday, September 9th, 2021
Barthélémy Toguo - Two Shows in Paris
Cover Image: Monique and Barthélémy Toguo in 2017
© Discover Paris!
I am a huge fan of Barthélémy Toguo's work and have written about him several times over the years. I had the pleasure of meeting him in person during his Strange Fruit exhibition at Galerie Lelong & Co. in Paris in 2017. Today, I'm pleased to report that he has two exhibitions running simultaneously in town!
Today is the first day of Galerie Lelong & Co.'s exhibition of Partages, which is an extension of work Toguo conceived for the 2020 International Biennial in Busan, Korea. It consists of an ensemble of blue paintings created in 2020 and 2021 and an interactive installation through which he invites the public to make a donation or send him a paper or electronic message.

Screenshot from Galerie Lelong & Co Website
The show is inspired by Toguo's study of the works of Edmond Jabès (1912-1991), an Egyptian poet who was forced to leave his homeland when Egypt expelled most of its Jewish population as a result of the Suez Crisis. Jabès moved to France, became a French citizen, and became renowned for his writings. Toguo's particular interest in Jabès' Book of Shares (Livre de Partages), led him to create a series of works that borrows the idea of sharing and blends it with the legend of a deity worshiped by the Bamiléké people of Cameroon.
Partages will be on view through October 23, 2021 at
Galerie Lelong & Co.
13, rue de Téhéran
75008 Paris
Tel: 01.45.63.13.19
Metro: Miromesnil (Lines 9 and 13)
Internet: http://galerie-lelong.com
Désir d'humanité - Le Monde de Barthélémy Toguo (Craving for Humanity - The World of Barthélémy Toguo), the other exhibition that is currently on display, can be found at the Musée du quai Branly - Jacques Chirac. Curator Christiane Falgayrettes-Leveau, who is Director of the Dapper Foundation, has studied the museum's collections and selected numerous pieces to which she juxtaposes works created by Toguo.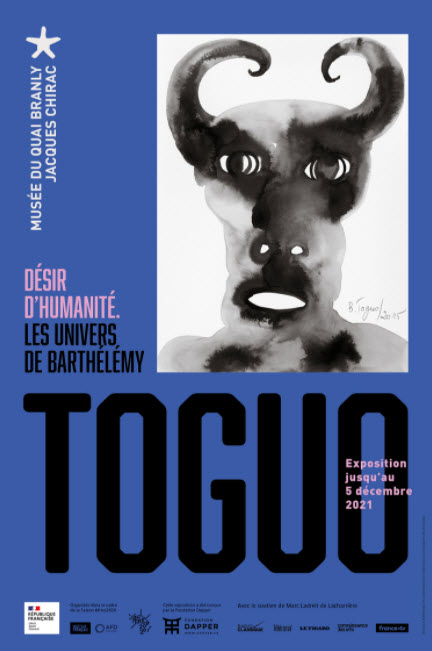 Flier for Désir d'humanité exhibition
To get an idea of what is in store for visitors to the exhibition, view a sample of the catalog here: Désir d'humanité
Désir d'humanité will be on display through December 5, 2021.
Musée du quai Branly
37 Quai Branly
75007 Paris
Entry fee: 12€ (includes admission to the permanent collection)
Purchasing your ticket online is strongly recommended: https://quaibranly.tickeasy.com/en-GB/home

Hours:
Tuesday, Wednesday, Friday, Saturday, Sunday: 10:30 am-07:00 pm
Thursday: 10:30 am-10:00 pm
See other ETBP articles about Toguo below:
Urban Renewal in La Goutte d'Or
Barthélémy Toguo's "Strange Fruit" in Paris