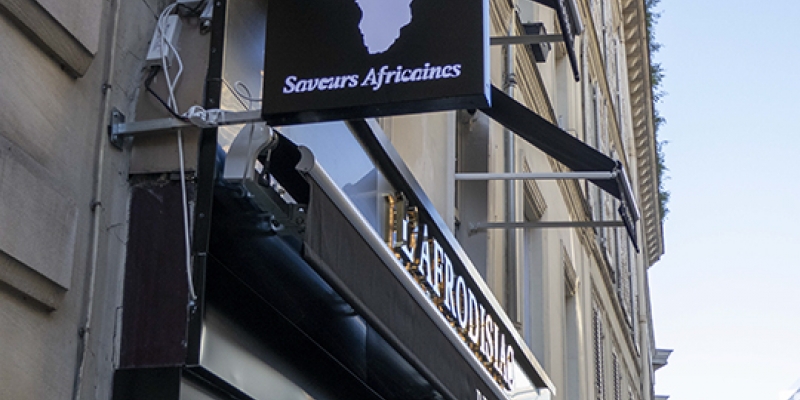 Thursday, January 27th, 2022
Art and Food Pairing™: Galerie Lelong & Co. and L'Afrodisiac - Part 2
Cover image: Signage for L'Afrodisiac (8th arrondissement)
© Entrée to Black Paris
If you've decided to visit Galerie Lelong & Co. to see the haunting works of Alison Saar, why not plan to have a meal at L'Afrodisiac as well?
This unusual African restaurant is approximately a 10-minute walk from Galerie Lelong. It is unusual because of its location - it is the only African restaurant I've been able to find in the 8th arrondissement - and because of its menu.
Most African restaurants in Paris feature cuisine from Senegal. I have also found establishments that offer cuisine from Cameroon or the Ivory Coast. But it is rare to find a restaurant that presents dishes from several African countries on the same menu.
L'Afrodisiac at 3, rue de Courcelles opened in December 2021. Its sister restaurant of the same name has operated in the Bonne Nouvelle quarter (2nd arrondissement) for about five years.
My husband Tom and I were excited by the prospect of relaunching Entrée to Black Paris' Art and Food Pairing™ article series by dining at this restaurant. Because we don't publish reviews of restaurants that we don't enjoy, we were hoping that we'd like the food and service here.
We were not disappointed!
Upon entry, we were greeted by Yolande, the young woman who would serve us throughout our meal. She gave us the choice of dining on the main floor or the first floor of the restaurant, and we chose the latter.
The black façade of the restaurant foretold the color scheme of the interior decor, which is dominated by somber tones accentuated with gold and bronze.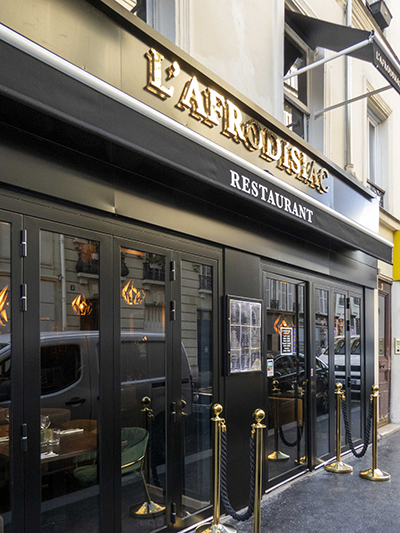 L'Afrodisiac - 3, rue de Courcelles - Façade
© Entrée to Black Paris
Upstairs dining room - view near stairwell
© Entrée to Black Paris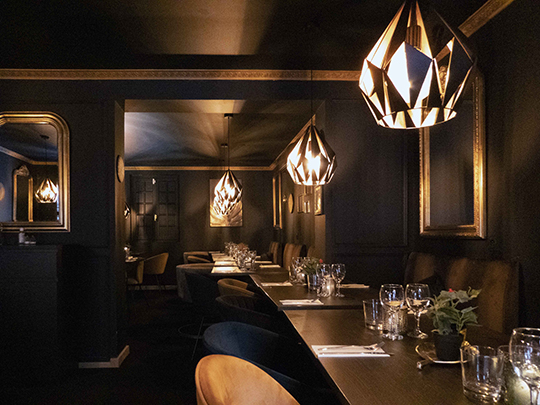 Upstairs dining room - rear
© Entrée to Black Paris
We conquered our impulse to order a three-course meal, knowing that the portions served at African restaurants are larger than we're accustomed to eating in a single sitting. We congratulated ourselves when we received our main dishes: Capitaine braisé for Tom and Thiebou Guinar for me.
Capitaine (Nile perch) is freshwater fish that is widely consumed in several African nations. Tom received an entire fish, smothered with diced, sauteed vegetables and decorated with two rings of raw, red onion and a slice of lemon. He chose plantains as his side dish and received a heaping mound of sliced savory banana cultivar topped with a halved cherry tomato and accompanied by a small cup of stewed onions and tomatoes. A dusting of minced parsley, a leaf of lettuce, and three pansies added additional color to his plate.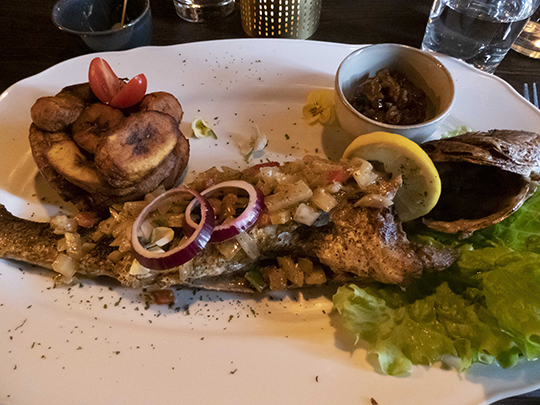 Capitaine braisé
© Entrée to Black Paris
Because I have become intolerant of onions and garlic, it is difficult for me to find things to order at African restaurants. Yolande was quite helpful in responding to my questions about the vast menu which, in addition to a robust listing of starters, salads, vegetarian dishes, and grilled dishes, includes several main dishes from Senegal, Ivory Coast, Guinea, Cameroon, and Congo. We finally determined that I should order a chicken dish from Senegal called Thiebou Guinar. It consisted of a grilled chicken leg, two types of stewed eggplant, half a carrot stick, a leaf of slightly sweet cabbage, and a large portion of yam. A huge mound of riz wolof (jollof rice) topped with a halved cherry tomato was served alongside. A slice of lemon, pansies, and minced parsley also decorated my plate.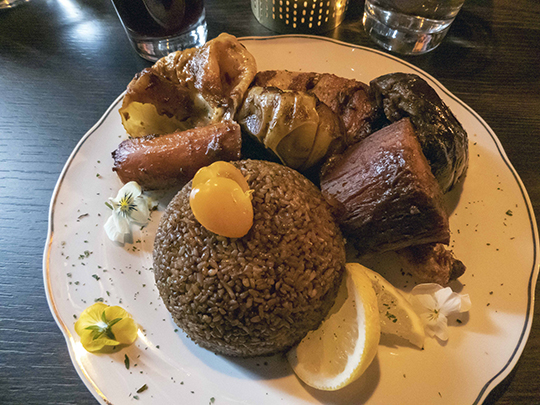 Thiebou Guinar
© Entrée to Black Paris
I ordered my favorite soft drink, bissap, to accompany my meal. Tom began with a Guinness Foreign Extra Stout beer and finished with a bissap as well.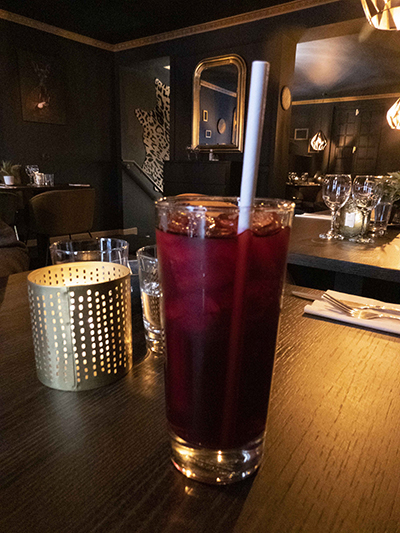 Bissap
© Entrée to Black Paris
(In case you're not familiar with bissap, it is an infusion made from hibiscus flowers.)
Tom cleaned his plate and decided he wanted dessert. Even though we did not order a starter, I still found my main dish too copious to finish. I ate half the chicken leg, half the rice, and all the vegetables, and happily took the leftovers home.
Tom opted for a serving of thiakry (déguê) for dessert. This is made from millet couscous that is traditionally topped with a slightly sweetened dairy product such as yogurt or buttermilk. I believe the one we were served was made with fromage blanc (a soft white cheese).
Yolande brought us two spoons in case I wanted to sample the dish, which I did!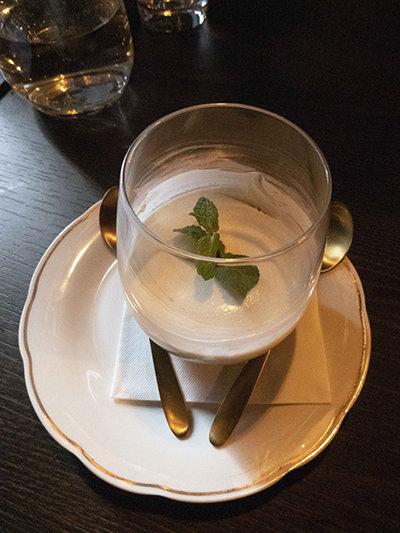 Thiakry
© Entrée to Black Paris
I'm not fond of desserts made from grains such as millet and rice, but I enjoyed the dairy part of this dish. I ate one spoonful and Tom had the rest.
L'Afrodisiac is well worth a visit if you're interested in exploring African cuisine beyond the standard offerings of yassa and mafé. It also happens to be located in the proximity of two 8th arrondissement galleries that are dedicated to showing the works of contemporary African, Afro-descendant, and other artists of color, so I encourage you to organize your own private Art and Food Pairings™ in the neighborhood going forward!
L'Afrodisiac
3, rue de Courcelles
75008 Paris
Telephone: 09.54.58.48.49
Metro: Miromesnil (Lines 9 and 13)
Internet: https://lafrodisiacrestaurant.fr/
Hours: Monday through Thursday - 12:00 PM - 3 PM; 6:30 PM - 11:30 PM
Friday through Saturday - 12:30 PM - 12:30 AM
Sunday - 6:30 PM - 11:30 PM