Thursday, January 20th, 2022
Art and Food Pairing™: Galerie Lelong & Co. and L'Afrodisiac - Part 1
Cover image: Backwater Blues invitation card (detail)
Whenever I've visited Galerie Lelong & Co. in the past, it has been to see exhibitions of works by Barthelemy Toguo.
Today, I'm excited to share news of the gallery's hosting of works by Los Angeles-born Alison Saar.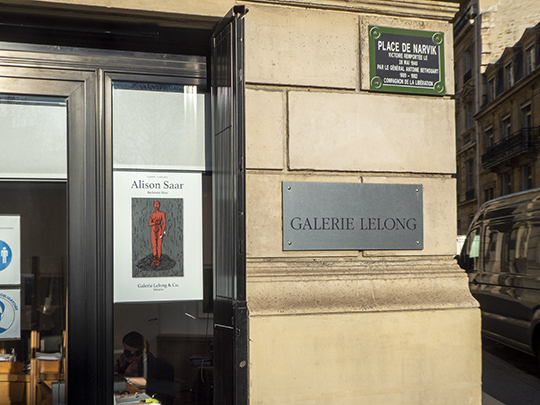 Galerie Lelong - bookshop façade
© Entrée to Black Paris
Saar is the daughter of two prominent artists – ceramicist Richard Saar and visual storyteller and printmaker Betty Saar. She has developed a body of work consisting of sculptures, engravings and paintings focused mainly on black female identity in the United States.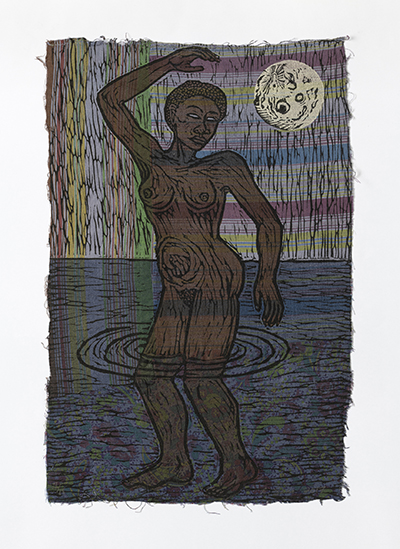 Backwater Blues invitation card
Black Bottom Stomp, 2017
Engraved wood and linocut on bedspread, edition of 18
45,5 x 30 cm
© Alison Saar / Courtesy Galerie Lelong & Co.
Saar's work reflects multiple influences, including African-American culture, Haitian folklore, and art brut. You can find them at many prestigious American museums, such as the Metropolitan Museum, the MoMA, the Whitney Museum of American Art, the Hirshhorn Museum, the Solomon R. Guggenheim and, the Studio Museum in Harlem.
The Galerie Lelong show, which is entitled Backwater Blues, focuses on Saar's prints. She mainly uses etchings on wood to produce them, and she prints her works not only on paper but also on unusual materials such as handkerchiefs, tea towels and jute bags.
All the works in this show are hung in the gallery's bookshop.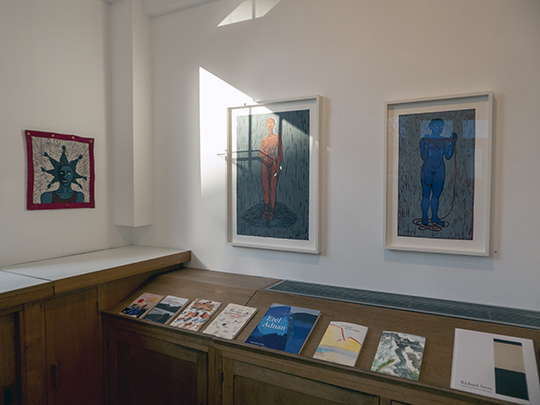 Exhibition View 1
© Entrée to Black Paris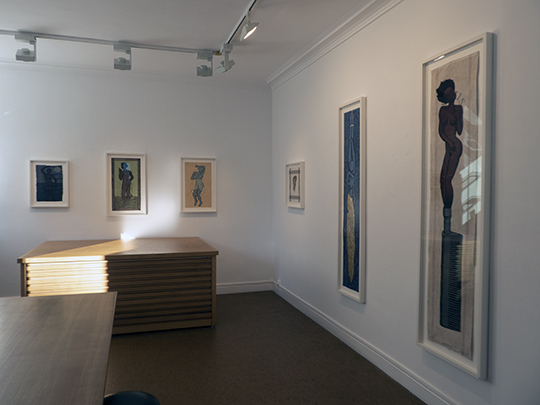 Exhibition View 2
© Entrée to Black Paris
Though there is no catalog for this exhibition, you can find details about several of the works in Backwater Blues here: Alison Saar (Tandem Press).
The catalog for Mirror Mirror: The Prints of Alison Saar, an ongoing exhibition that has been mounted at Washington State University's Jordon Schitzner Museum of Art, is available for consultation in the front room of the bookshop.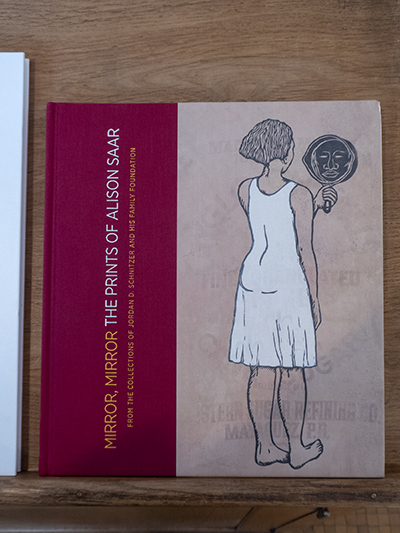 Mirror Mirror: The Prints of Alison Saar
© Entrée to Black Paris
Below are images of a couple of works that I found particularly striking.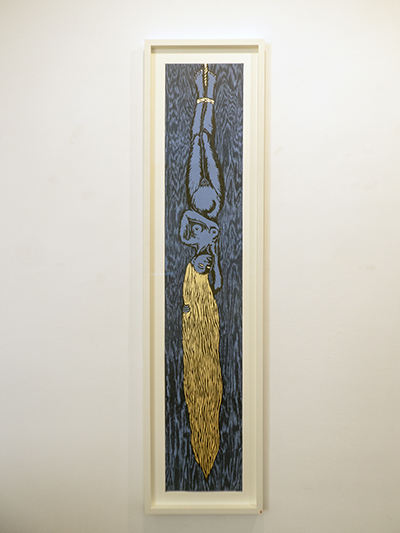 Blonde Dreams, 2021
Woodblock and screen print on paper, edition of 30
66 x 12 inches
© Entrée to Black Paris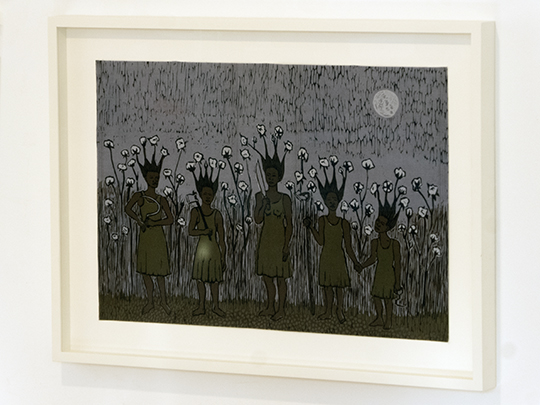 Reapers, 2021
Linoleum cut on hand-dyed found sugar sacks, varied edition of 18
15 3/4 x 23 1/4 inches
© Entrée to Black Paris
Backwater Blues will be on display through March 12, 2022.
L'Afrodisiac, the restaurant that is the subject of Part 2 of this article, is only a 10-minute walk from Galerie Lelong. Look for our description of the meal Tom and I had there in next week's blog.
Galerie Lelong & Co. Bookshop
13, rue de Téhéran
75008 Paris
Telephone: 01 45 63 13 19
Metro: Miromesnil (Lines 9 and 13)
Hours: Tuesday to Friday: 10:30 AM - 6:00 PM; Saturday: 2:00 PM - 6:00 PM