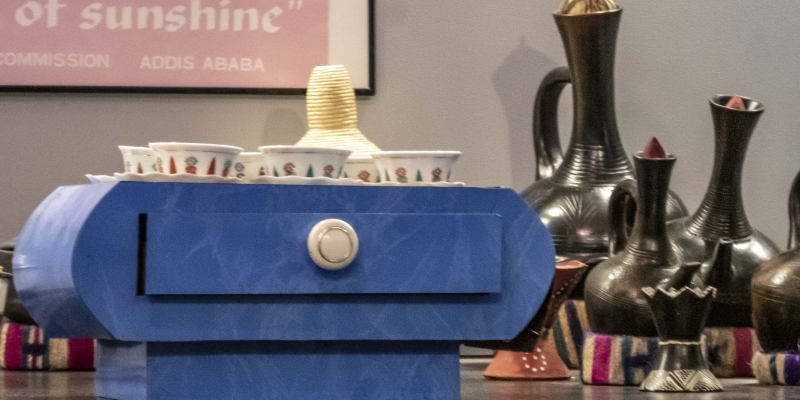 Thursday, January 24th, 2019
Art and Food Pairing™: La Galerie Africaine & Addis Ethiopia - Part 2
Restaurant Addis Ethiopia is a scant two-minute walk from Mu Gallery on rue Blanche. Tom and I dined there on the evening of the Connivences Urbaines vernissage.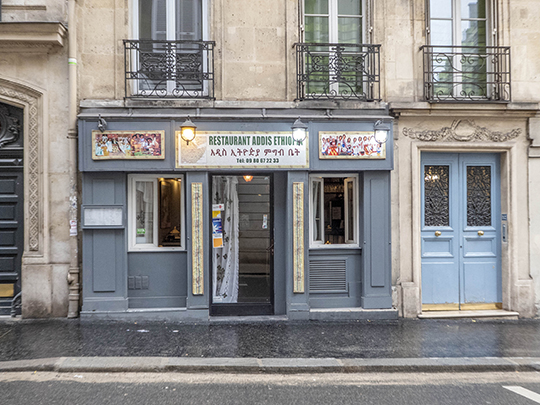 Restaurant Addis Ethiopia façade
© Entrée to Black Paris
Upon entry, we were warmly welcomed and shown to a table next to the bar. We immediately took in the decor, every aspect of which evoked Ethiopia.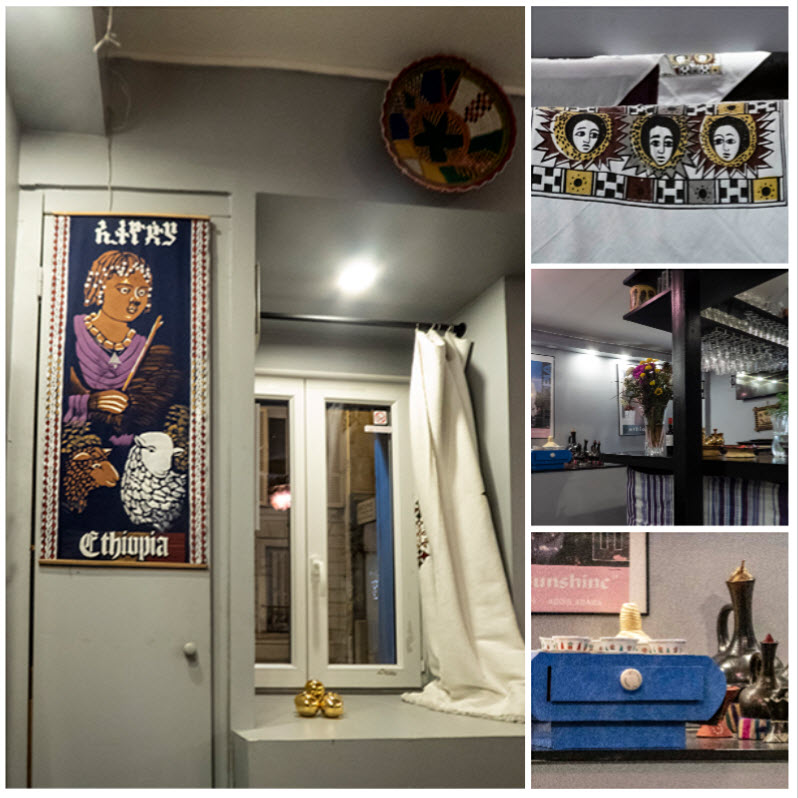 Dining room decor
© Entrée to Black Paris
There is even a photograph of Emperor Haile Selassie with John F. and Jacqueline Kennedy above the table where we sat.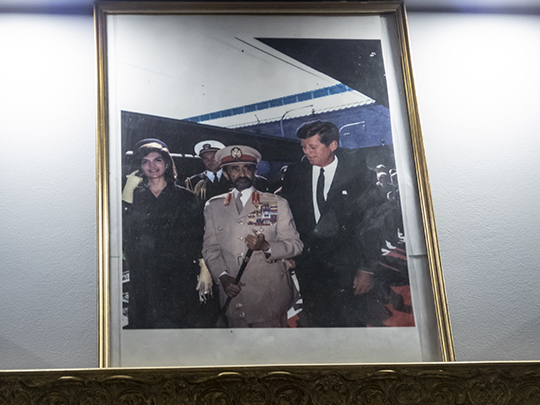 Photo of Emperor Haile Selassie and the Kennedys
© Entrée to Black Paris
The restaurant looks deceptively small from the street. We discovered an entire dining room downstairs when we visited the restroom.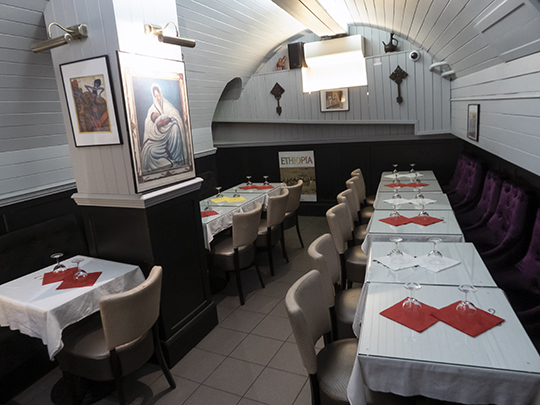 Downstairs dining room
© Entrée to Black Paris
All the dishes offered at Addis Ethiopia are traditional. We knew that the main course would be copious based on past experience at other Ethiopian restaurants, so we resisted the temptation to order a starter. We ordered an Ethiopian beer called Bedele as a before-dinner drink. A crisp, slightly bitter brew, it also served as the accompanying beverage for our dinner. We sipped it as we perused the menu.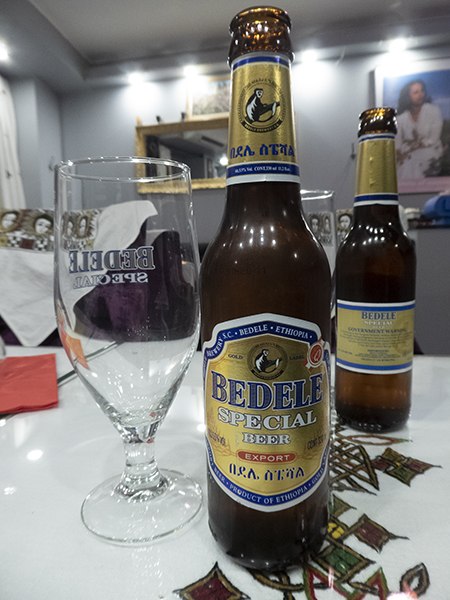 Bedele beer
© Entrée to Black Paris
After carefully considering our choices, we opted for the mixed platter called Beyayennetou. It combines nine traditional preparations on a single serving dish, including chicken in spicy sauce; three types of beef, with or without spices; Ethiopian cheese, and pickled cabbage. The meal is consumed by breaking off a portion of spongy injera (Ethiopian flatbread), encasing the morsel of food you desire inside, and popping the entire thing in your mouth.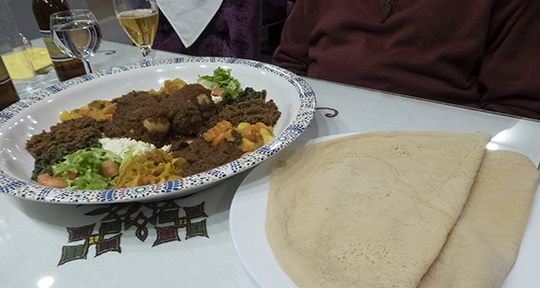 Beyayannetou and injera
© Entrée to Black Paris
There is a vegetarian Beyayennetou, but we went for the full version. Two portions of each preparation were served on a single platter. My personal favorite among all the items offered was the chicken in spicy sauce, called doro wat.
We devoured every morsel of our food, including the injera that lined the serving dish. Because it was imbibed with the juices from the many preparations we sampled, it was more difficult to handle without a knife and fork. But we managed beautifully! Our server beamed when he came to clear our table, saying that he would have considered the meal a failure if we had not consumed it.
The dessert selections consisted of fresh mango, fruit salad, ice creams, and sorbets. Tom chose chocolate ice cream and received two scoops of dark chocolate delight. I forwent dessert and asked for mint tea. I had hoped to be served an infusion made with fresh mint leaves but was given a small pot containing a bag of Lipton mint tea. It was the only disappointment of the evening.
Addis Ethiopia
52, rue Blanche
75009 Paris
Telephone: 09 80 67 22 33
Metro: Trinité (Line 12)
Hours: Monday through Friday 12 noon - 3 PM and 6 PM - midnight; Saturday 6 PM - midnight; closed Sundays