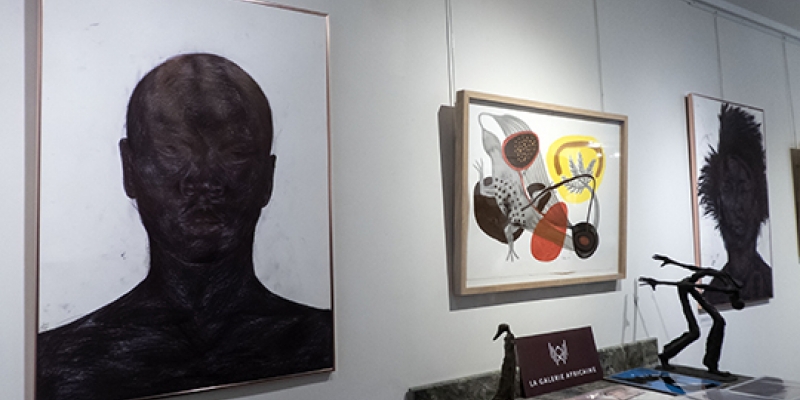 Thursday, January 17th, 2019
Art and Food Pairing™: La Galerie Africaine & Addis Ethiopia - Part 1
The itinerant gallery, La Galerie Africaine, returns to this intermittent Art and Food Pairing™ article series with Connivences Urbaines, a group exhibition organized by French gallerist Aude Minart that features paintings, sculptures, and works on paper by several African artists. The exhibition is being shown at Mu Gallery in Paris' 9th arrondissement.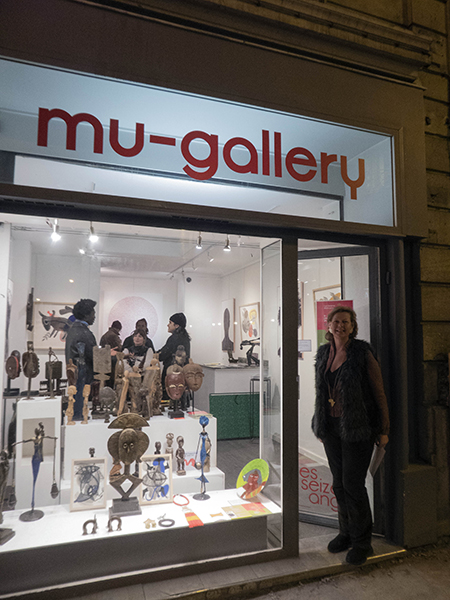 La Galerie Africaine gallerist Aude Minart at Mu Gallery
© Entrée to Black Paris
We attended the vernissage (open house) on Tuesday, January 8 and had the pleasure of chatting with two of the artists whose works are being displayed - Yao Metsoko and Josué Comoe.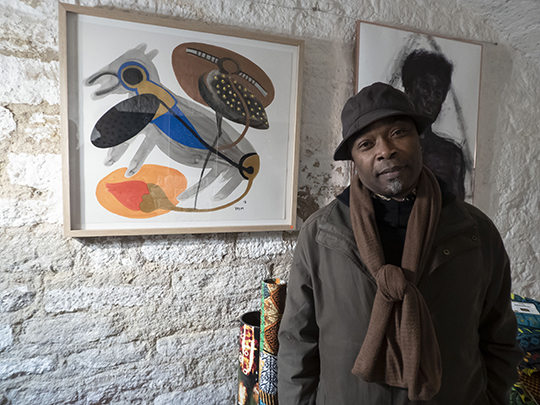 Yao Metsoko and work on paper
© Entrée to Black Paris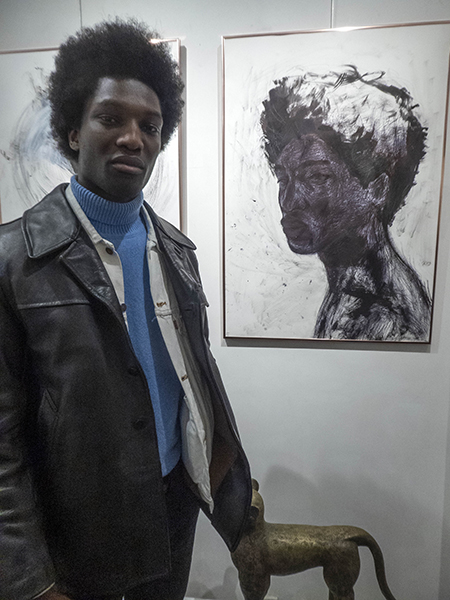 Josué Comoe and 2018 self-portrait (ink on paper)
© Entrée to Black Paris
I first met Metsoko in 2013 at a gala hosted by The Brothers Paris. His joy and enthusiasm for life are infectious! We talked about his Togolese heritage and the meaning of his name ("Yao" indicates that he was born on a Thursday; "Metsoko" means "prefer to laugh") before broaching the subject of his work.
Metsoko is showing several acrylics on paper at Connivences Urbaines. They represent the harmony that exists between the human, animal and mineral worlds - the harmony of which we sometimes lose sight and for which he seeks to raise awareness.
Franco-Ivoirian Josué Comoe is showing several portraits created on paper with ink from Bic pens. His journey as a fashion model and emerging artist was well covered in the Francophone press in 2018. His social media presence has done a great deal to propel him into the spotlight of the contemporary art world.
Comoe has always loved expressing himself through art. He views his current work as a vehicle for reclaiming his image and highlighting the profiles of minorities, women and men, who are often very little or poorly represented in society. He has been named one of 100 Black Creatives to watch in 2019.
Other artists whose works are on display include Sambou Diouf, Gonçalo Mabunda, and Mbaye Babacar Diouf.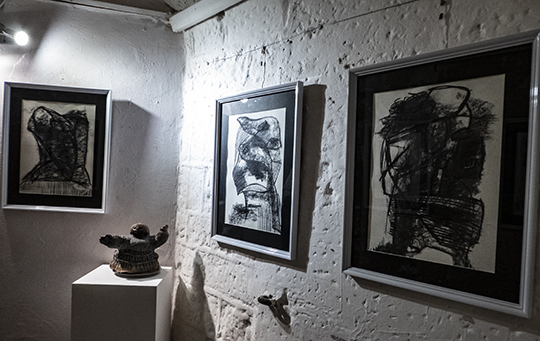 Recompositions by Sambou Diouf and Sculpture by Colleen Madamombe
© Entrée to Black Paris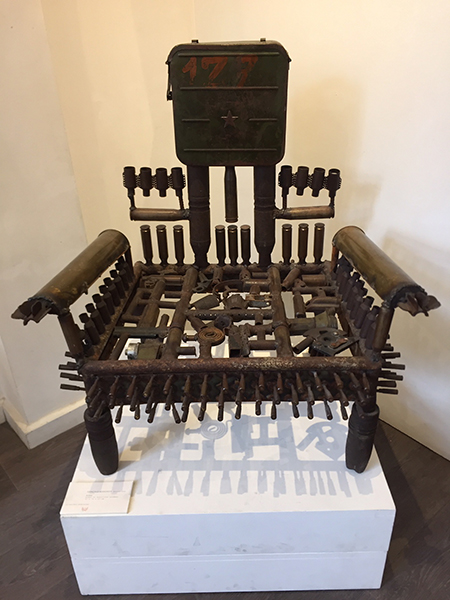 Untitled (Throne)
Gonçalo Mabunda
2014 - Sockets / bushings, grenades, petrol can, bullets, ammunition
Image courtesy of La Galerie Africaine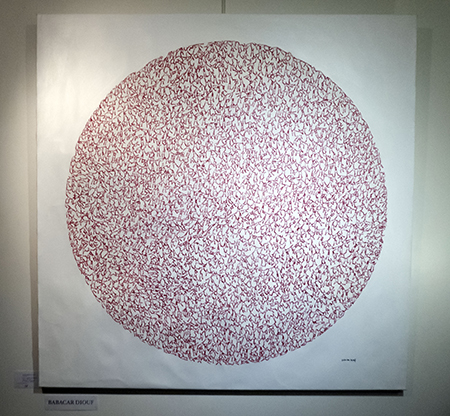 Force, Unité, et Harmonie
Mbaye Babacar Diouf
2017 - Permanent marker on canvas


Connivences Urbaines can be viewed at Mu Gallery through January 27. Cocktail events are scheduled for January 17 and 24 at 6 PM.
Mu Gallery
53, rue Blanche
75009 Paris
Metro: Place de Clichy (Lines 2 and 13), Blanche (Line 2)
Telephone for Aude Minart: 06 60 24 06 26
Hours: Monday through Saturday from 12:30 PM to 7 PM; Sunday from 2 PM to 6 PM

Upon leaving the vernissage, we ventured down the street to Number 52, where we dined à l'ethiopienne. Read about our experience in Part 2 of this Art and Food Pairing™ article, to be published next week.