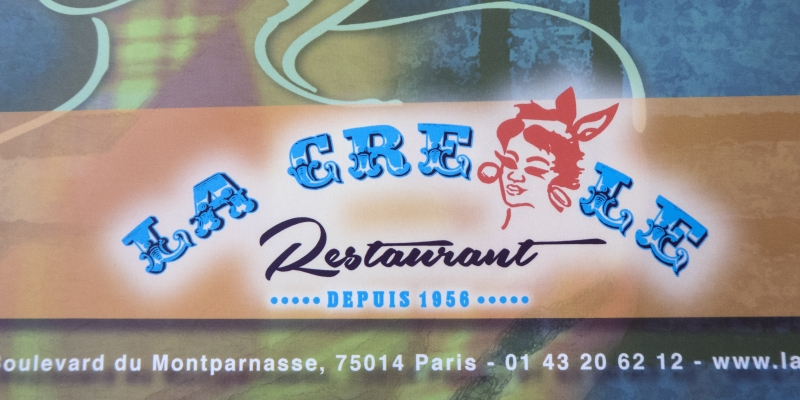 Thursday, December 14th, 2017
Art and Food Pairing™ - Malick Sidibé and La Créole – Part 2
After thoroughly enjoying ourselves at the Malick Sidibé Mali Twist exhibition at the Fondation Cartier, Tom and I took a leisurely stroll to La Créole, one of the oldest and most famous Créole restaurants in Paris.
Less than a 10-minute walk from the foundation, it lies on the corner of boulevard du Montparnasse and rue Léopold Robert in the 14th arrondissement. You'll find the flavors of Martinique, Guadeloupe, and Reunion Island here.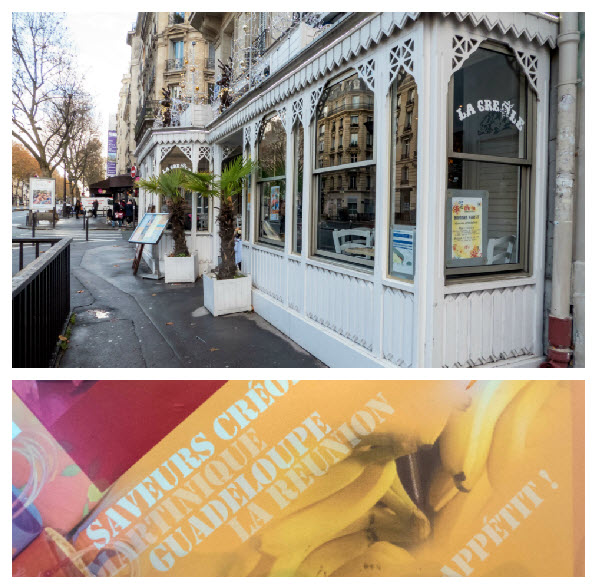 Façade and table setting
© Entrée to Black Paris
A handsome bar greets customers upon entering the dining room. (The restaurant offers 64 varieties of rum!) The seating area is quite large and includes an enclosed sidewalk terrace. This is where we chose to lunch.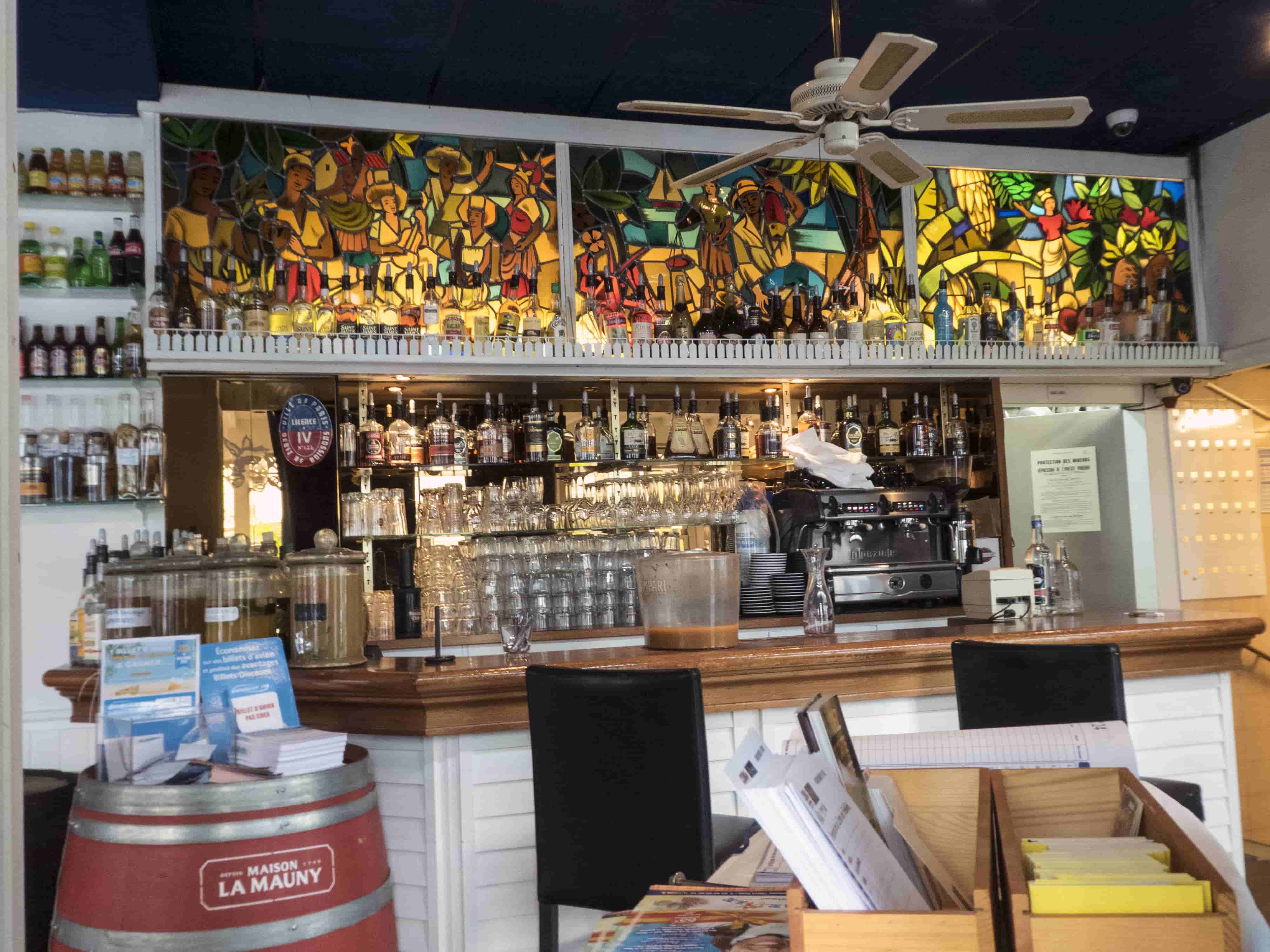 La Créole bar
© Entrée to Black Paris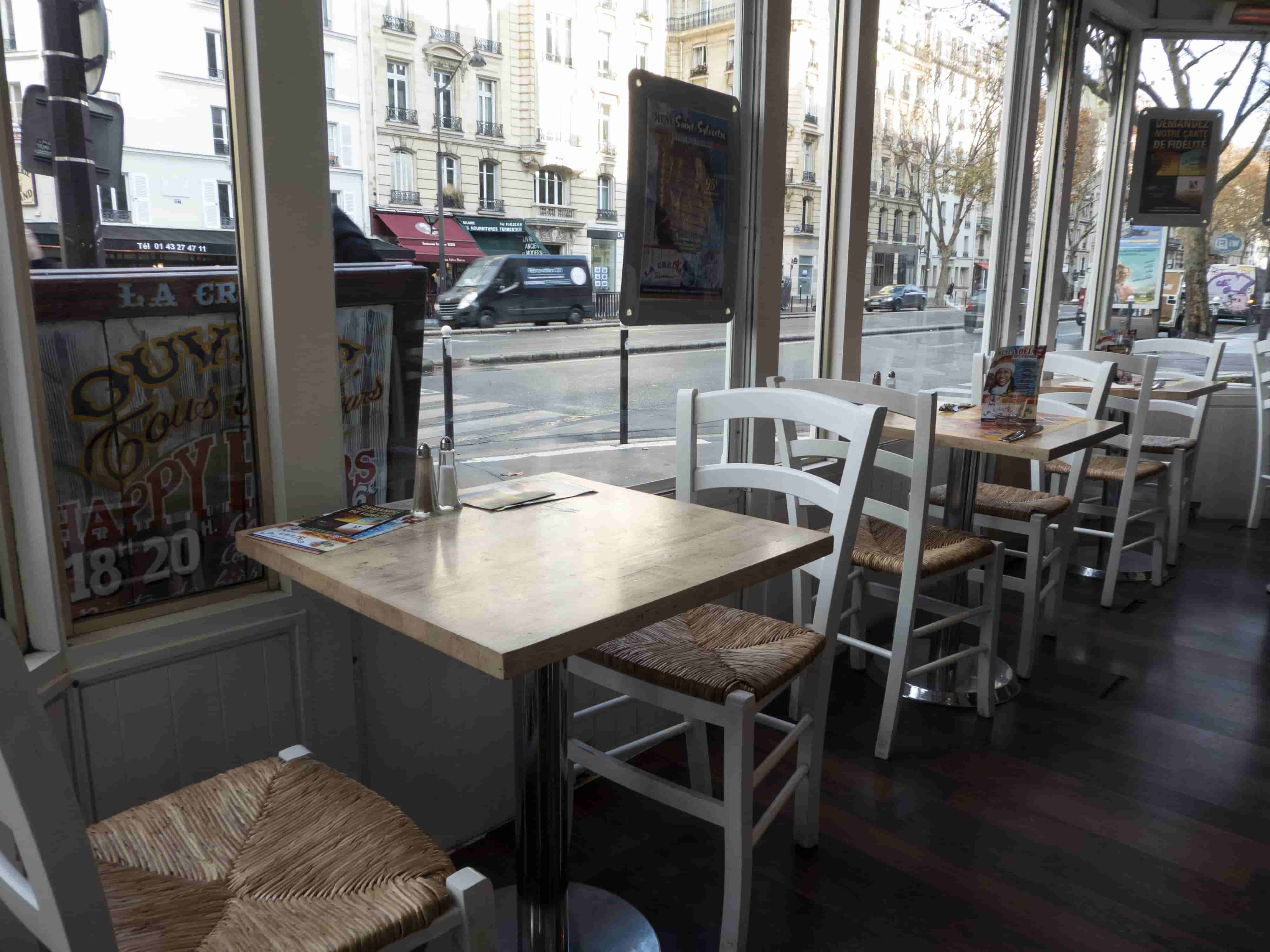 Enclosed terrace
© Entrée to Black Paris
The menu at La Créole is a veritable book. The first several pages are devoted to cocktails and other beverages. Entrées and salads, main courses, and desserts can be found on the pages that follow.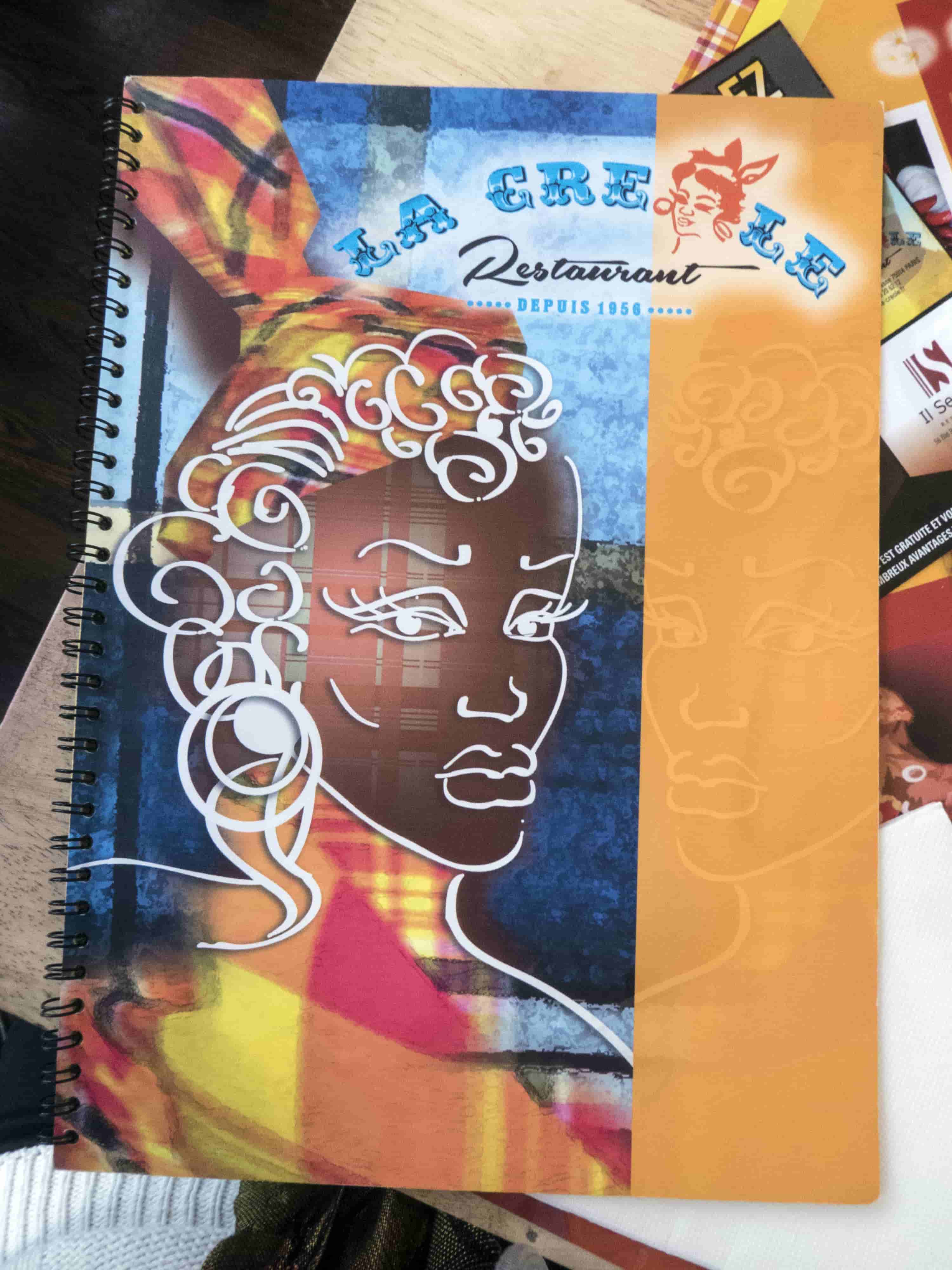 La Créole menu
© Entrée to Black Paris
For our aperitifs, I ordered a rhum arrangé gingembre (rum infused with fresh ginger) and Tom ordered a punch coco, made with rum, coconut milk, and cinnamon. We sipped these while studying the rest of the menu.
Being aware that the portion for the main dish would be copious, Tom and I wisely chose to split a starter. We selected boudin noir and received three small, plump blood sausages arranged around a crisp, fresh salad of shredded orange cabbage, carrots, orange bell peppers, and a few leaves of radicchio and baby greens.
A small crock of spicy pepper sauce and a basket of fresh, crusty baguette were served alongside.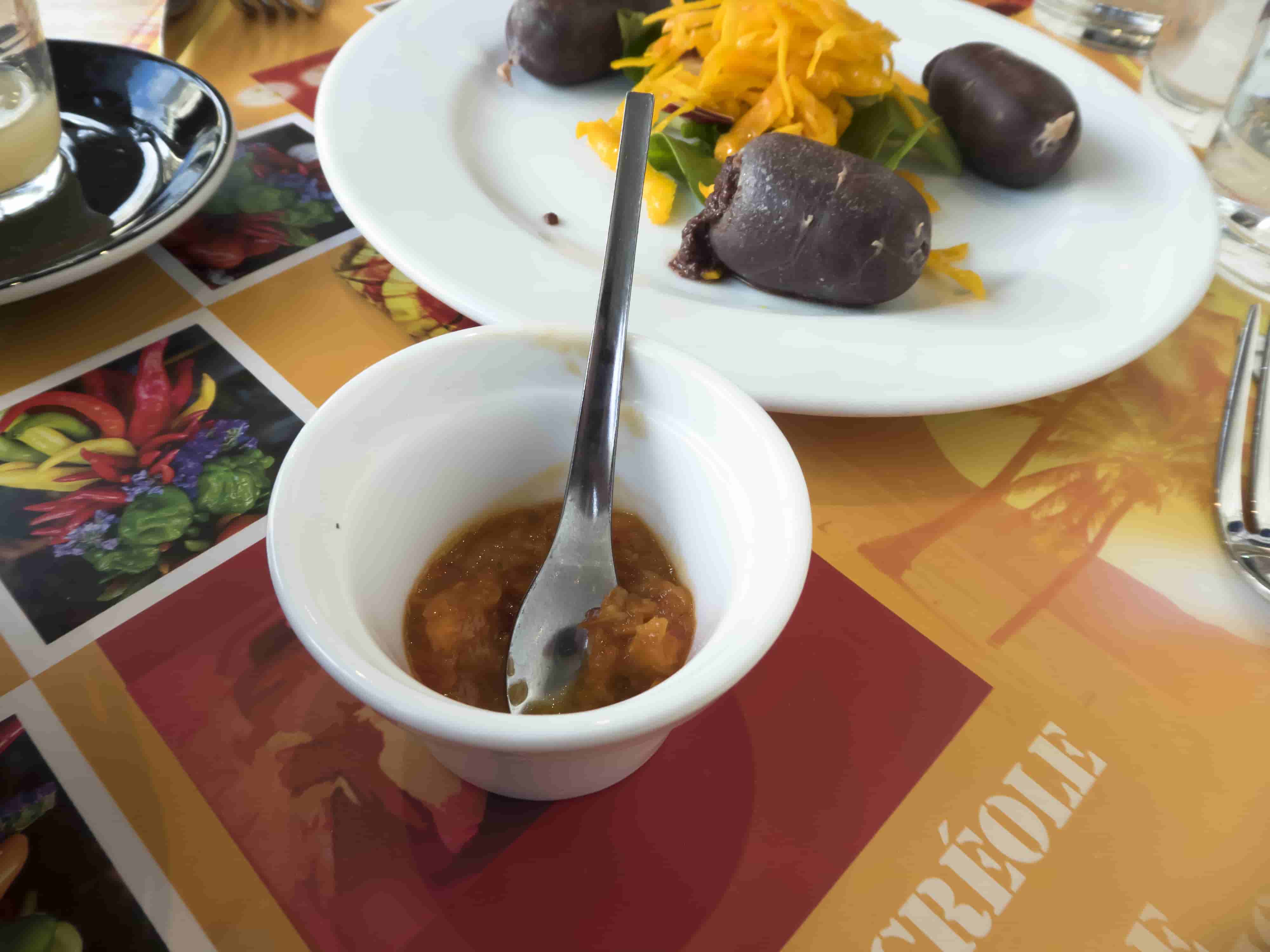 Boudin and hot pepper sauce
© Entrée to Black Paris
We tucked into this entrée with gusto, splitting it evenly between us. We used the baguette to capture every morsel of the spicy boudin.
For our main dish, we both ordered the Colombo de cabri, a goat stew flavored with curry and many additional spices. This was served with a mound of white rice topped with half a cherry tomato and a West Indian bay leaf, more of the fresh salad that we had with the boudin, sliced plantain, stewed zucchini, and the obligatory brown gravy.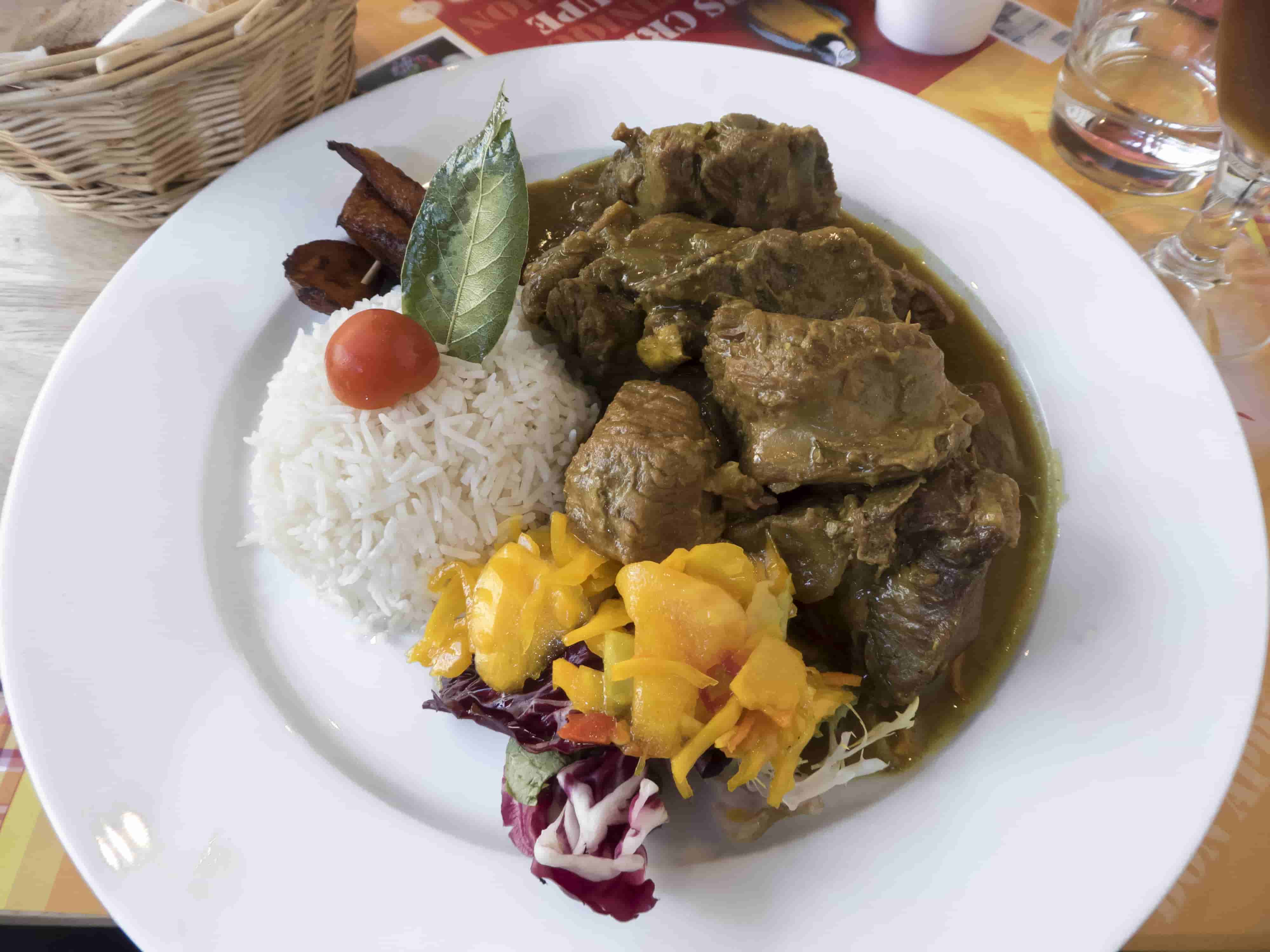 Colombo de cabri
© Entrée to Black Paris
The portion was huge and even though I only ate half of the entrée, I could not finish my Colombo. I wanted to save room for dessert, so I asked the server if I could take my leftovers home. She readily agreed, so I relaxed and enjoyed as much of the tender, spicy goat meat that I could comfortably consume. I was especially pleased that I'd be able to enjoy this dish the following day!
(Tom was hungrier than I and he finished every bite of his serving.)
To accompany our meals, Tom decided to try a rhum arrangé mangue (rum infused with mango) and I ordered a Martinican beer called Lorraine Ambré. The mango rum punch was much smoother than the ginger one that I had ordered as an aperitif. I'll be sure to try it the next time we visit La Créole. My beer was amber colored and pleasantly sweet. I found it to be the perfect accompaniment for the Colombo.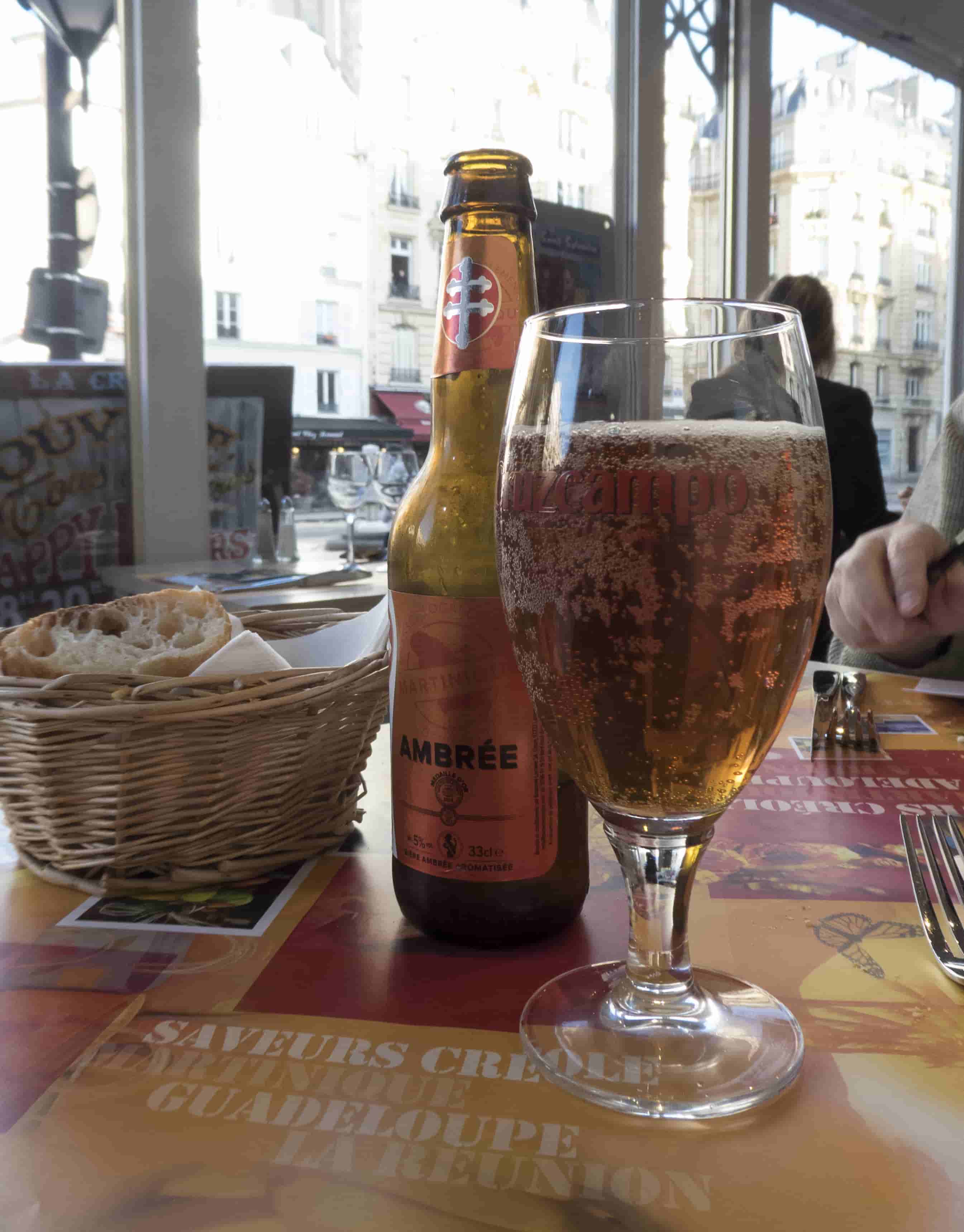 Lorraine Ambré
© Entrée to Black Paris
Then it was time for dessert. I selected the moelleux à l'ananas, which was described on the menu as a quatre-quarts (pound cake) filled with small pieces of pineapple. What I received was a large square of cake that had an unusual orange-yellow color and a topping consisting of a large, thin slice of caramelized pineapple (no pineapple morsels in the cake itself), served with a generous portion of crème anglaise. I was grateful for the cream because I found the cake to be slightly dry. Still, it was flavorful and provided a nice contrast to the meat dish that preceded it.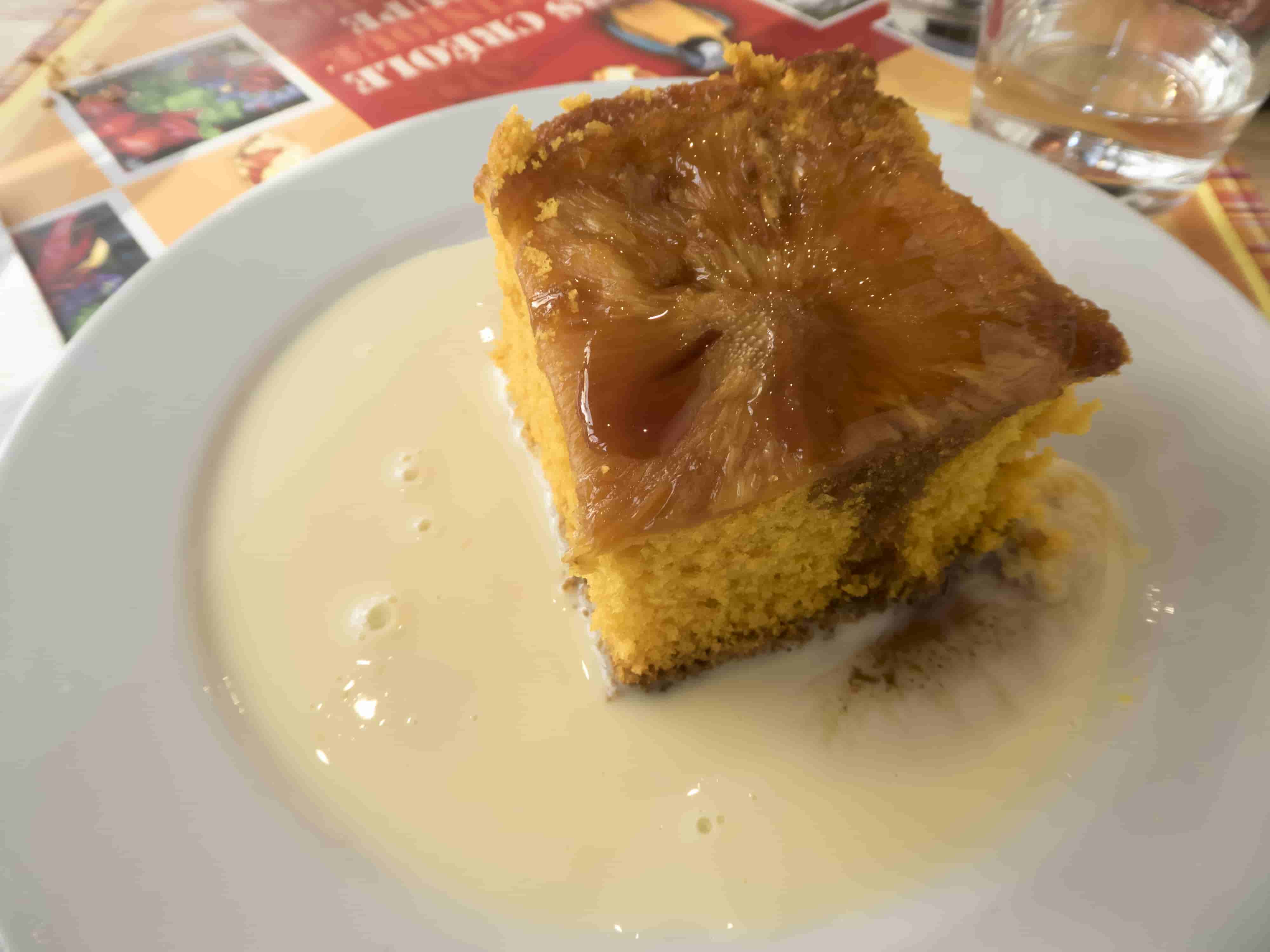 Moelleux à l'ananas
© Entrée to Black Paris
Tom ordered two scoops of homemade coconut sorbet and declared them to be simply delectable!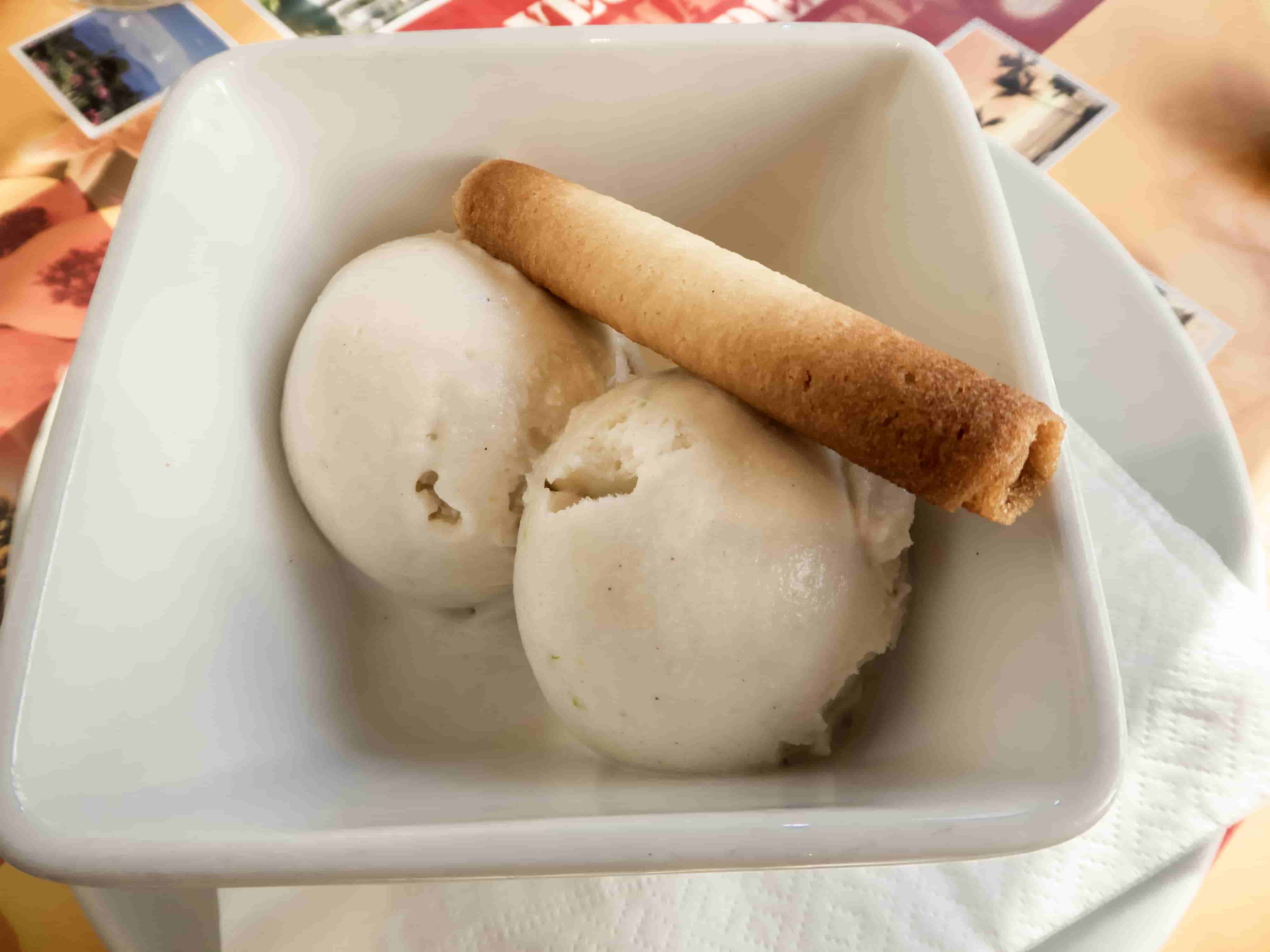 Sorbet coco
© Entrée to Black Paris
La Créole offers brunch on Sunday afternoons and a Dombré party (dumplings and red beans served with pork or seafood) every Wednesday evening. For information in English, click here.
La Créole
122, boulevard du Montparnasse
75014 Paris
Metro: Vavin (Line 4)
Hours: Monday through Sunday 12:00 pm – 2:30 pm and 7:00 pm – 11 pm