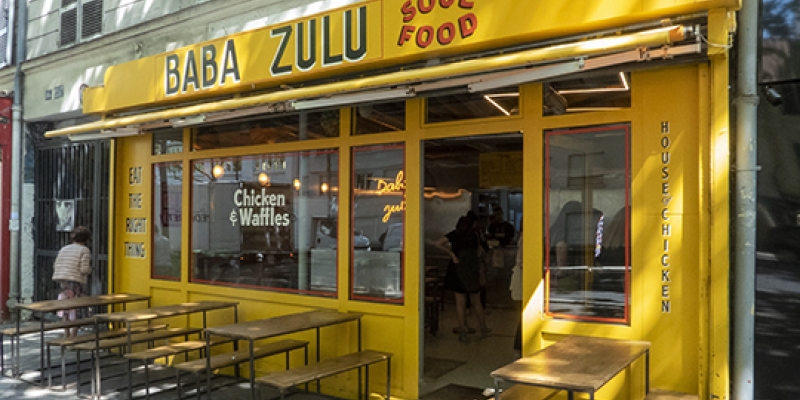 Thursday, August 18th, 2022
Another "Soul Food" Restaurant in Paris
Cover image: Baba Zulu façade - rue du faubourg Saint-Antoine
© Entrée to Black Paris
Soul food is not a "new thing" in Paris. But none of the present-day restaurants that declare themselves purveyors of this cuisine are run by Americans.
And in fact, I find it a bit sad that soul food in the French capital has pretty much been "reduced" to renditions of chicken and waffles and mac and cheese.
Nevertheless, when we passed Baba Zulu on the way to a lovely French bistro called Sélune, we took note of the words "Soul Food" above the entrance and "Chicken and Waffles" in the window, and we decided to return to the neighborhood on another day and give the place a try. And on August 15th, we did just that.
Baba Zulu has two locations, both of which are off the tourist track. The original restaurant is in the 10th arrondissement near République, and the newer one is in the 12th arrondissement, not far from Nation. The one we discovered is in the 12th arrondissement, a block away from Saint-Antoine Hospital.
The decor is industrial with brightly colored accents. The back wall bears the name of the restaurant in neon.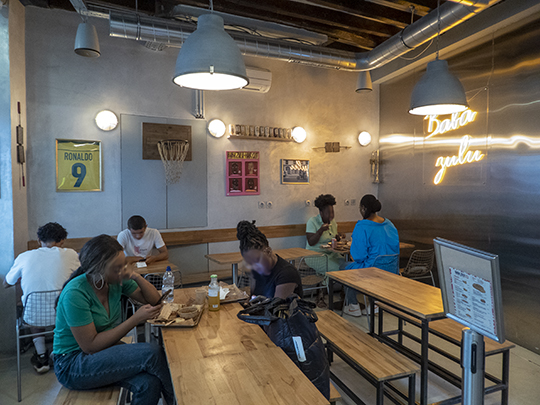 Baba Zulu dining room
© Entrée to Black Paris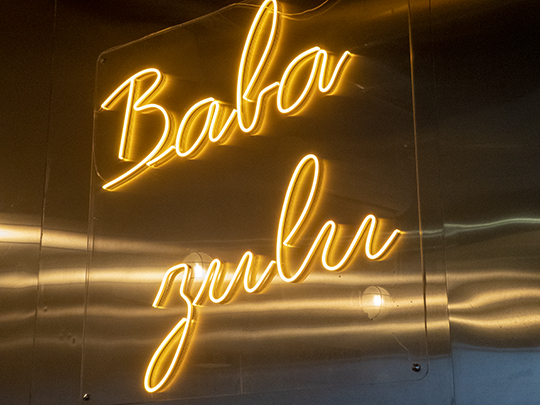 Baba Zulu in neon
© Entrée to Black Paris
Artwork created by Maison Château Rouge, a basketball hoop and three basketball planters (with artificial plants), old-fashioned waffle irons, and shelves bearing condiments, soft drinks, and oddly, boxes of Reese's Puffs cereal, serve as decor.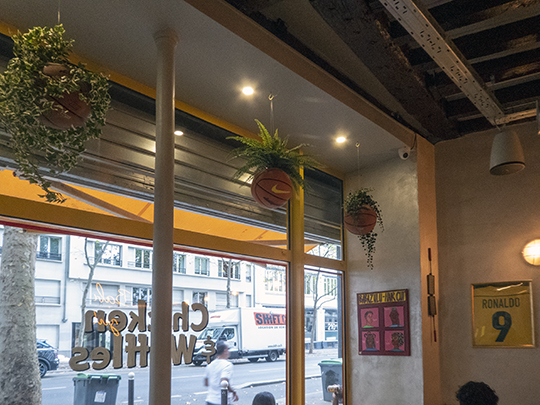 Basketball planters
© Entrée to Black Paris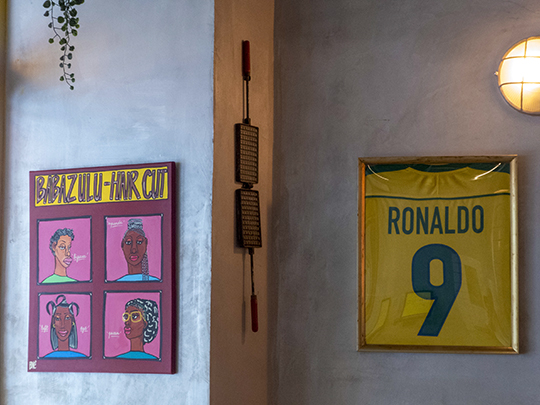 Maison Château Rouge artwork and waffle iron
© Entrée to Black Paris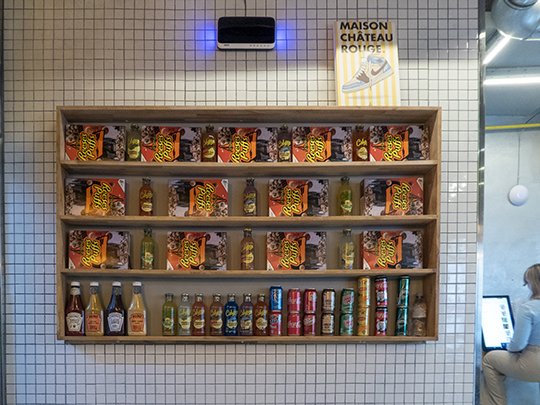 Cereal boxes and soft drinks
© Entrée to Black Paris
Customers who wish to pay for their meal with a credit card are obliged to order using an electronic menu near the entrance. If you want to pay in cash, you must go to the counter at the rear of the dining room.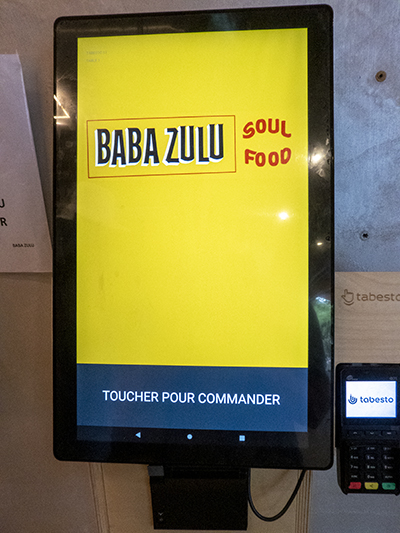 Electronic tablet for ordering
© Entrée to Black Paris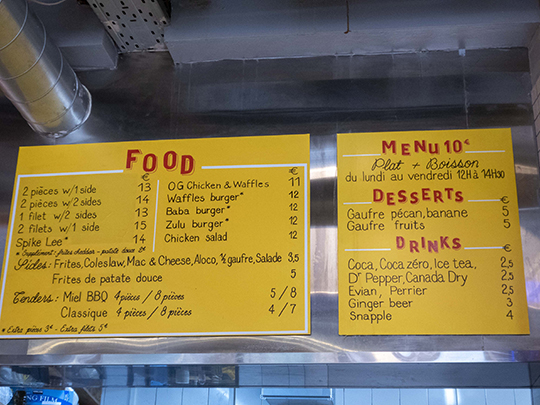 Menu above order counter
© Entrée to Black Paris
Contrary to what the menu says, Calypso is the non-carbonated soft drink served here (not Snapple).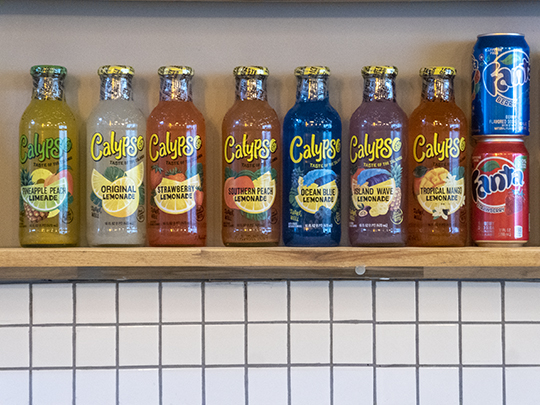 Soft drinks
© Entrée to Black Paris
Tom ordered a "Spike Lee," a meal consisting of chicken tenders coated with honey-flavored barbecue sauce, fries, four sections of waffle, and a choice of two condiments. He chose ketchup and barbecue sauce, both of which turned out to be individual packets produced by Heinz.
The waffle came with a small serving of maple syrup (shown in the center of the photo below).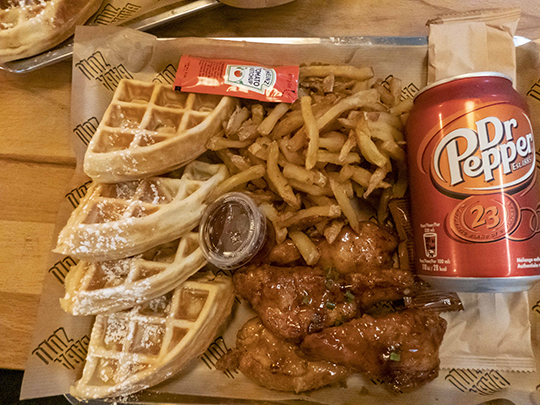 The "Spike Lee" and Dr. Pepper
© Entrée to Black Paris
I ordered an original menu, which consisted of two pieces of fried chicken, a waffle divided into four sections, and a choice of two condiments. I chose Tabasco sauce and barbecue sauce, and received a small serving of Tabasco in a cup similar to the one in which the maple syrup was served. The barbecue sauce was the same as Tom's - an individual packet produced by Heinz.
I ordered an extra piece of fried chicken for Tom because he was afraid the portions served wouldn't be large enough. He was wrong!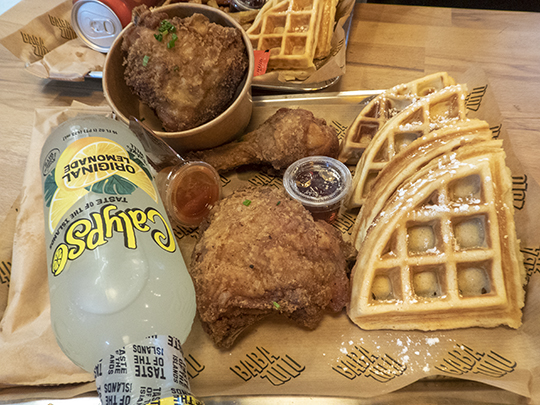 Original menu with Calypso Original Lemonade
© Entrée to Black Paris
I enjoyed the flavor of my fried chicken, though the crust was a tad less crunchy than I expected. The portion was generous, and I would have been satisfied with only half the waffle (which was slightly dry). I was pleased with my selection of Calypso Original Lemonade as a beverage, and would happily try the other flavors that the restaurant offers.
Tom liked the fried chicken better than his chicken tenders, and he mistakenly thought that the chicken would have been smoked or grilled because it was labeled "barbecued." He found his waffle to be just to his liking. Though his fries had great flavor, he found them to be too greasy. He appreciated that Baba Zulu offers Dr. Pepper - his favorite carbonated beverage - and he enjoyed this with his meal.
Not wanting to stuff ourselves, we decided to take home the chicken and waffle we couldn't finish so we could order dessert. We decided to split a banana pecan waffle to finish our meal.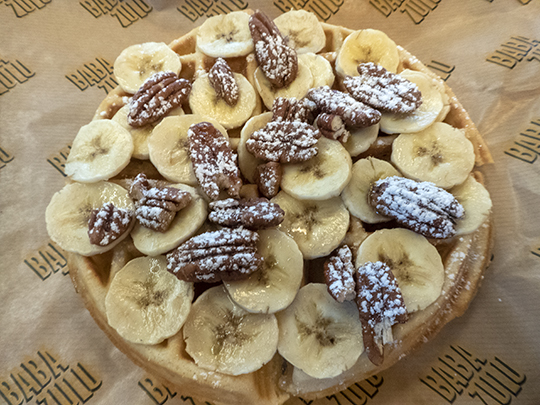 Banana Pecan Waffle
© Entrée to Black Paris
Both of us were quite pleased with this selection. The waffle was tender and flavorful, and the bananas and pecan halves provided lovely contrasting colors, textures, and flavors. Though the pecans were dusted with powdered sugar, the dessert was not overly sweet.
Would I go out of my way to return to Baba Zulu? No. But if I were in the neighborhood and happened to be looking for an inexpensive, tasty, and filling meal, I'd gladly stop in and try something else on their menu.
Baba Zulu
257, rue du Faubourg Saint-Antoine
75011 Paris
Telephone: 09.87.50.35.57
Metro: Faidherbe-Chaligny (Line 8)
Hours: Monday through Saturday 12 noon - 10:30 PM
To read previous articles about soul food in Paris, click HERE.