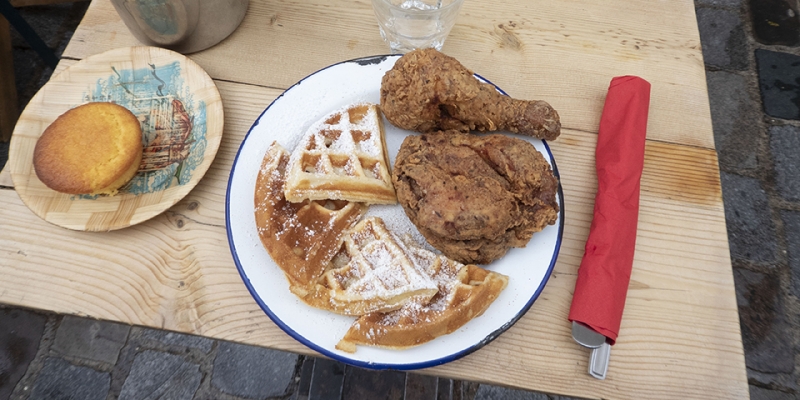 Thursday, December 17th, 2020
Soul Food Revisited
Cover image: Gumbo Yaya Chicken and Waffles
© Discover Paris!
I recently had the pleasure of being interviewed for Alexander Hurst's exceptional article entitled "The New Soul Food of Paris."
My conversation with Hurst brought to mind articles that Entrée to Black Paris (ETBP) and Paris Insights have published on the same topic in the past. I'm republishing excerpts and links for the ETBP articles and a full review of Gumbo Yaya, written by Wells International Foundation Summer Intern Sojourner Ahébée in 2016.
Soul Food in Paris (2017)
There was a time in the not-so-distant past when the mention of soul food in Paris conjured up images of Leroy Haynes in the kitchen at his restaurant on rue Clauzel or of happy diners crowded around tables at Bojangles (Sharon Leslie Morgan - owner) or Percy's Place (Percy Taylor - owner).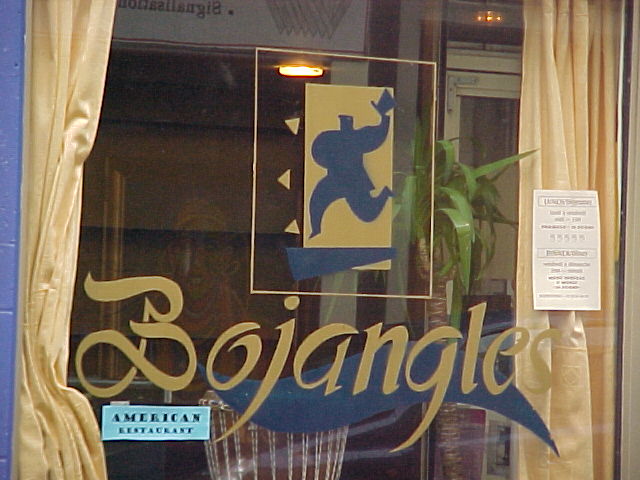 Window at Bojangles Restaurant
© Discover Paris!
All of these establishments closed in the 2000s.

Today, the "soul food" moniker is making a comeback at the following Paris eateries:
New Soul Food
Gumbo Yaya Soul Food Waffle House
Mama Jackson Soul Food Kitchen
A few additional establishments include a single "soul food" item on their menu.

But is what these businesses serve really soul food, as Americans think of it?

Click here for the full article: https://www.entreetoblackparis.com/blog/soul-food-in-paris.html
New Soul Food - The Food Truck (2017)
New Soul Food came across my radar again in early April, when they participated in a special day of activities during the spring-summer Africa Now festival being hosted by Galeries Lafayette. My husband Tom brought home a couple of dinners and we quite enjoyed them.
So we decided to visit the truck at its primary location to find out what its regular customers experience when they want a taste of "new soul food."
Chef at New Soul Food food truck
© Discover Paris!

The truck is generally parked on a large plaza at 128, avenue de France in the 13th arrondissement. When we visited it on a cloudy Saturday afternoon, it was part of a circle of seven food trucks that provide meals and refreshment for moviegoers at the Cinéma MK2 Bibliothèque and others in the neighborhood.
Click here for the full article: http://entreetoblackparis.blogspot.com/2017/05/new-soul-food-food-truck.html
Restaurant Review: Gumbo Yaya by Sojourner Ahébée (2016)
My visit to Gumbo Yaya was much anticipated. My maternal grandmother, Sallie McBride, hailed from North Carolina and I grew up on her fried chicken. I can vividly remember the smell of the house as she cooked the chicken in hot oil and I loved listening to its sizzle.
As I approached my last days in Paris, I found myself craving some old-fashioned Southern cuisine. But, I quickly put this craving to rest as I assumed there would be no fried chicken like that of my grandmother's to find in the City of Light. After all, what did Paris know about the American South?
Though no one can put it down like Sallie when it comes to mouth-watering cooking, Gumbo Yaya does come very close! Gumbo When you arrive, you'll be greeted by the restaurant's bright red exterior and wooden benches meant for outdoor seating. Once inside, you'll find the menu on the counter at which you'll order your meal. You can also sit inside, but on a beautiful September day I would advise against it!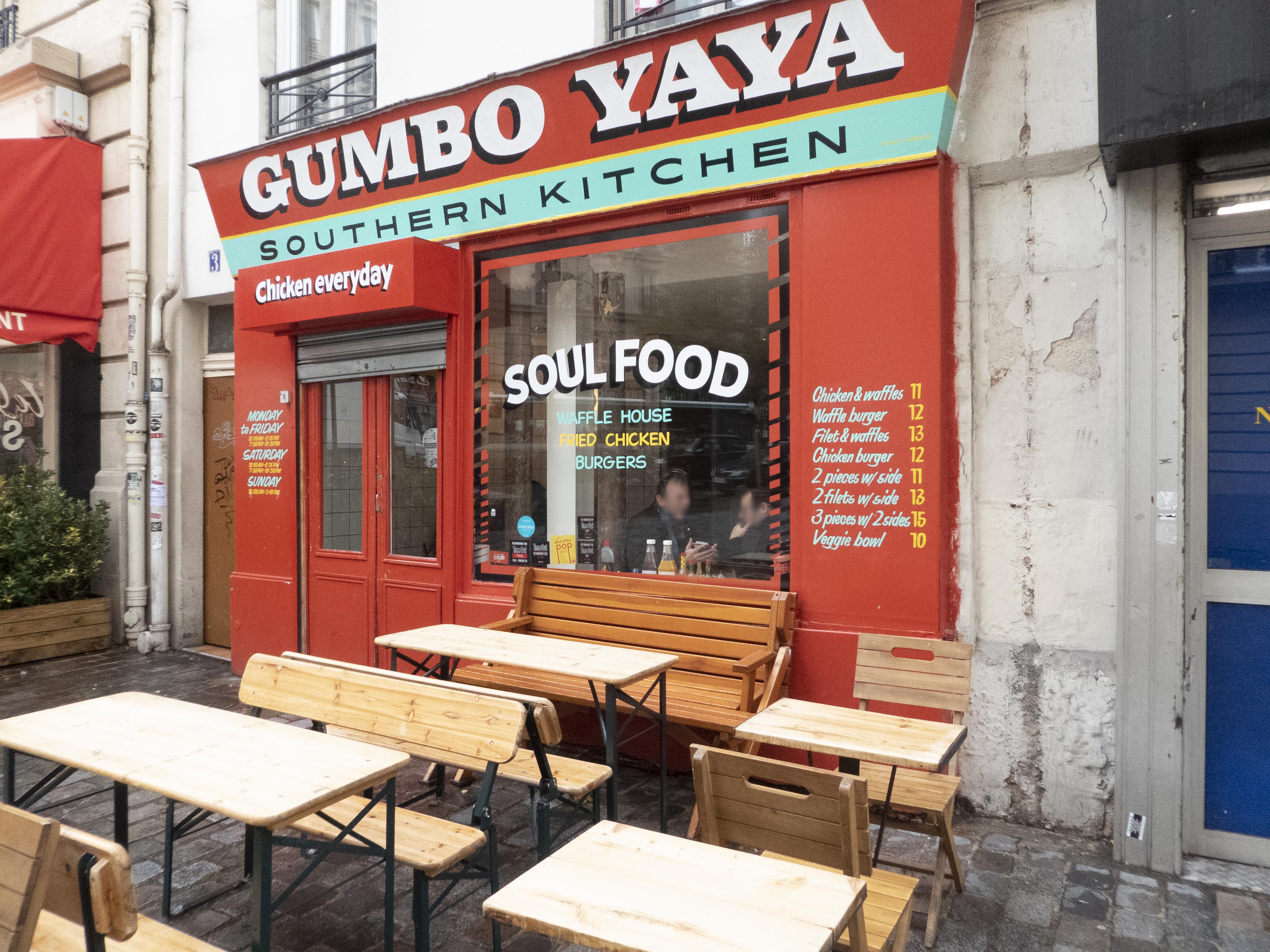 Gumbo Yaya - façade
© Discover Paris!
The menu at Gumbo Yaya revolves around its legendary chicken. You can choose from options like the Yayas Chicken Plate which includes two pieces of fried chicken accompanied by your choice of a side. Or maybe – if you are feeling adventurous – you will go with the Waffle Burger, which is fried chicken served between two housemade waffles with a side of French fries. For beverages, you can choose from a selection of beers and fountain drinks.
If you know anything about Southern food, you know that the sides are just as important as the main course. Gumbo Yaya does not come to play. The restaurant offers a range of delicious sides including mac 'n cheese (macaroni and cheese), French fries, cornbread, baby spinach and avocado, and coleslaw. And if you have room for dessert make sure you don't miss the dessert of the day. The day that I visited the restaurant, they were serving Lemonade Cake.
For my main dish, I opted for Gumbo Yaya's famous Chicken with Waffles. Let's just say I was not disappointed! The chicken was hot and fried to perfection, and I could even taste the remnants of the batter as the flavors seeped into my mouth. The waffles were soft and s light powdered sugar was sprinkled over them, along with maple syrup. If you're eating Chicken and Waffles for the first time, I highly suggest eating them together to profit from the distinctiveness of the taste.
My meal came to a total of 11€. (My only beverage was water, which is free.)
The staff was warm and welcoming. I even had the opportunity to talk with the founder of the restaurant, who informed me that he was inspired to open Gumbo Yaya by an aunt who had emigrated to the state of Georgia. When he would visit his aunt, he always looked forward to eating the food of the region, and he wanted to recreate that experience for Parisians in France. And we are grateful he did just that!
Read more of Sojourner's work at Sojourner Ahébée.
To subscribe to Paris Insights Restaurant Reviews, click here: https://www.parisinsights.com/restaurants.php