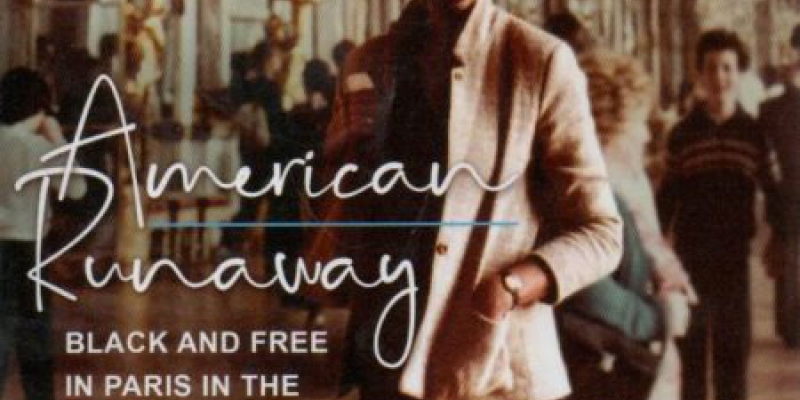 Thursday, February 17th, 2022
American Runaway Author Featured at the American Library in Paris
Cover image: Cover of American Runaway (detail)
Audrey Edwards' February 2022 visit to Paris to promote her book, American Runaway - Black and Free in Paris in the Trump Years, has been anything but mundane. Her well-publicized hybrid feature event at the American Library in Paris, which took place on the evening of February 15, drew 69 attendees on Zoom in addition to the people who came to the library to see the author be interviewed in person.
However, Covid-19 had other ideas.
Live and virtual attendees were surprised to see an empty chair next to interviewer Ellen Wright Hervé as the event got started. Co-hosts Alice McCrum, programs manager at the library, and Patrick Banks, the library's Black History Month curator from Little Africa, introduced Wright Hervé as author Richard Wright's granddaughter and explained that Edwards would join the session from her Paris apartment because she had contracted the virus.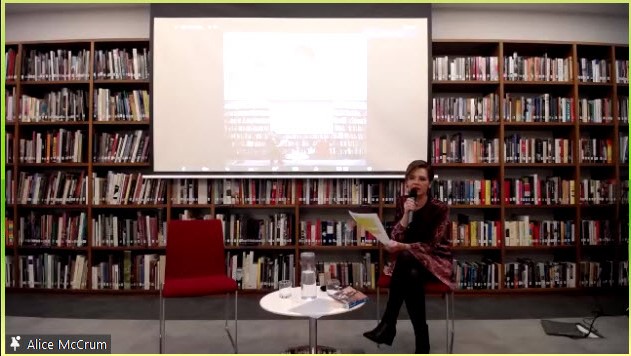 Ellen Wright Hervé
Screenshot from Zoom
The fully vaccinated and boosted Edwards explained that after months of crisscrossing the U.S. and never testing positive for Covid, she boarded a plane for her beloved Paris to promote her book here and caught the virus after her arrival here.
"Paris, how can you do me like this?" she quipped.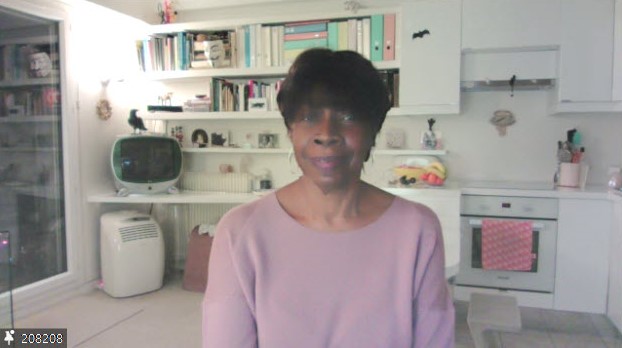 Audrey Edwards
Screenshot from Zoom
Experiencing only mild symptoms, Edwards responded to Wright Hervé's questions enthusiastically and in great detail. She explained that her book is as much the story of African Americans in Paris as it is her story, and she said that these stories provide her with great comfort.
I read American Runaway when it was first released several months ago and the American Library's event provided me with this opportunity to revisit the book and share my observations about it on this platform.
Though the impetus behind the writing of this book is political and there are plenty of stories rooted in politics throughout, American Runaway is in many ways a love story about Paris.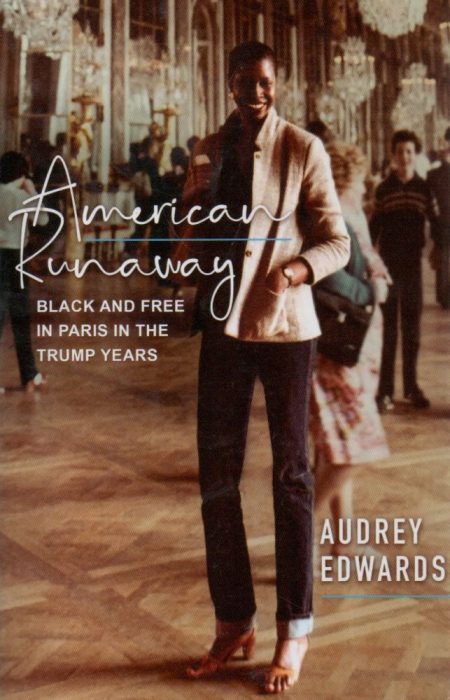 It was heartwarming for me to read anecdotes about several members of the African-American community who I know / have known over the years and gratifying to read summaries of events that are important for black history and contemporary life here. Bob Tomlinson, Pat White, and the legendary Patricia Laplante Collins are among the people about whom Edwards regales her readers with amusing and sometimes poignant stories.
The events described range from the experiences of African American soldiers during World War I to the groundbreaking Le Modèle Noir exhibition mounted at the Musée d'Orsay in 2019.
I loved Edwards' personal and family stories as well. Readers learn about her trials and tribulations in renting a Paris apartment, her concerted effort to learn French at the famed Alliance Française, and her amazement at being treated for alarmingly high blood pressure at a neighborhood pharmacy.
We learn how Edwards' mother, a captain in the American Woman's Auxiliary Corp, maneuvered her way into a Birmingham, England rally to hear General Charles de Gaulle speak shortly after the end of World War II. We are a proverbial "fly on the wall" as we observe how a conversation with an Ivoirian driver during an Uber ride caused Edwards to ponder her African origins.
Many would disagree with Edwards' statement in the chapter entitled "Liberté, Egalité, Fraternité" about France being a place where people are "literally taken at face value - no race judgments, no race burdens..." She makes this and similar statements in other areas of the book based on her personal experiences, and those who are interested in comparing and contrasting the experiences of African Americans and other black people in France will find these declarations thought provoking.
If you're looking for stories that provide a U.S. perspective on French culture, you'll find plenty of them in American Runaway. As an example, look for the anecdote about Edwards' landlord introducing her to his mother over lunch at the mother's apartment. Edwards not only provides a wonderful description of the encounter, but also uses this story as an opportunity to share her observations about interracial relationships in France and how the French don't like to talk about money.
American Runaway is an easy and entertaining read through which you'll get a stimulating, multifaceted view of life in Paris. Many in-person attendees at the library event purchased the book on site. Find it on Amazon HERE.
Learn about additional February events at the American Library in Paris HERE.