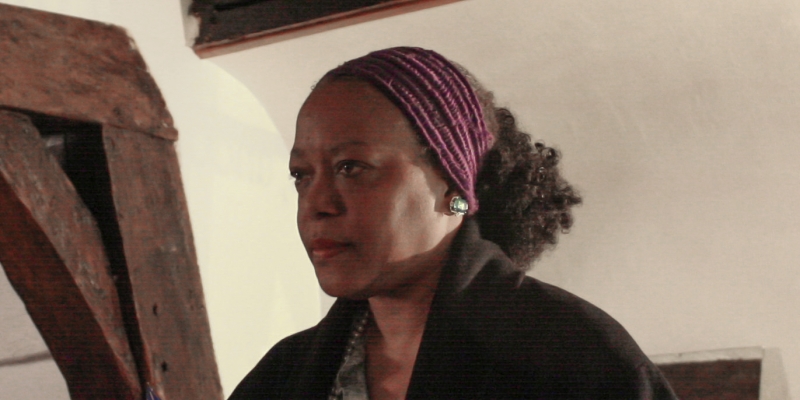 Thursday, February 14th, 2019
Celebrating Patricia Laplante-Collins
Cover image: Patricia LaPlante-Collins
© Discover Paris!

Paris recently lost an icon with the passing of Patricia Laplante-Collins.
Patricia was a long-standing member of Paris' African-American community. She chose to make her home in the City of Light in 1983 after having lived in Scandinavia, Italy, England, Germany and the south of France. She described Paris as "a good place to dream your life away."
By the time I met Patricia, she had already established a legacy with her African-American Literary Soirées and her emerging Paris Connections evenings. I had the pleasure of attending several of her salon gatherings and my husband, Tom, and I also had the honor of speaking at several of these events. Numerous people made friends, found lovers / spouses, and forged valuable business connections through her soirées.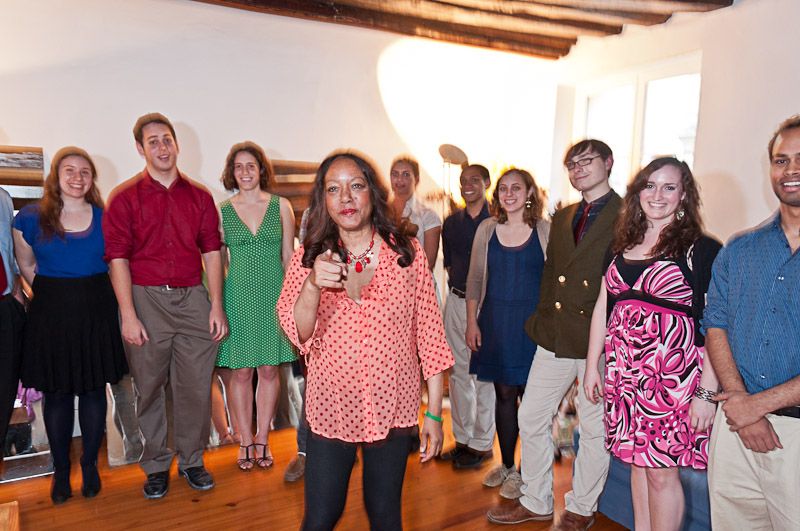 Patricia and the Yale Redhot and Blue a capella group
© Discover Paris!
Patricia graciously agreed to be interviewed for the original Black Paris Profiles™ article series, which was published as an e-book in 2012. Below are some of the responses she gave during that 2011 interview:
Discover Paris!: It's been 7 years since I last published an article about you! Since then, you've moved a few times and moved on from Paris Connections to create Paris Soirées Dinners (Sundays) and Paris Networking Cocktail events (Wednesdays). You are no longer offering the cocktails, but the Sunday soirées are still running. Please give us a brief synopsis of how all of this transpired.
Patricia Laplante-Collins: I once spent a lot of energy working as a volunteer in American organizations and helping them organize fundraising events. Then I began to have my own ideas and began organizing my own events – Paris ethnic, black literary and then expat.
There is a constant evolutionary process and I moved away from business networking. All of my events are social networking and I think that that interests me more. I'd like to do more relationship-oriented events in the future. That's how things are going.
Discover Paris!: What is your mission in offering your soirées?
Patricia Laplante-Collins: I organize fun cultural events in Paris where people come to have fun and to meet other people and I also participate in these events. I have fun and I like meeting people too. I don't mind sharing my international Paris lifestyle with others once a week or so. I find it stimulating. That's been going on for years in various ways and with different themes. Right now the emphasis is on what can only be described as part time and full time global expats, our French friends and others passing through interested in meeting and/or interacting with us. It's fun and very exciting. For me it's a way of life.
Discover Paris!: Your soirées are quite well known and popular. How does it feel to be a Paris icon?
Patricia Laplante-Collins: Over all these years many people have attended my soirees. In that sense I am known and hopefully respected. It feels good to have recognition for a lot of hard work.
To know so many interesting and diverse types of people is fascinating and rewarding. And I find it pleasurable that I am recognized as being a permanent part of and knowing about life in Paris.
Patricia grew up in Atlanta and always infused her events with Southern hospitality. This was especially evident when she invited guests to her home for soirées and prepared meals for them. She loved to cook as a child and attended the Cordon Bleu and La Varenne cooking schools in Paris. She frequently included dishes from the U.S. South on her soirée menus alongside European and Asian offerings. And she always made sure there was plenty of wine for everyone who wanted some.
Over the past few years, Patricia held her soirées at restaurants. One of my favorite memories of these events was the summer evening when Wells International Foundation intern Sojourner Ahébée was the guest of honor. An award-winning poet and budding filmmaker, Sojouner performed several of her spoken word poems that evening and shared the stories behind them. Patricia worked with Sojouner on a film project that summer as well.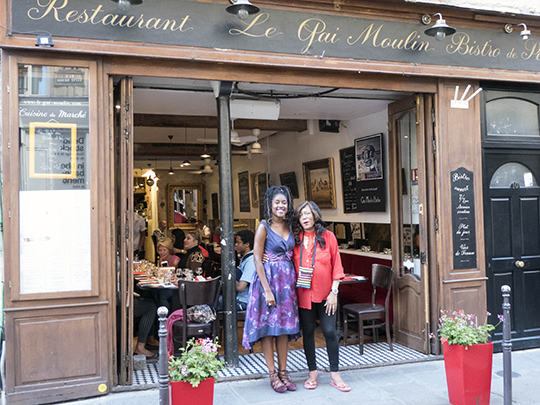 Sojourner Ahébée and Patricia LaPlante-Collins
© Discover Paris!
Patricia was a warm and giving person whose goal in hosting soirées was to provide "a door that is sincerely open…a place to feel at home." She will be sorely missed.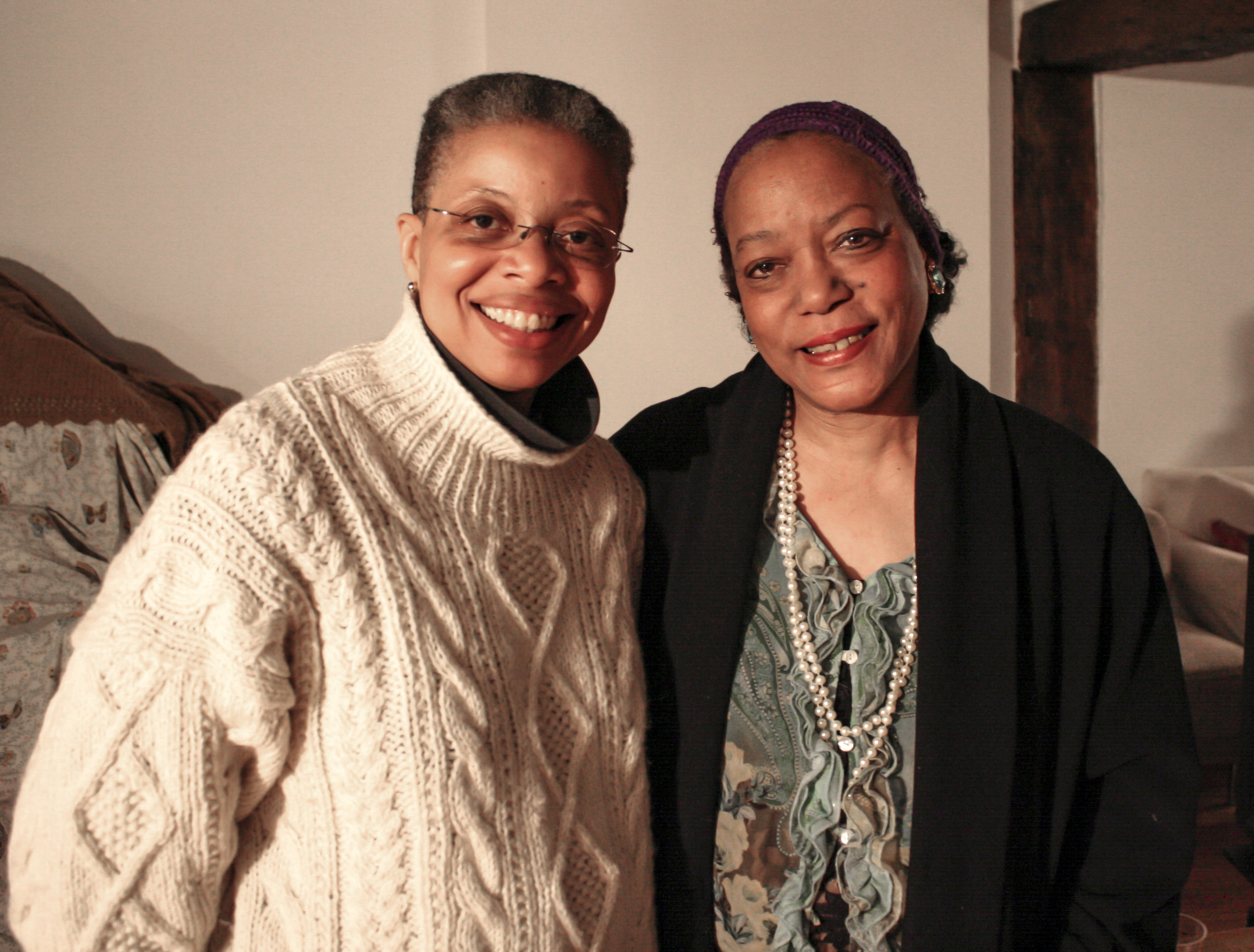 Monique Y. Wells and Patricia LaPlante-Collins
© Discover Paris!