Newsletter
Newsletter Archives
April 2011 - The Odyssey of Max McCalman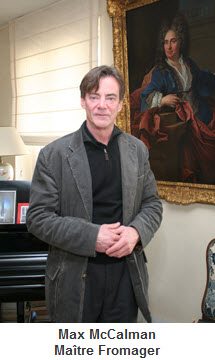 In this month's Paris Insights, we depart from our standard format to bring our readers a special issue on food and the world of cheese.
We had the occasion to meet Maître Fromager Max McCalman last month when he traveled to Paris to accept the "Best in the World Book on Cheese" award at the Paris Cookbook Fair for his book Mastering Cheese: Lessons for Connoisseurship from a Maître Fromager. During the conversation we learned about the fascinating odyssey that led McCalman to his true vocation in life, namely that of a leading American expert on cheeses.
The month of March brought other serendipitous experiences.
We learned that star chef Alain Ducasse was just about to release his book J'aime Paris: Mon Paris du goût en 200 adresses. We obtained a preview copy and read (and reread) his engaging comments on more than 200 restaurants, food shops, cafés, and other enterprises in the food and hospitality industries of Paris. Read our review of the book and learn why we consider it a veritable treasure-trove of information on the boundless and varied world of gastronomy for which the city is famous.
And finally, we were invited to attend a presentation of the vast world of cheeses at Fromagerie Beillevaire, a cheese shop managed by Jérôme Boulestreau. Read our account in this month's special report.
Paris Panorama Newsletters for 2011