Thursday, April 14th, 2022
Urban Mythologies by Yao Metsoko
Cover image: Yao Metsoko at Urban Mythologies exhibition
© Entrée to Black Paris
Paintings, sculptures, and works on paper by Togolese artist Yao Metsoko are on display in a show called Mythologies Urbaines (Urban Mythologies) in the Marais. The exhibition has been mounted by Aude Minart of La Galerie Africaine, an itinerant gallery that ETBP has featured several times over the years.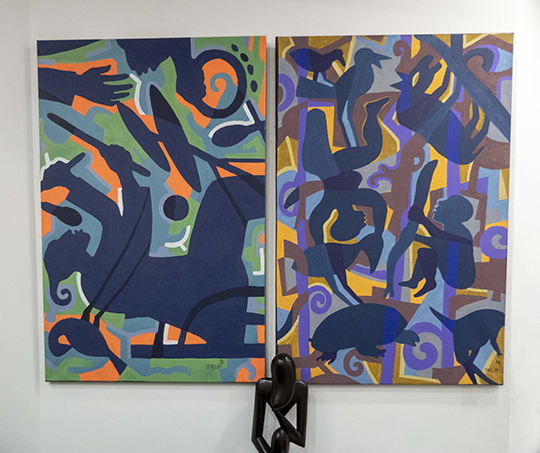 Untitled paintings
Yao Metsuko
Acrylic on canvas
Photo: © Entrée to Black Paris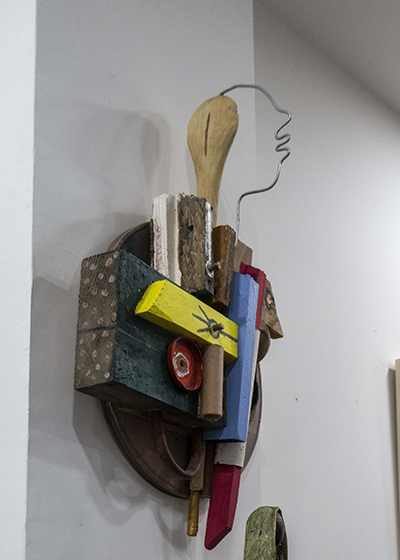 Wall sculpture
Yao Metsuko
Mixed media
Photo: © Entrée to Black Paris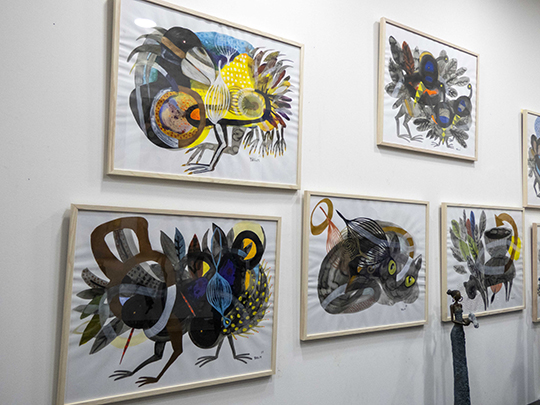 Untitled works on paper
Yao Metsuko
Acrylic and china ink on Canson paper
Photo: © Entrée to Black Paris
The paintings belong to a series that Metsoko started some years ago and to which he continually adds works. The title of the exhibition is drawn from his perpetual exploration of the mysteries of creation through associations between the animal, mineral, plant, and human worlds. African cosmogony influences his selection of the animals and forms he represents in his work. He constantly seeks to illustrate the relationship between live creatures and inert objects, what is visible and what is invisible, what has past and what is happening now.
When Tom and I visited the exhibition last week, Metsoko was eloquently explaining all this in a video interview with Wanda Nicot for her webtv show called ZOOM ACTU.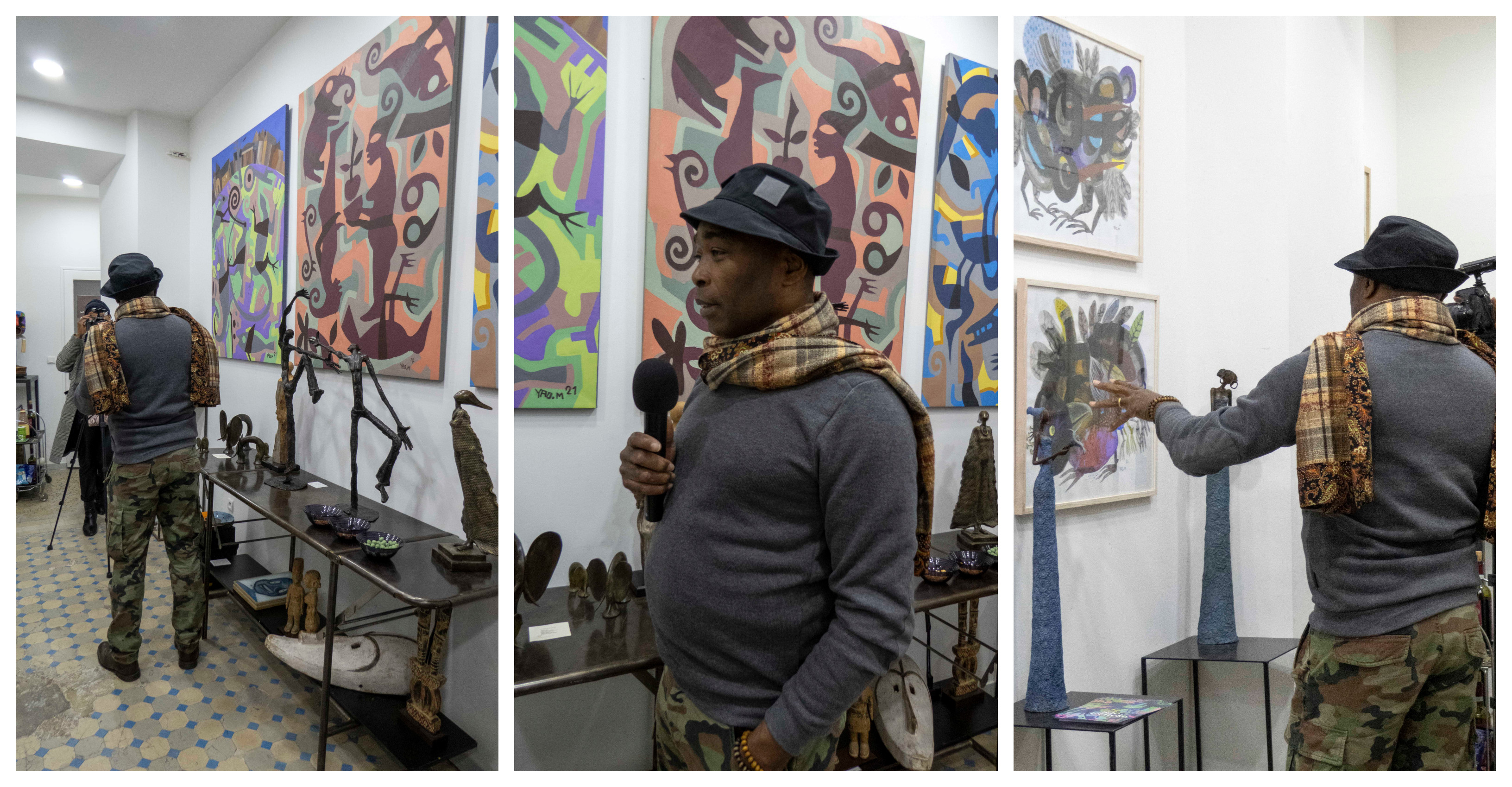 Yao Metsoko being interviewed
© Entrée to Black Paris
As usual, gallerist Minart is displaying a wide variety of lost wax bronze sculptures, crafts, miniature painted works, and fabrics at the exhibition.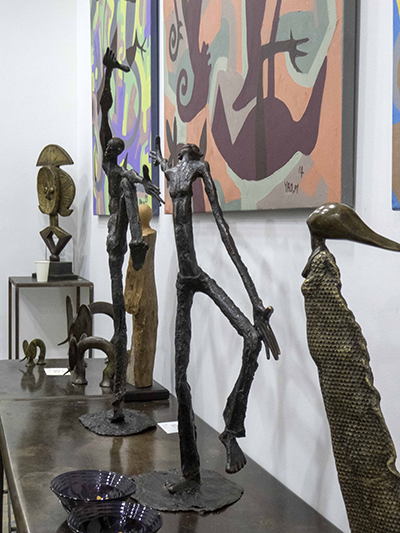 Lost wax bronze sculptures
© Entrée to Black Paris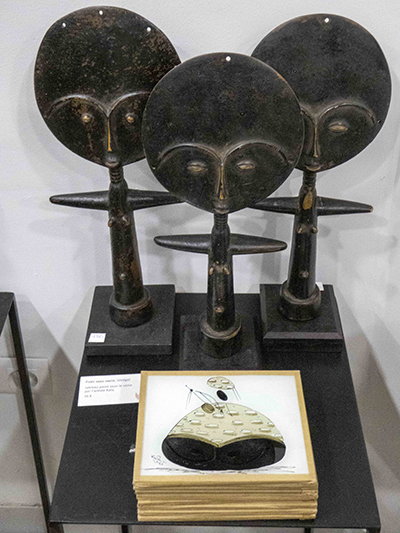 Ashanti dolls and reverse glass paintings
© Entrée to Black Paris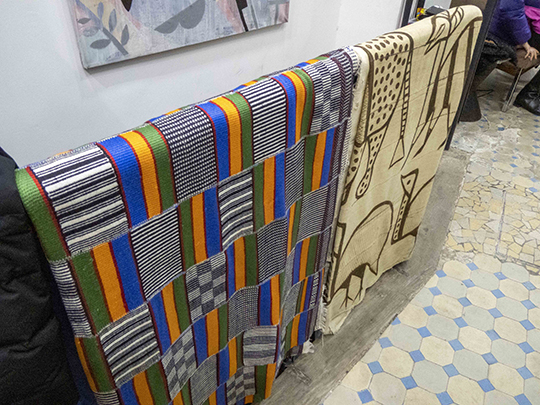 Fabrics
© Entrée to Black Paris
She is also showing a single sculpture by Tidjane Kante.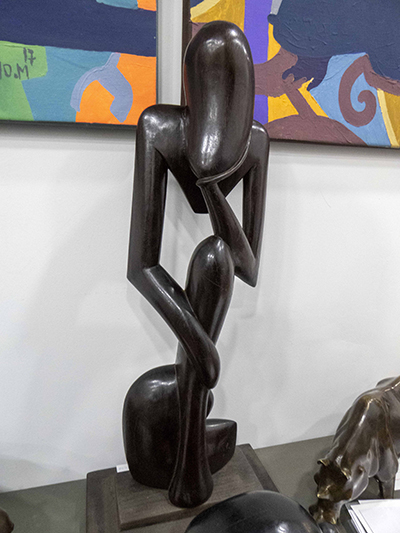 Le Penseur
Tidjane Kante
© Entrée to Black Paris
Mythologies Urbaines (Urban Mythologies) is on display through Easter Monday - April 18, 2022. Visit the show from 12 noon to 7 PM daily or by appointment at:
La Galerie Africaine - Aude Minart
18, rue Commines
75003 Paris
Metro: Filles du Calvaire (Line 8)
Telephone: 06.60.24.06.26
Internet: https://www.lagalerieafricaine.com
Email: audeminart@hotmail.com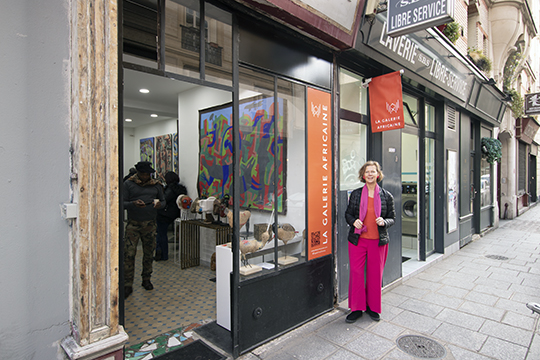 Aude Minart - La Galerie Africaine
© Entrée to Black Paris