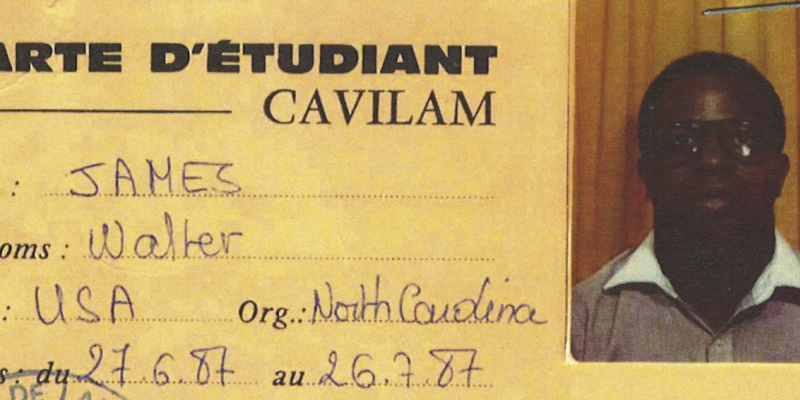 Thursday, January 21st, 2021
Two Stays in France: A Review
Cover image: Walter James III (detail)
Image courtesy of Walter James III
Two Stays in France: A Review
by Tom Reeves
Walter James III made his first trip to France in 1987. He had been awarded a scholarship for a five-week stay to pursue studies at a language center at the University of Clermont in Vichy. The award was the culmination of nine years of study of French, which began in the 9th grade, when he first became interested in learning the language.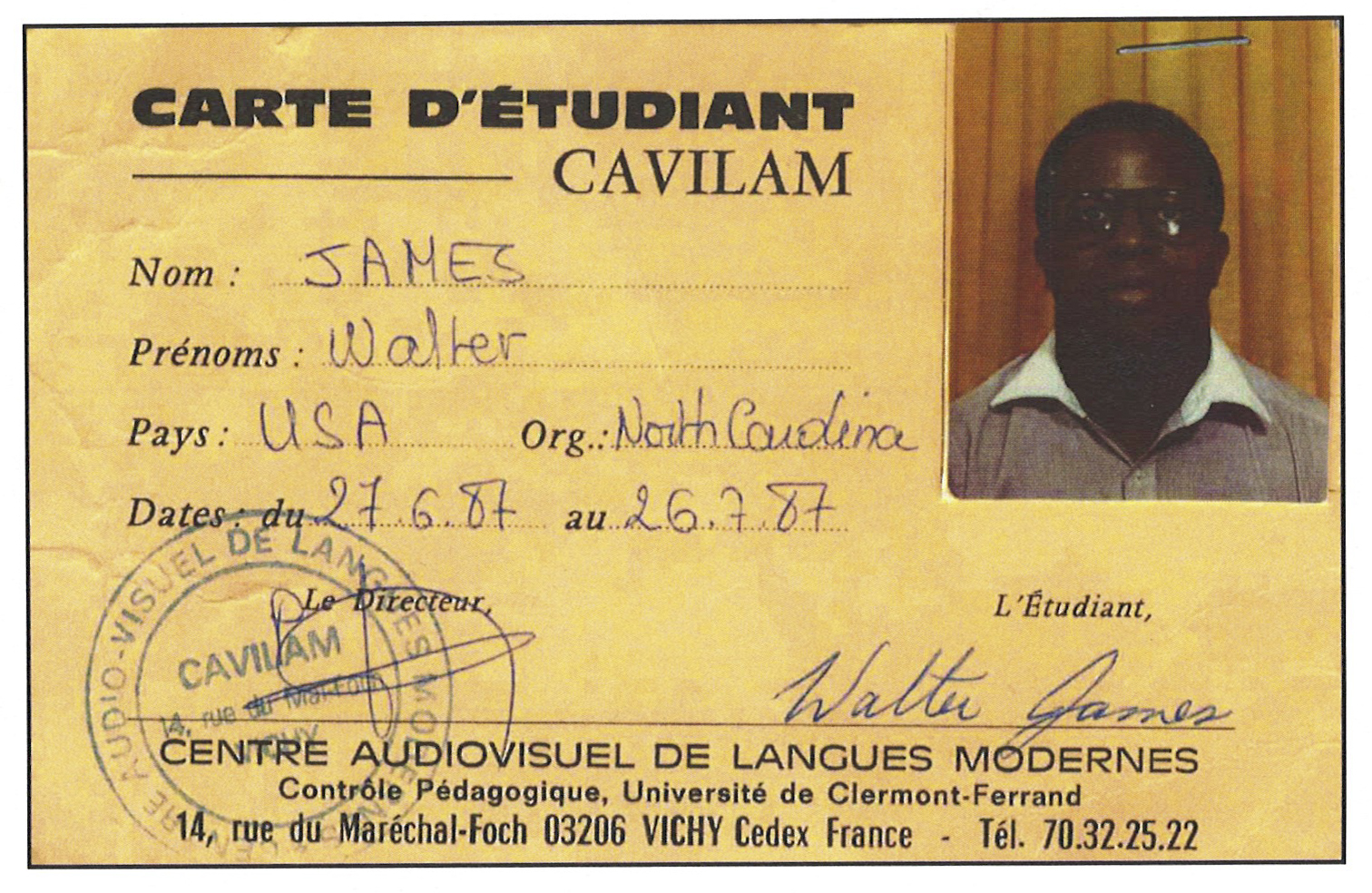 Walter James III - Student ID card
Image courtesy of Walter James III
In 1988, he returned to France for a nine-month stint as an exchange teacher of English at a middle school in the same city. This time the trip was the culmination of his graduate studies in French at the University of North Carolina.
Ten years later, James wrote and published a memoir, entitled Two Stays in France, about both experiences. The narrative is a fascinating account of his desire to learn French and his observations about some of the salient differences between French and Americans. For example, he says that in the United States, friendships are formed quickly and often easily abandoned, whereas in France, friendships take longer to form, but when they bind, they are often more durable.
Food is one of James' favorite subjects. During his first trip to France, he lived with a French family and had the opportunity to dine with family members at breakfast and dinner. During his second trip, he dined with teachers in the cafeteria at the middle school at which he taught, and he found the food to be quite good. He gives descriptions of several of the dishes that he tried. Examples include beef tongue, fish with rice, and crêpes with cider.
Perhaps the most important insights that James gained were the changes that he observed in himself. He states, for example, that while living in France he found himself becoming more self-confident at making purchases and more disposed to expressing disagreement when engaging in conversations. He had to tone down this latter trait, which he learned from the French, to avoid appearing contentious when he got back to the United States.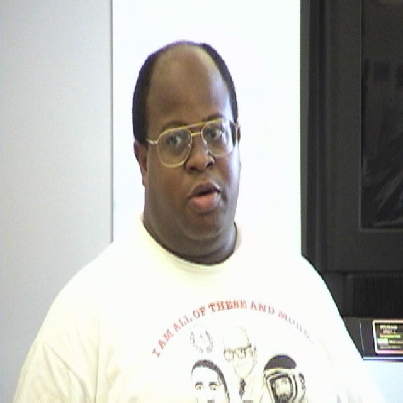 Walter James III
Image courtesy of Walter James III
Regarding making progress with his French language skills, he was pleased that, during his first trip, he could understand 90% of the words of a church sermon and that he could successfully assert his views during a discussion around a point of theology with the head of the household in which he was staying.
Regarding race relations in France, James states the following: "I found that France loved black Americans; in fact I was respected and treated better than in the United States." He mingled easily with the French, enjoyed excursions with fellow students (at the language center) and fellow teachers (at the middle school), and formed lasting friendships.
James' testimonial to the value he derived from firsthand exposure to French culture is confirmation that travel and study abroad yield positive mind-opening and awareness-building experiences. Young people who are pondering whether to incorporate a program of language study into their school curriculum will find a good deal of insight and inspiration in this book.
Two Stays in France is available as a paperback at the following link: Two Stays in France - Amazon
It is available as an e-book at the following link: Two Stays in France - lulu
Bonne lecture!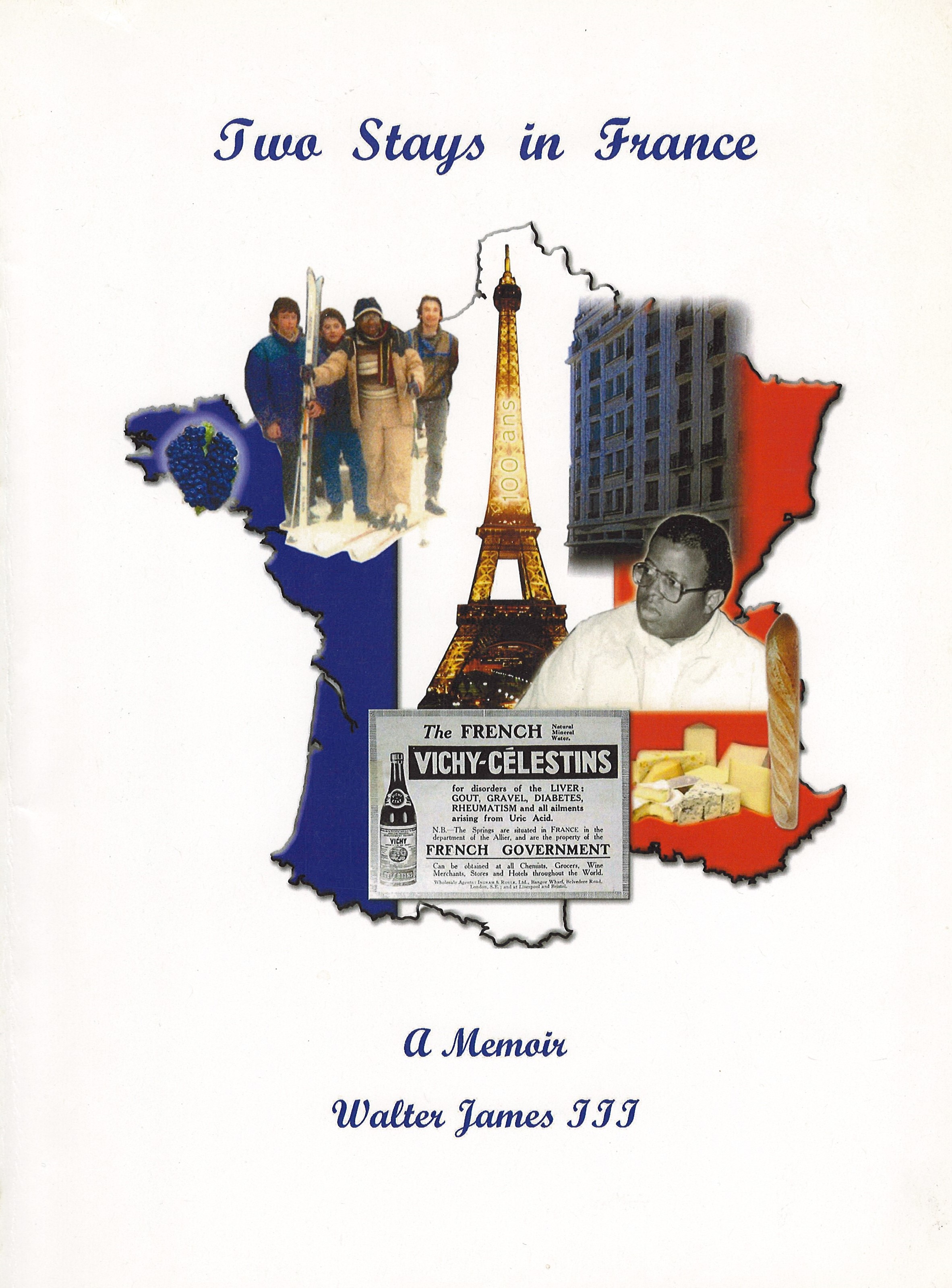 Two Stays in France - book cover
Image courtesy of Walter James III