Thursday, March 11th, 2021
Three Black Mariannes
Cover image: 109 Mariannes - Clarisse Agbegnenou (detail)
© Entrée to Black Paris
In celebration of International Women's Day (March 8, 2021), Marlène Schiappa, Minister Delegate to the Minister of the Interior, in charge of citizenship, inaugurated the exhibition 109 Mariannes on the square in front of the Pantheon.
Marianne is the symbolic figure of the French Republic. In 2021, the Ministry of the Interior is promoting the "new blood" of the Republic through 109 portraits of women representing France and its diversity.
Several black women were invited to participate in this celebration of French diversity. This article features three of them.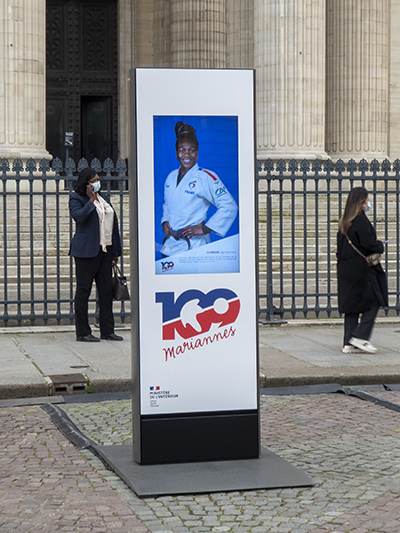 109 Mariannes - Clarisse Agbegnenou
© Entrée to Black Paris
Clarisse Agbegnenou is a French and Togolese judoka. With five European championship titles 2013, 2014, 2018, 2019, and 2020), four world championship titles (2014, 2017, 2018, and 2019), two silver world championship medals (2013 and 2015), and a silver medal won at the 2016 Olympic Games in Rio de Janeiro, she is the most decorated French athlete in the sport.
Agbegnenou has dual nationality, being born in France of Togolese parents. In addition to being selected as one of the 109 Mariannes for International Women's Day, she was asked by Minister Elisabeth Moreno, who is responsible for male-female equality, diversity, and equal opportunity, to write a letter to a baby born on March 8, 2021.
Fanny Glissant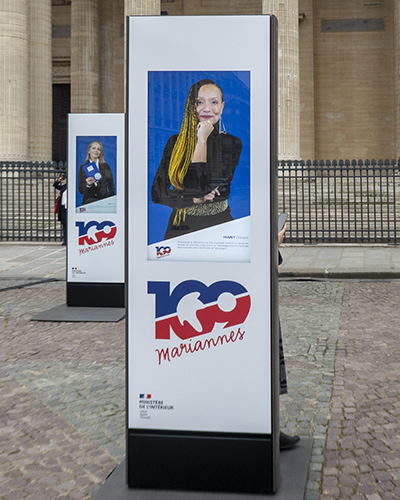 109 Mariannes - Fanny Glissant
© Entrée to Black Paris
Fanny Glissant is a documentary producer and director, who is best known for the 2018 production of Les Routes de l'esclavage (Slave Routes). This four-part series traces the history of slavery from 476 to 1888. Her first documentary, Bienvenue dans la vraie vie des femmes (Welcome to the real life of women), released in 2009, was an exposé on domestic violence suffered by women.
Glissant is the niece of the deceased Martinican poet, novelist, and philosopher, Eduoard Glissant.
Fatoumata Kébé
109 Mariannes - Fatoumata Kébé
© Entrée to Black Paris
Fatoumata Kébé is an astrophysicist who specializes in space debris. She is internationally known, has won multiple awards and fellowships, and has been featured by Vanity Fair and Glamour.
Kébé has delivered two TEDx talks on astronomy. In 2014, she founded Epheremides, a French nonprofit association whose mission is to make astronomy accessible to underserved youth. This includes a program called Claudie Haigneré, which is named after the only French woman to visit space and which encourages young girls to consider physical sciences as a career path.
109 Mariannes will be on display through March 15 on the square at Place du Pantheon in the 5th arrondissement.
See all the women featured in "109 Mariannes" here: https://youtu.be/7XSukcbyW1w