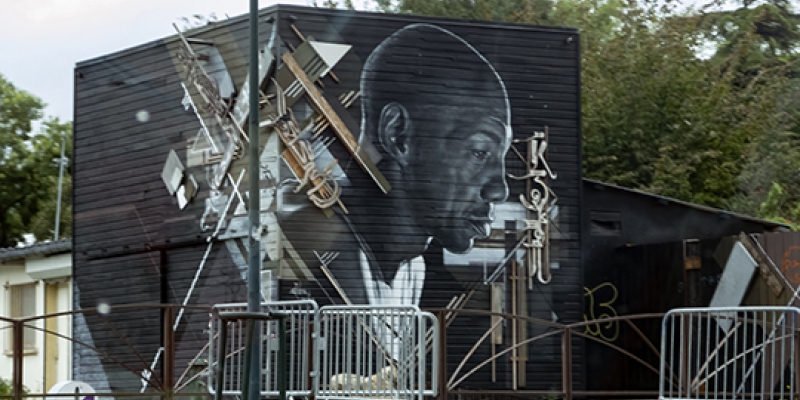 Tuesday, August 20th, 2019
A Summer Brunch Cruise on the Ourcq Canal
By Tom Reeves
Last Sunday, Monique and I boarded a boat at the Bassin de la Villette in the 19th arrondissement of the French capital for a special trip up the Ourcq Canal. Billed as a "Soul Food Brunch Cruise, " the event was organized by the Seine-Saint-Denis Department of Tourism and La Manufacture 111, a pluri-disciplinary cultural center located in Paris. It was just one of the many activities organized every year for the department's Eté du Canal summer festival and promoted by Explore Paris, a Web platform where you can learn about numerous guided tours that provide opportunities to discover le vrai Paris (authentic Paris).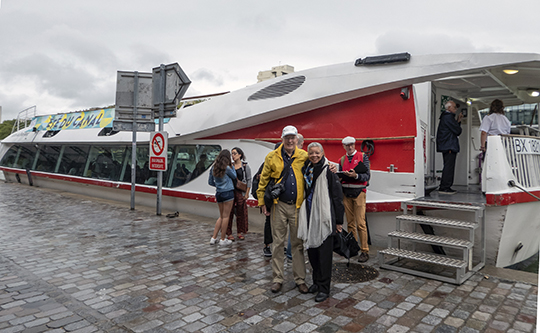 Tom and Monique at Bassin de la Villette
© Entrée to Black Paris
For about two hours we enjoyed cruising through the greater Parisian region up to Noisy-Le-Sec before the boat turned around to return to the starting point. Along the way, we dined on Caribbean fare prepared by Lova Délices, a catering service located in the town of Saint Denis.
Musical entertainment was provided by DJ Jean-Philippe Mano, who played vinyl records featuring African-American soul, blues, and rhythm and blues singers. While we dined, we heard Al Green's "Let's Stay Together," Teddy Pendergrass' "Love TKO," Michael McDonald's "I Keep Forgetting," and many other songs that brought back a wave of memories.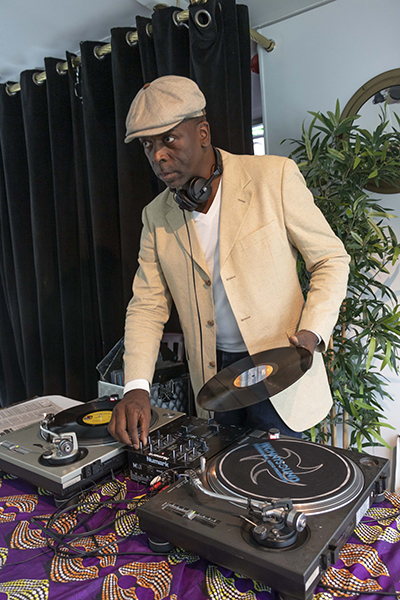 DJ Jean-Philippe Mano at the Controls
© Entrée to Black Paris
On board, I heard Syl Johnson's recording of "Is It Because I'm Black?" for the first time. I thought that it was rather remarkable that I would only be made aware of this American artist and his music while cruising the Ourcq Canal in Paris.
The seating at the tables was a bit tight and I initially hesitated to try to get up to go for a promenade topside. After I saw that other diners were able to squeeze by, I made the rather considerable effort to extract myself from my seat to go upstairs.
While gliding along the canal, we viewed buildings displaying enormous murals that had been created last year for an exhibition of street art inspired by the chiaroscuro lighting style of the renowned Harcourt photography studio of Paris. Among the immense portraits that we saw were Sarah Guem, a dancer, by Marko 93; Tricky, a British rapper, by Alex et Neiiiz; Sarah Ourahmoune, silver medal winner in the flyweight category of women's boxing at the 2016 Summer Olympics, by Marko 93; and French actress Marion Cotillard, by BK Foxx.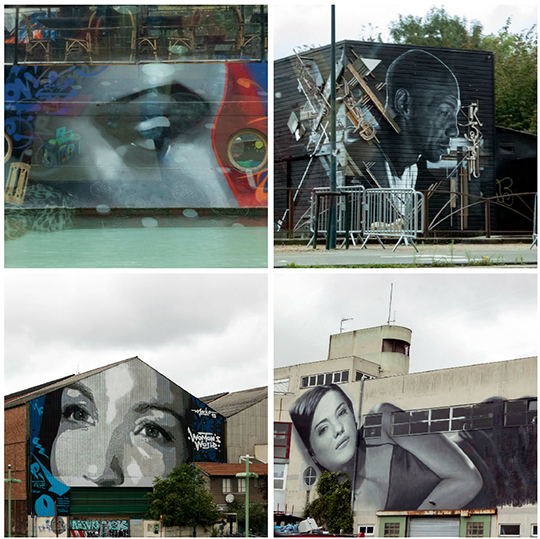 Murals along the Canal
© Entrée to Black Paris
This was a popular cruise! By the time the boat pulled away from the dock, all the seats in the dining room appeared to be taken. Arriving early to claim our seats, we saw that the tables were set with small boats of four Accras (cod fritters), a tray displaying slices of brioche, cereal bread, and country bread, and individual servings of jam and butter. A bottle of cold Jus de bissap (sweet hibiscus juice) placed in the center of the table was meant to be shared, while a small bottle of water was provided for each diner. Coffee and tea were served individually.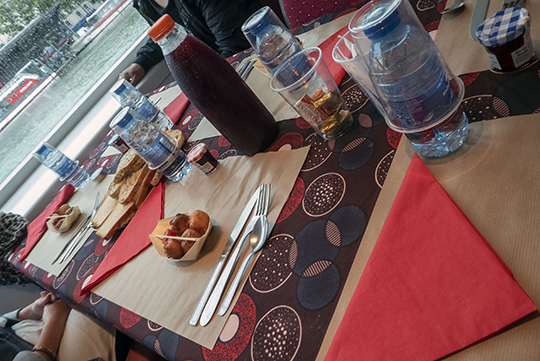 Table Set for Brunch
© Entrée to Black Paris
Once we pulled away from the quay, we were able to tuck into this brunch combination. About midway through the cruise, servers brought out the main course, Cuisse de poulet boucané (grilled chicken leg and thigh). We enjoyed the smoky flavor of the chicken, which was served with steamed rice, fried plantains, and a small container of sauce chien (a classic Antillean sauce that is served with meat, fish, and seafood).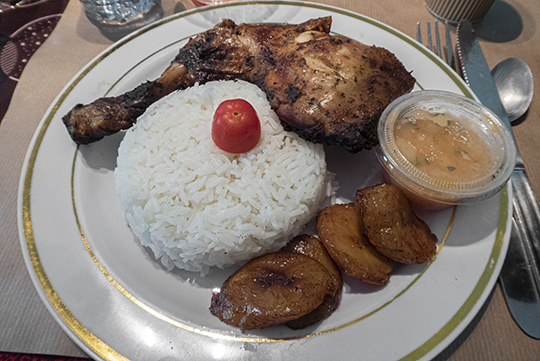 Poulet Boucané
© Entrée to Black Paris
Dessert was another Antillean classic: Blanc manger coco (coconut-flavored custard). Topped with a cluster of red currants and two blueberries, it provided a light and easy finish to our meal.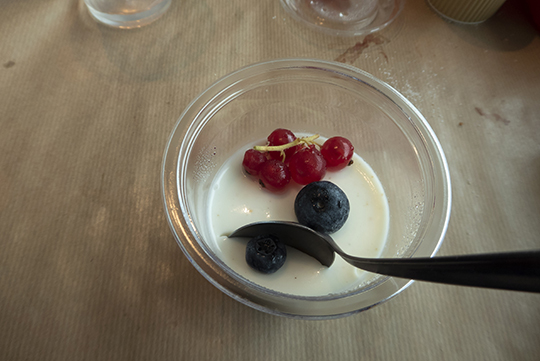 Blanc manger coco
© Entrée to Black Paris
Our only disappointment was that the event had been billed as a "Soul Food Brunch," where diners would "discover the cuisine of African Americans created by slaves from the plantations of the southern United States." No soul food was served.
We greatly enjoyed this event. The highpoint of the cruise came when the DJ played "Loving You" by Minnie Riperton. That was the signal for one of the cruise participants, Juan, to propose marriage to his lady, Aude, both of whom were sitting at the next table. Monique was able to take pictures of this romantic occasion, which we share on this blog.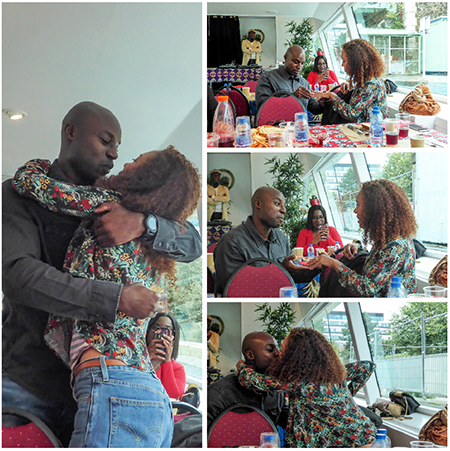 Juan and Aude
© Entrée to Black Paris
The Eté du Canal Festival closes on August 24-25 with another "Soul Food Brunch" (with the same menu described here), an African market, and an open-air hip-hop festival at the Port de Loisirs in the Paris suburb of Bobigny. On both days, from 6:30 PM to 8 PM, there will be a "Golden Years of Hip-Hop" cruise between the Bassin de la Villette and the port at Bobigny. French and U.S. rappers will perform at concerts beginning at 7:30 PM on both nights. For further details (in French), click HERE.
We congratulate Olivier Meïer, Director of Seine-Saint-Denis Tourism; Déborah Delphin, Founder of Lova Délices; and Guy Weladji, Founder of Manufacture 111; for an excellent collaboration!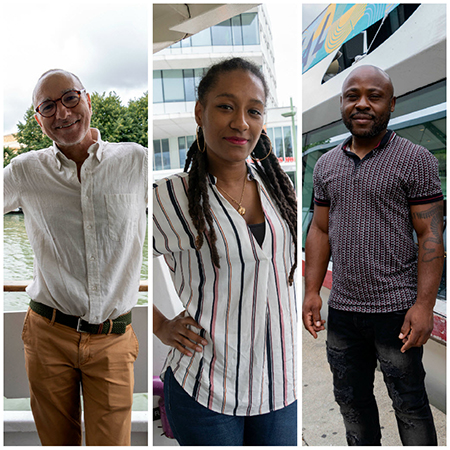 Cruise Organizers
From left to right: Olivier Meïer, Déborah Delphin, Guy Weladji
© Entrée to Black Paris