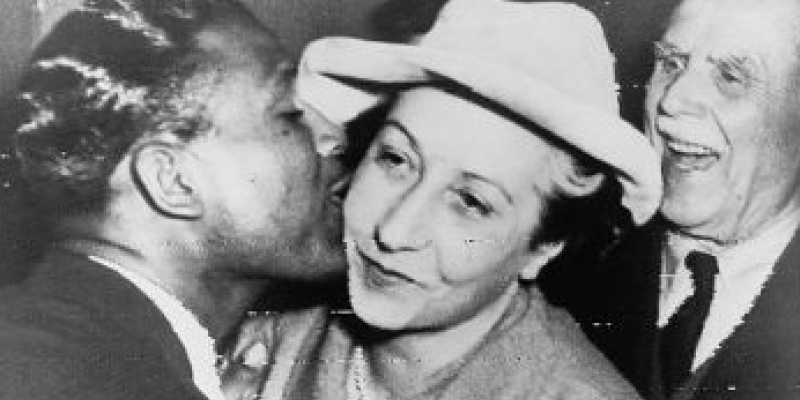 Thursday, November 1st, 2018
Sugar Ray Robinson in 1950s Paris
Sugar Ray Robinson was "all the rage" in Paris in the early 1950s.
In 1950, after his November 8 fight with Bobby Dykes in Chicago, he set sail for France on the S.S. Liberté with an entourage of nine (9) persons. They arrived in Paris on November 18. Robinson fought Jean Stock at the Palais des Sports on November 27 and Robert Villemain on December 20. He won both bouts by technical knockouts. On his first day in Paris, he enjoyed a night out at the Club des Champs Elysées.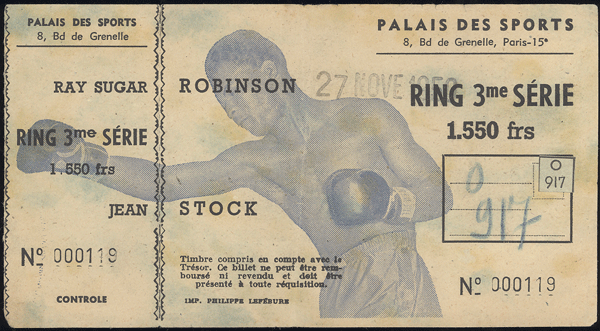 Ticket to Robinson-Stock fight
In the January 1, 1951 article entitled "Sport: Sugar in Paris," Time magazine reported that French journalists were "goggle-eyed" as they watched the group enter the Hôtel Claridge on the Champs Elysées.

A passage from Wil Haygood's biography entitled Sweet Thunder - The Life and Times of Sugar Ray Robinson says the following about this trip:
"Robinson strolled the Champs Elysées, shopped, befriended local musicians, saw the naked girls dancing at the Lido, and practiced his French. A new snack was suddenly available at some of the cafés in Montmartre: They were made of sweetened rice and called Sugar cakes, in honor of the visiting American fight champion. The Chicago Tribune reported that Robinson had 'captured Paris more thoroughly than Hitler.'"
During his second European tour in 1951, Robinson returned to the Hôtel Claridge. On this trip, he traveled with his pink Cadillac and an entourage of seventeen (17) persons comprised of his wife, his manager, his trainer, a few cornermen, some relatives and friends, his barber, his cook, his chauffeur, his golf pro, his masseur, and his valet. European promoter Charlie Michaelis encouraged Robinson to bring the car and even paid for its transport to France.

By the time he and his group arrived, Robinson had been elevated to the status of "hero" in the eyes of the French. He had defeated Jake LaMotta on Valentine's Day 1951, after LaMotta defeated French middleweight champion Marcel Cerdan. Cerdan died in a plane crash while on his way to New York for a rematch with LaMotta and because of Robinson's victory over LaMotta, the French considered him to be an avenger of sorts. They now called him "Le Sucre Merveilleux" (Marvelous Sugar). People mobbed him for autographs and stopped traffic to gaze at his car when he parked it on the Champs Elysées.
Photographer Gordon Parks was working at Life in Paris when Robinson arrived and he convinced the magazine to allow him to cover Robinson's activities during this trip.

Robinson was a true celebrity in Paris. The New York Times reported on a charity event that he attended where he gave a brief speech in French and presented the wife of French president Vincent Auriol wife with a $10,000 check from the Damon Runyon Cancer Fund for the French Fund for the Fight against Cancer. He then kissed the First Lady twice on each cheek for good measure. He donated his part of the purse for his fight against French welterweight champion Kid Marcel to the French cancer charity.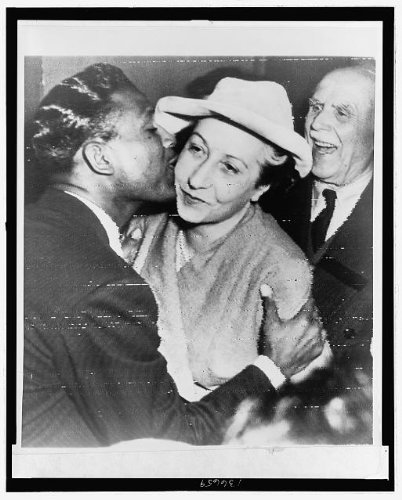 Sugary Kisses - Sugar Ray Robinson Kisses First Lady Auriol (1951)
New York World-Telegram and the Sun Newspaper Photograph Collection
Public Domain

At another charity event, he tap danced and played drums to help raise 3 million francs for retired comedians (actors) at the Palais de Chaillot. He also attended an event to honor the deceased Marcel Cerdan.
Robinson went on to fight in Belgium, Germany, and Italy before returning to Paris in anticipation of his upcoming fight with Britain's middleweight champion, Randy Turpin. He, his entourage (which now included Gordon Parks, who was still on assignment with Life), and his pink Cadillac made the voyage across the Channel to London.
Almost as if in anticipation of the July 10 match, Time featured him on the cover on June 25, 1951.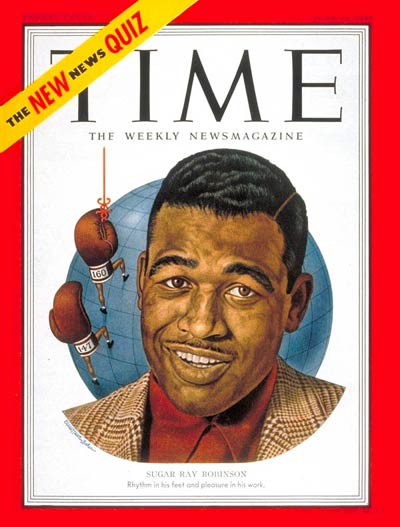 Preferring golfing and late night card games to training, Robinson did not adequately prepare for this fight. He lost the World middleweight title to Turpin on decision. At the end of the fight, Turpin graciously escorted Robinson to his corner before being declared the winner.
Robinson returned to Paris after this fight, then went to the French Riviera for a time before returning to the U.S. for a rematch with Turpin. He regained the title with a technical knockout. He voluntarily gave up the title in 1952, deciding that he would go into show business.
Robinson returned to boxing in 1954, but not before taking the stage in Paris that year. His performances there were widely and soundly panned.

In 1963, Robinson fought and won two bouts against Armand Vanucci at the Palais des Sports in Paris. His last fight in the French capital was against Yoland Leveque in 1964. He won the ten-round match by decision.
*********
"Two colored Americans have places that stay open all night: Tom's Barbecue (6, rue d'Antin, near the Opera) and the Ringside (run by Dick Edwards) at 18, rue Therese.

"You can eat at both places and both have music. The Ringside, however, has a floor show and you can dance to real gone music."
You can find these two lines near the beginning of an article called "So You Plan To Go To Europe," written by Ollie Stewart and published in Afro Magazine section of the May 31, 1952 edition of The Afro-American (Baltimore, MD). The Ringside, which was located in the vicinity of the Palais Royal garden, was "created through the initiative of" prizefighter Sugar Ray Robinson.
The Ringside Club was inaugurated in 1950 by the Jean Bonal trio - Jean Bonal (guitar), Art Simmons (piano), and Pierre Michelot (bass). It operated at rue Thérèse until 1952, when it moved to rue d'Artois in the 8th arrondissement.