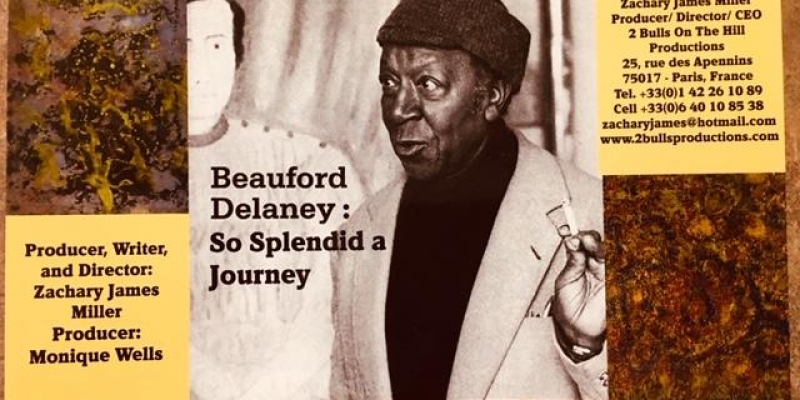 Thursday, August 8th, 2019
Beauford Delaney: So Splendid a Journey - A Documentary
They say that good things come to those who wait.
The truth of this statement is being borne out today, as I proudly announce that Entrée to Black Paris is an associate producer for the Beauford Delaney documentary entitled So Splendid a Journey. Our association with this production is a natural extension of our mission to share the amazing legacy that African Americans and other members of the African diaspora have created in Paris.
I first became excited about the idea of a documentary about Beauford in 2011, when Zachary J. Miller of 2 Bulls on the Hill Productions began looking for individuals in Paris who own Delaney paintings, interviewing them, and filming and photographing their works. He also interviewed persons who knew Beauford personally and recorded their anecdotes and other remembrances. He did this after having donated his services and those of his team to film and photograph Beauford's gravesite ceremony and reception in October 2010.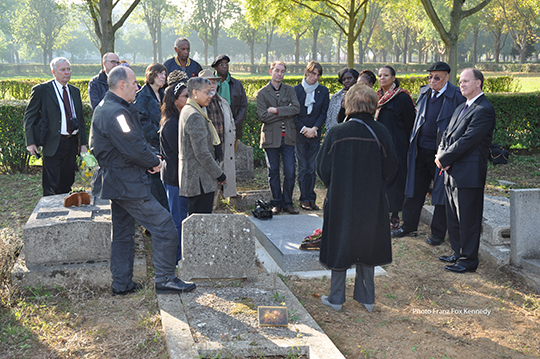 Gravesite ceremony
Photo by Franz Fox Kennedy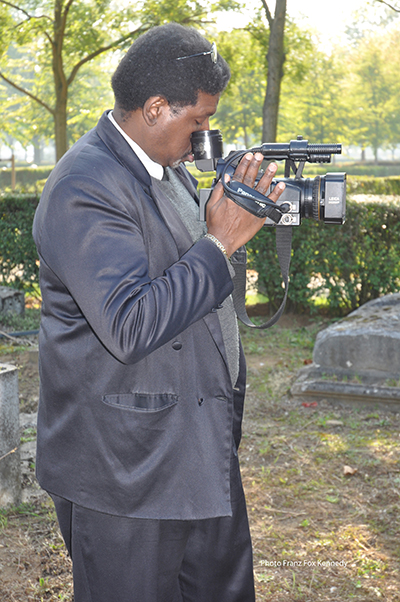 Zach Miller filming the ceremony
Photo by Franz Fox Kennedy
For logistical and financial reasons, the project languished for several years.
It sprang to life again in 2017, when I introduced Miller to Anthony Fleet, who was a graduate student at Northwestern University at the time. Fleet interviewed me for The Brothers' Network, a cultural organization based in Philadelphia, and among the topics we discussed was how I became involved with Beauford's legacy. When Miller saw the video of the interview, he was inspired to review the footage he had recorded about Beauford years ago.
Miller's original idea was to make a documentary focused on Beauford's Paris years. Given the resurgence of interest in Beauford's work subsequent to the 2016 Resonance of Form and Vibration of Color exhibition in Paris and the New York Times article published soon thereafter, Miller expanded the focus of the film to include Beauford's entire life.
And given the success of documentaries recently made about black cultural icons such as James Baldwin (I'm Not Your Negro) and John Coltrane (Chasing Trane), Miller believes that So Splendid a Journey will also attract a large and appreciative audience.
The appetite and the market for films on historic Black individuals and the Black experience in general are very strong right now..."
~Zachary J. Miller

I believe this as well. In addition to working through the French non-profit association Les Amis de Beauford Delaney to place the tombstone at Beauford's grave and the commemorative plaques that honor him in Montparnasse, I created the "Beauford Delaney's Montparnasse" walking tour for Entrée to Black Paris to coincide with the Resonance of Form and Vibration of Color exhibition.
Working with Miller and his production company on So Splendid a Journey is another way that Entrée to Black Paris is contributing to expanding the public's awareness of Beauford's artistic genius and humanity.
2 Bulls on the Hill Productions is an independent, American-owned and run French film and TV production company based in Paris, France. It produces feature films, documentaries, short films, and programs for television. It regularly participates in the Cannes Film Festival in France, the Raindance Film Festival in the UK, and other international film festivals. The company organized the screening of the trailer for So Splendid a Journey at Cannes earlier this year.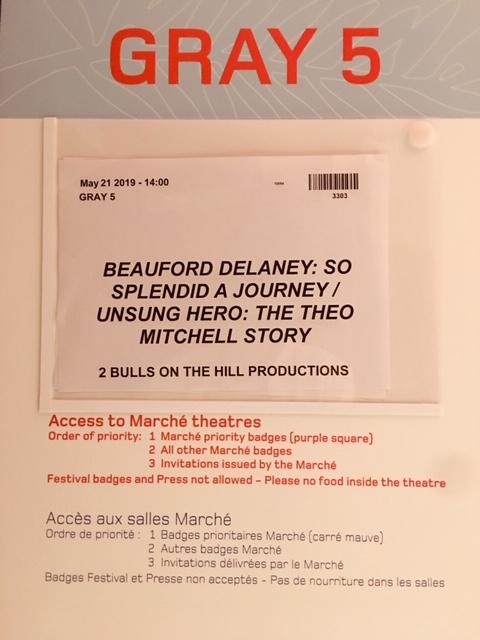 Announcement for So Splendid a Journey Trailer Screening
Image courtesy of 2 Bulls on the Hill Productions
The plan is to screen the completed documentary at Cannes in May 2020 and to enter the film in several additional festivals between now and then. We are seeking donations to support the production and now working with The Gotham page to collect these funds.
Miller is currently in NYC, visiting galleries and museums that hold Beauford's work and searching for archival footage and photos to supplement the materials he already recorded in Paris. Our goal is to complete the film by October 2019 so it can be shown during the end-of-year holiday season and gather momentum to support the art exhibition, scholarly colloquium, and opera that are scheduled to honor Beauford in his hometown of Knoxville, Tennessee in January - February 2020.
You can be a part of this history! View the trailer HERE and give today to support this production!